As an Amazon Associate we earn from qualifying purchases.
Billiard gloves aren't a new thing anymore in billiard. They weren't used in the early days of the game. However, today pro pool players know the value of using one. The best billiard glove can reduce the effects that a sweaty bridge hand has on your stroke by giving your cue a smoother surface to glide through.
Our Top Billiard Glove Reviews
These are some of the best billiard gloves available on the market. Billiard gloves have a wide range of designs so you may prefer one over the over. It really depends on how comfortable you are wearing them.
Brand
Kamui Billiard Glove Quickdry
Predator Second Skin Billiard Glove
Anser Elastic Lycra 3 Fingers Show Gloves
Product
Brand
Kamui Billiard Glove Quickdry
Product
Brand
Predator Second Skin Billiard Glove
Product
Brand
Anser Elastic Lycra 3 Fingers Show Gloves
Product
Kamui Billiard Glove Quickdry
Kamui is a Japanese company famous for making high-quality pool accessories. That also includes their billiard gloves. One of their best is the Kamui Billiard Glove Quickdry which aims to minimize sweating when you play in a humid environment. 
Thanks to its fingerless design, this glove provides better airflow and uses a fabric that absorbs sweat really well. Your hands will feel dry and cool throughout your game.
It also has anti-slip pads to ensure you have an excellent grip on the pool cue. It really does its job and your shots won't feel off when you use them.
The material used in this glove is a synthetic mesh material. This helps with making sure your hands dry sweat quickly and remain dry.
One downside of these gloves is that the sizing a bit off. We recommend you get one size bigger than your normal size if you want it to comfortably fit. If you buy one that is your regular size, you might tear it easily.
Finally, this glove also comes with a stretchable wrist band and Velcro wrist catch to adjust the fitness. It has options for left and right-handed.
Overall, the Kamui Billiard Glove Quickdry is the best billiard glove you can get right now because of its high-quality materials and how well it's made.
Kamui Billiard GLOVE QuickDry, for LEFT Hand,...
Fits on LEFT hand – for right handed players
Made of quick-drying fabric so that you can have smooth strokes, accurate shooting and speed...
Made of smooth, stretchable fabric so you can have a comfortable fit on your hand, even when playing...
Predator Second Skin Billiard Glove
The Predator Second Skin Billiard Glove is popular among a lot of pool players. It has a great design and is worth the price you pay. You are guaranteed to have consistency in your performance with this billiard glove. 
The fabric of the glove is a high-grade stretchable mesh that dries quickly and fits exactly to your skin. It also is smooth so it feels comfortable on your hand. It's been sown with neat double stitching to make it durable and aesthetically look good.
This billiard glove features Predator's patented Lycra which is really lightweight, comfortable and ensures your hand remains dry throughout the game. You also get a material that has low friction and is breathable.
There's an elastic Velcro closure at the wrist. You can adjust it to fit the gloves on your hands and also add additional support. You also get a non-slip thumb heel pad that improves the accuracy of your strokes. 
These billiard gloves feel really durable which maybe explains why a lot of pro pool players like them. Overall, if you want the best bang for your back, you should try out the Predator Second Skin Billiard Glove.
Anser Elastic Lycra 3 Fingers Show Gloves
The Anser Elastic Lycra 3 Fingers Show Gloves is a great pickup if you are looking for an inexpensive billiard glove. While it's not as good as the others mentioned above, it's a decent billiard glove for the price you're paying.
This billiard glove consists mostly of lycra, a material commonly used in wetsuits for surfers so you can already tell this glove absorbs sweat well. Lycra is also really flexible so it fits comfortably in your hand.
The Anser Elastic Lycra Billiard Gloves are great at maintaining the coolness and dryness of your hand. They are also surprisingly durable. The material used is quite thick and doesn't fray easily.
Despite the price, the stitching on this billiard glove is great. It doesn't look loose or poorly done so you won't likely see this billiard glove tear down for at least 2 or 3 months.
This billiard glove isn't all fingerless. The first fingertip is completely covered. However, if you feel uncomfortable with it, you can cut it off. You won't have to worry because the fabric won't fray upon cutting.
The gloves are also reversible so you can wear them on both your left and right hand. The 3 fingers show design helps with the flexibility of your bridge hand.
Unfortunately, this billiard glove doesn't have anti-stick pads on the palm. Aside from that, this model is one of the best affordable gloves you can get.
Anser M050912 Man Woman Elastic 3 Fingers Show...
Only 1PCS in the Packaging,It Can be Used for Right or Left Hand
HIGH QUALITY:Breathable and Stretchy Spandex Design Maximizes Shaft Movement
FLEXIBILITY DESIGN:Middle Finger Tip is Exposed,Thumb and Index Finger are Closed
Mifulgoo Elastic 3 Fingers Show Gloves
If you are looking to play Carom, then the Mifulgoo Elastic 3 Fingers Show Gloves may be the right one for you.
These billiard gloves are a great value option if you want quality and don't want to spend too much. They consist of high-quality fabric which is pretty decent for affordable billiard gloves. They feel comfortable and functional in a game.
The fabric isn't as great as the Kamui or the Predator. However, it still is breathable and elastic for a comfortable fit. There are various sizes so you won't have to worry about fitting them.
Surprisingly, this billiard glove offers a great deal of flexibility upon wearing. It has an exposed middle fingertip. The index and thumb fingers have an enclosed design. This helps a lot with your grip and extra movement for your hand position.
A hook and loop closure ensures that your billiard glove is secured and doesn't tear easily. It's not as great as the double stitching done with expensive billiard gloves. However, it still gets its job done.
This billiard glove is reversible so you can fit it to both your left and right hand. It can also be worn by men and women.
Overall, it fits nicely when you position your hand for a shot. It feels smooth and actually improves your feel for the bridge and cue stick.
Cuesoul 3 Finger Billiard Gloves
Most likely, you'll find the Cuesoul 3 Finger Billiard Gloves at your local pool hall. They are economically better than most billiard gloves and really popular. You get 10 pieces at the price of one which makes these billiard gloves a popular option.
The gloves consist of flexible and breathable fabric. They feel comfortable and the surface is so smooth that it doesn't affect your bridge hand when you take a shot. Regular pool players like this billiard glove because it can last them for a few months before it wears out.
However, the design of the fabric is really thin so it isn't as durable as other billiard gloves. You have to be careful with it as it can tear easily.
This shouldn't be much of a bother considering that it is priced relatively affordable and you get 10 pieces of it. The set can last you for well over a year. A little more if you use them carefully.
The wrist area is elastic in design to keep the billiard gloves from fitting snug into your hands. It's not as adjustable as Velcro however, you will have an easier time wearing and removing it.
Overall, this is one of the best billiard gloves you can get if you want to buy a pack. They're not expensive and the billard gloves have good enough quality and don't affect your performance at the pool table.
Features to Consider for Billiard Glove
When buying billiard gloves, you should have a look at some features and how they may complement your play. The most important thing you need to consider is that the billiard glove should feel comfortable for you.
Other features should follow. Here are some of the things that you should take into consideration before buying a billiard glove.
Design
Billiard gloves come in a lot of design and color options. Get one that has a design that matches your play and preference.
Most billiard gloves come in black color. Black is often preferred because it isn't flashy and won't get you distracted as you prepare for a shot.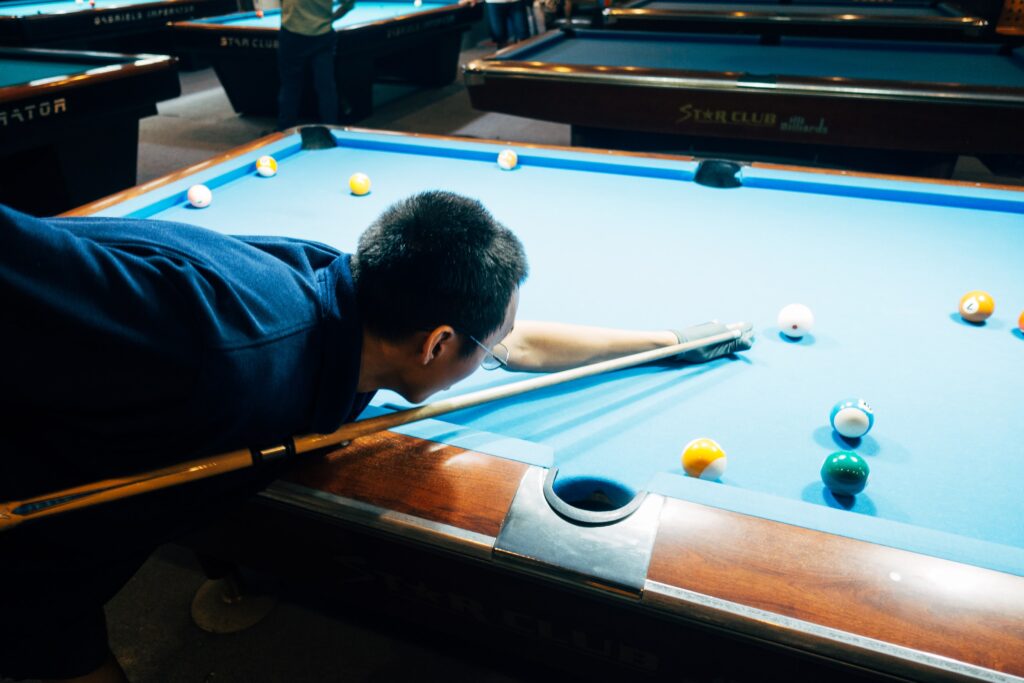 There are also billiard gloves that specialize in reducing finger friction during play. They are usually equipped with anti-slip padding.
If you tend to sweat a lot on your palms, you should consider getting a billiard glove that prioritizes cooling and breathability.
Material
Billiard gloves vary a lot in what materials they use. Most billiard gloves use breathable mesh material. Mesh is really popular because it's more comfortable compared to other materials. The breathable property of mesh keeps your hand cool and allows for better airflow.
Other billiard gloves use Lycra or Spandex. They have great traction for the bridge hand. It also ensures a firm grip reducing your likelihood of causing an error or slipping. However, Lycra or Spandex billiard gloves need to be specific to your size since they aren't elastic to be one size fits all.
Size
The size of the billiard glove is really important. The size will have an effect on your gaming performance. Your billiard glove shouldn't be too tight or too loose.
Get a billiard glove that easily fits into your hands. It should feel comfortable when wrapped around your hand.
If you don't wear one that's not your proper size, you'll easily damage the billiard glove, especially if it's too tight. You will have a hard time putting it in or taking it off which will pressure the fabric.
Hand Orientation
Your billiard glove should go on your bridge hand. This means it should be either left or right-handed depending on your bridge hand.
Some billiard gloves are reversible so they both fit for your left or right hand. They usually don't provide you with a snug fit since they cater to different hand types.
Price
The price depends on how much you are willing to spend on a billiard glove. The gap between a cheap billiard and an expensive one is somewhat large. The difference is also a lot noticeable.
Consider getting a billiard glove that is appropriate to your skill level. If you're looking to improve your pool skills for a long time, then maybe going for an expensive one isn't too bad.
Expensive billiard gloves just have a different feel to them compared to cheap ones. Sure, cheap ones function the same way. However, if you've tried both a cheap and an expensive one, you will definitely feel the huge difference between them.
What Are Billiard Gloves?
Billiard gloves are a pool accessory/apparel designed to be worn on your bridge hand. The billiard gloves are meant to provide a sort of a runway for the cue when preparing a shot. This runway heavily relies on the material used on the billiard glove.
Most billiard gloves only cover the thumb, first finger, and middle finger. The reasoning is that these fingers are where your pool cue stick will contact your hand. Your bare hand should make contact with the pool cue stick for a better feel.
Some billiard gloves have a fingerless cover design on these 3 fingers. This gives you a better grip on the table and better breathability.
Some pro pool players also use billiard gloves so they really aren't just for show. It doesn't improve your skills at all. It just helps you take your shots easily and more comfortably.
Why Use a Billiard Glove?
While many consider the bare skin a better surface for your bridge hand, other players think a pool glove is better. There are two main reasons why you would prefer wearing a billiard glove instead of going bare-handed.
Your hand sweats easily, especially in hot and humid conditions. If your hand is too moist, you may cause your cue stick to slip as you make your shot causing a miscue. A billiard glove helps absorb the sweat so that the sweat won't come in contact with your cue stick.
Some pool cues slide easily on your bare skin. For example, a fiberglass pool cue doesn't have the same smoothness that a maple wood offers in a pool cue stick. Using a billiard glove will help control the unnecessary slip with a non-wood pool cue stick.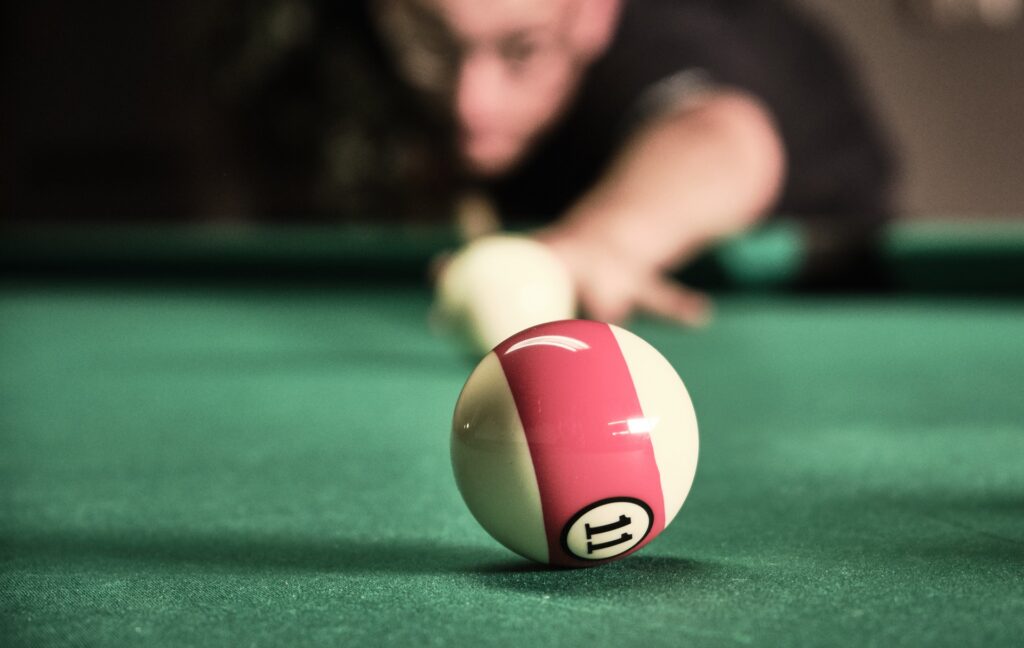 Thin vs. Thick Billiard Gloves
Thing billiard gloves give you a more natural feel. They can sometimes feel like it's your own skin. This makes it more comfortable to wear one and gives you a better feel for the cue stick. However, they can get easily torn if not handled with care.
Thicker billiard gloves are more durable and last a lot longer. The material won't wear down or split easily. However, they don't offer you the same feeling you get from a thin billiard glove.
Billiard Glove Sizes
Generally, billiard gloves are "one size fits all". However, you don't have to go for that option. Some billiard gloves come in different size options like small, medium, large, and extra-large.
If you are unsure of your hand size don't hesitate to try a one size fits all billiard glove. The billiard glove will naturally stretch and conform to the shape of your hand.
Manufacturers also sometimes have their own size chart. They may vary differently so you should know the measurements of your hand. Getting your own billiard glove size is rather easy. Measure around your hand just below your fingers to get your glove size.
Frequently Asked Questions
These are some of the most asked questions that pool players usually ask when they are planning to buy a billiard glove.
What Pool Glove Does Shane Van Boening Use?
Shane Van Boening prefers using Molinari billiard gloves. They are really great in terms of durability. However, some of their billiard gloves use some rubber on them which some pool players might not like.
We'd still pick the Kamui over Molinari. Kamui just has a nice feel to it like it sits comfortably on your hand.
Which Should I Choose? Cheap or Expensive Billiard Gloves?
There's no best option personally. It's up to your preference and how much you are willing to spend on a billiard glove.
If you are planning to make billiard a long term sports hobby or enter into competitions, you should consider getting an expensive one since they are usually a lot more durable. It will last you a lot longer.
Conclusion
These are some of the best billiard gloves you can find right now. They feel comfortable on your hands and have the right feel for a billiard glove. Make sure they fit your bridge hand comfortably or it defeats the purpose of wearing one.