As an Amazon Associate we earn from qualifying purchases.
If you own pool cues for a long time now, you probably heard about cue tip replacement. This involves glue to stick your new cue tip to your pool cue. The best glue for pool cue tips should consistently let the cue tip permanently stick to your pool cue after application.
Our Top Glue for Pool Cue Tips Review
However, not any glue will work. Choosing the wrong glue can lead to the tip on the pool cue stick to keep falling off. Below is a list of some of the best glue for pool cue tips in different categories.
Brand
Tiger Glue for Tip Repair
Product
Brand
Tiger Glue for Tip Repair
Product
Product
Product
Tiger Glue for Tip Repair
The Tiger Glue for Tip Repair is one of the best glue for pool cue tips to get. They're great if you're planning to join a tournament or competition.
This glue firmly holds the cue tip in place when you apply it. Compared to other glues, it has the lowest setting time which usually takes 10 to 20 seconds. It then completely dries and bonds for less than two hours.
Once the glue sets in, it will last longer than most glues even after prolonged use. This is mainly because of Tiger Glue's advanced adhesive technology.
This glue is made with a strong Cyanoacrylate-base. This material is also responsible for why the glue sticks fast and the strong adhesive property.
The Tiger Glue also works well with other pool cue tip repair kits as well as replacement clamp and tip repair. This glue can also be used for other things. If you don't mind running out of glue faster, this could work in a pinch.
This glue is available in a 1-ounce bottle so it can last multiple applications. You should store it properly and never leave the container open.
What we really liked about this glue for pool cue tips is that it's specially made for cue tip repair. You only need a small amount of glue to make it effective too.
Product Highlights
Holds cue tips in place quickly
Stays for longer compared to other glues.
Sticks quickly on average
Great for competitive play
Gorilla Super Glue Gel
If you want a good quality glue worth the price, then the Gorilla Super Glue Gel is a great option. It's just below the effectiveness of Tiger Glue.
This glue usually lasts for around 10 to 20 pool cue tips which equate to 5 to 10 years of use. It will take around 10 to 45 seconds for it to set in and dry completely.
Once it dries off, it is hard to remove. Hence, the name of Gorilla is because it has gorilla toughness to it. This is thanks to its distinct rubber particles that enhance Gorilla Super Glue Gel's strength and resistance.
The Gorilla Super Glue Gel also features an anti-clog cap. It helps keep your glue in a reusable state for an extended duration after your first application. It doesn't mean you should be careless with storing it after use. You should always check if the container cap is airtight.
Unlike other glues in the same price range, the Gorilla Super Glue Gel offers better effectiveness and features. You can even use it effectively on other things like:
Ceramic
Metal
Fabric
Plastics
Paper
Rubber
Stone
Finally, this glue would have been the best overall if only it has better sticking properties than the Tiger Glue. That's not to say the adhesive property isn't good, just that Tiger Glue is in a better league.
Product Highlights
Easy application even on vertical surfaces
Sets in quickly between 10 to 45 seconds
Anti-clog for prolong usage
Gorilla Super Glue Gel, 20 Gram, Clear, (Pack of...
GEL FORMULA: No run control gel formula that is great for use on vertical surfaces
ANTI CLOG CAP: Helps keep the glue from drying out. It's Gorilla tough use after use.
IMPACT TOUGH: Specially formulated for increased impact resistance and strength
Loctite Super Glue
If you prefer a more affordable option then the Loctite Super Glue Liquid Professional, Clear...Loctite Super Glue should be on the top of your list. This glue is a more affordable option than Tiger Glue. You can consider it the better one in terms of the value it offers at such a low price.
This glue can completely re-tip your pool cue stick in a matter of a couple of minutes. It's better suited for plastic and leather tips, unlike the Tiger glue which works in anything. It still works, however, it's not as effective.
This glue comes in a liquid gel form. It's very convenient to use as it leaves little to no mess. The application process can be a bit hassling compared to Tiger Glue's easy process. This is understandable for an inexpensive glue.
The Loctite Super Glue has excellent resistance to low moisture and temperature. It can even endure harsh conditions.
Compared to its low-priced glue counterparts, the Loctite Super Glue has far more features and its effectiveness is on par with some of the more expensive glues.
You should also be careful in handling it as it sticks to your hands really quick and it will be hard to remove. The container cap should also be sealed securely and tightly. The container has no special features so you should store it in a safe and dry place to maintain its effectiveness.
Product Highlights
Solid and firm grip on the pool cue tip
Liquid gel form for clean application
Dries off after a couple of minutes
Loctite Super Glue Liquid Professional, Clear...
Superior Performance: Heavy-duty cyanoacrylate super glue works faster and holds stronger on more...
Fast and Easy: Super strength formula sets in 15-30 seconds with no clamping required
Maixmum Control: Features an extra-long, pinpoint nozzle for precise application with a patented...
Features to Consider for Glue for Pool Cue Tips
Looking for the best glue for pool cue tips can be challenging. They might all look the same yet offer different features. That's why you should consider its features first before buying. You'll be equipped with information and make a better knowledgeable decision.
Types of Glue
Glue for pool cue tips come in three options. That is: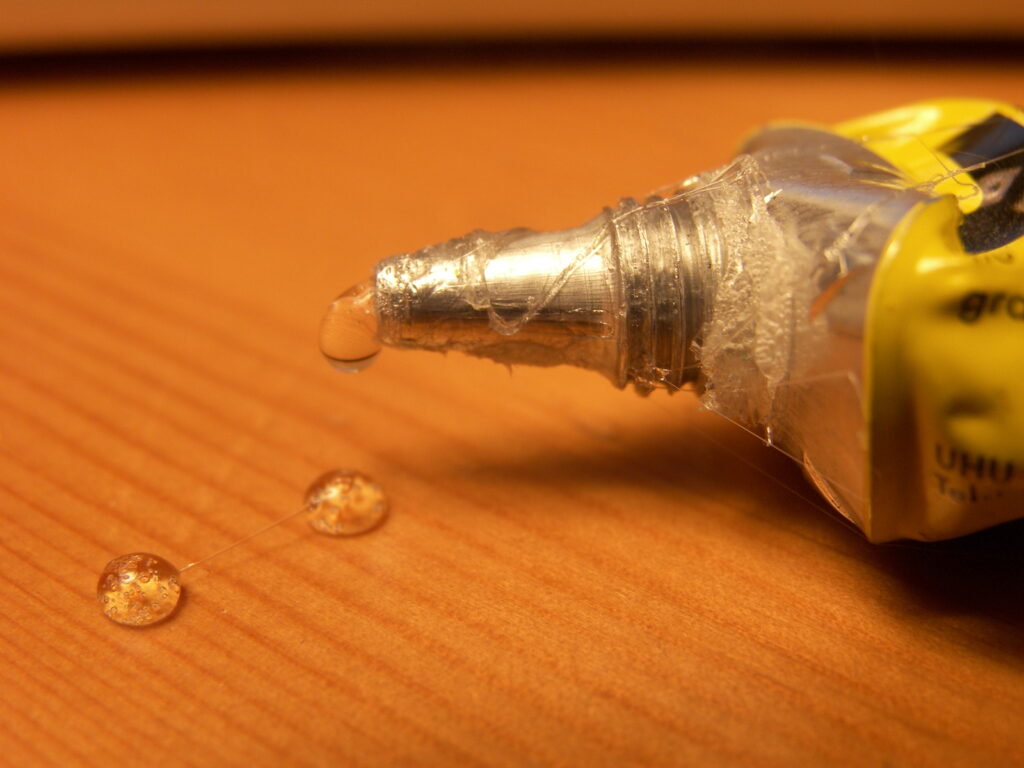 Cement: Cement glue takes longer to set in and dry. It allows you more time to adjust the cue tip properly for it to stick. It's a great option if it's your first time re-tipping your pool cue. However, it takes hours for it to dry completely.
Gel: Gel glue is usually preferred by most professional and intermediate pool players. It gives you fewer chances of spilling and makes for a cleaner cue tip application. It's the most convenient way to apply glue to your pool cue.
Liquid: Liquid glue also provides you with similar results with gel. However, you also have a higher chance of spilling. Both liquid and gel glues harden real quick. Therefore, you should be accurate and precise when applying them.
Price
Look for glue for pool cue tips that give you the best possible performance. Usually, the cheaper the glue is, the lower the likelihood of it providing you a firm hold on the cue tip.
The exception is the Loctite Super Glue which performs better than most cheap glues for pool cue tips. If budget is not a problem, the Tiger Glue has a better secure hold and better durability.
Most people usually prefer buying cheap ones since they think it's not necessary at all. However, the strength of the adhesion of your glue can affect your performance and the cue tip's longevity too.
Therefore, it's more important to get a glue that has excellent adhesive properties because it will only benefit you more in the long run.
Setting Time
Usually, it will only take a couple of minutes to fix your cue tip. However, the drying process might take longer than that.
When manufacturers advertise their glue to dry off in less than 30 seconds, it doesn't mean it has completely dried. It only means the glue has set in and is drying. It's not yet completely dried.
It usually takes 15 – 30 minutes for the glue to actually completely dry and harden. This means the cue tip has completely stuck to your pool cue and will take significant strength to remove it.
We recommend letting your pool cue tip dry for an hour before you actually use it.
Changing Your Pool Cue Tip
Changing your pool cue tip may be new for you so we'll provide you the simple steps on how to do it. The best glue for pool cue tips would be useless if you don't know how to properly use it.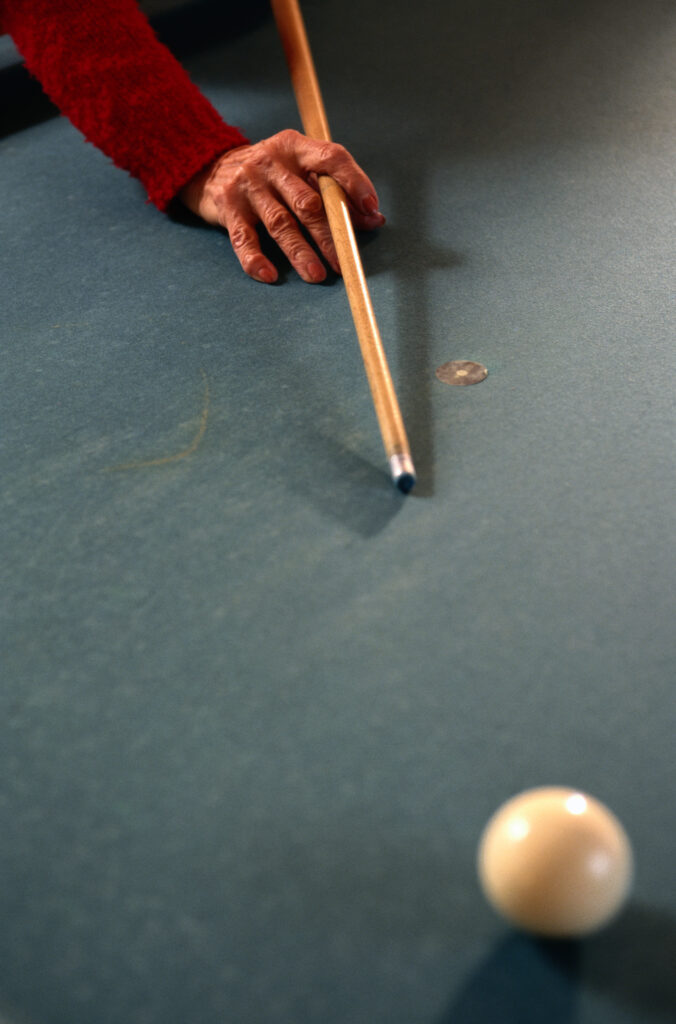 Remove the damaged or old pool cue tip.
Make sure the surface is clean and smooth. Use a sharp object like a knife to scrape off any dirt buildup.
Remove all old glue off the ferrule. Do this by sanding it with smooth sandpaper. Make sure you sand it smooth and all of the old glue is off.
When the ferrule is clean, wipe the ferrule with a dry cloth to make sure there is no residue left on it.
Apply enough amount of your chosen glue on the ferrule.
Place the tip on the top of the ferrule.
Hold it for 10 minutes. You can do this in less than a minute based on how quickly your glue dries like the Tiger Glue which dries for 10 seconds at least. You can go over the prescribed time as an extra precaution.
Remove any part of the tip that is wider than the ferrule. Use a sharp blade to do it and make sure it's perfectly flush.
Shape the tip using sandpaper or a shaper. Smoothen out the edges and shape it the same way as your ferrule is shaped. It's usually a circular body.
Let it stand for at least an hour just to make sure the glue is dry and the tip is perfectly shaped.
Conclusion
These are some of the best glue for pool cue tips. They have the best hardening and will stick to your pool cue for a long time. They especially set in and dry rather quickly which makes them the best glue for pool cue tips.