As an Amazon Associate we earn from qualifying purchases.
If you are just getting started with pool games, buying your first cue can be tricky. With so many options available, it is easy to settle for something cheap or worse, something unnecessarily expensive. To help you get started, we have put together a list of the best pool cues under $100 you can buy this year.
Our Top Pool Cues Under $100 Reviews
You don't have to blow your budget to get high-quality cues. The following recommendations are both highly affordable and of good quality, especially for the price you pay.
Product
Special Features
14mm Phenolic jump break tip
North American maple wood
Product
Special Features
14mm Phenolic jump break tip
Product
Special Features
North American maple wood
Product
RAGE Heavy Hitter
While most players prefer pool cues with wraps since they help to improve grip, some think they are just a recipe for sweaty palms. Most manufacturers understand this diversity and that's why you come across some wrapless cues while shopping around. The RAGE Heavy Hitter is one of the best wrapless cues you can find under that range. 
This pool cue is the best option for people who like their cue butts bare and want to buy an affordable option. However, due to its sturdy construction, playability, and high-quality materials, this cue will appeal to more than just the wrapless bandwagon. The cue has a straight design and comes as a two-piece set joined via a Turbo Lock, this makes it highly portable, too.
After assembly, the entire pool cue measures about 25 ounces is 58 inches long. This is the standard cue length although you might find it a bit heavier than other options under $100.
While most of the cue's shaft is matte black, it has a black butt and a 12.5mm jump break tip.
Although it doesn't come with extra accessories such as a carrying case or cleaning cloth, we think this is a small compromise considering its low price. While they are important, there is a chance you get locally available options, especially for the cleaning cloth.
What We Like
A sturdy phenolic jump break tip
Made from durable maple wood
Attractive design
Good for people who prefer wrapless cues
Great for professional players looking for an affordable option
What We Don't Like
A bit heavy especially for beginners
Doesn't come with extra accessories such as a carrying case.
CUESOUL Maple Pool Cue Stick Kit
The CUESOUL Maple Pool Cue has several things in common with the RAGE Heavy Hitter. For instance, it also consists of North American Maple wood. This makes it the perfect option if you are looking for a more affordable alternative with closely the same features. 
We like theCUESOUL Maple Pool Cue for the fact that it doesn't hurt your wallet. This means that you get some high-end features without taking your budget apart. At 21 ounces, it is much lighter than the RAGE model which is good if you are just starting out. 
Also, if you are not willing to turn a blind eye to the lack of extra accessories with the RAGE Heavy Hitter, this cue will have you smiling. It comes with an impressive kit of extras that include:
A blue carrying cue bag
Joint protector
Shaft protector

Billiard towel
For this reason, theCUESOUL Maple Pool Cue outranks most options under this range. The cue comes in a stylish Pearl paint finished with a very cool pattern design on the butt. 
Finally, the tip has a carbon fiber ferrule, 13mm Layered leather tips for ultimate ball control. This is designed for accuracy especially when you are trying to make a tricky shot.
What We Like
Durable maple wood shaft
Comes with a variety of accessories
Designed for accuracy
Lightweight
Affordable
What We Don't Like
You might need to replace the scuffing tip for better performance 
CUESOUL Rockin Series 58" 21oz Maple Pool Cue...
58inch length ,weight 21oz,butt made of imported dried hardwood,shaft made of hand selected and kiln...
Pearl paint finished with very cool pattern design on butt
Stainless steel joint M/18,with Irish linen wrap
AB Earth Pool Cue
Pool cues under this range are already pretty affordable. However, if you want something even more affordable, you will find the AB Earth Pool Cue a great option. The cue is ergonomically designed and pays great attention to detail.
This model has one of the most interesting designs for a mid-range cue. This includes the Canadian maple butt that has stylish trendy colors. However, if you prefer minimal design you might find the colors off-putting.
That being said, if you love flashy design, you'll love the variety of colors and a smooth finish. Like most standard cues, the AB Earth Pool Cue is 58-inches long with a 13mm leather tip. Just like the McDermott Classic Pool Cue it weighs 21 ounces and has a painted wrap.
For this reason, if you don't like the wrapless butts of the first two recommendations, this would be a great pick under $100. The shaft consists of Canadian hard rock maple and has been hand-painted to bring out a unique finish.
The butt of the pool cue has a wavy design which makes it easy to hold and control. This kind of design helps to reduce slips and inaccuracies since you get a much firmer grip on the stick. According to the manufacturers, the cue went through over 50 manufacturing steps to bring out an ergonomic and unique design.
What We Like
Ergonomic construction
Attractive design
Hand-painted for uniqueness
Durable Canadian Hard maple shaft
Comes in a variety of colors
Highly affordable
What We Don't Like
The butt can be easily scratched
Might warp if not properly taken care of
AB...
ADVANTAGE: Ergonomic design handmade painting pool cue.
ERGONOMIC DESIGN GRIP: Canadian hard maple butt which hand-polished into a wavy shape. Compared with...
HANDMADE PAINTING BUTT: The inspiration for the painting butt came from outer space. Manual painting...
Viking Valhalla
If you are just starting there is a good chance that you are still clumsy with the pool stick. For this reason, you can easily expose it to damage. That is why you need a durable pool cue. The Viking Valhalla is a great option to start with. 
This is one of the most durable options you will ever get under $100. It packs some premium features for a small price is a good choice for both professionals and amateurs. Like most modern cues, the Viking Valhalla has a two-piece design that makes it easy to transport and store. The two pieces are connected with a Stainless Steel 5/16″ X 18 threaded joint when you are ready to play.
Again, if you prefer wrapped butts over wrapless ones, you will love this cue. It has an Irish linen wrap which improves grip and makes it easier to control the ball. On the flip side, if your palms get sweaty while playing, the wrap might not be a very good idea.
Like most good cues under $100, the shaft consists of durable Canadian maple and joined to a leather tip. These are the two most popular shaft-tip combinations. Thanks to their ability to enhance durability and enable you to make powerful hits.
Finally, the cue is also treated with a Urethane finish for enhanced protection and durability. It comes in the standard 58 inches with a 13mm tip.
What We Like
Durable design
Adjustable weight
Affordable
Available in seven color options
Lifetime warranty
What We Don't Like
Prepping is required since the tip is not polished
Not good for breaking
Viking Valhalla 100 Series with Irish Linen Wrap 2...
IMPROVE YOUR GAME WITHOUT BREAKING THE BANK. Features a 58" maple shaft cue, two piece design for...
A PREMIUM IMPORT. Designed by our Viking Cue Artisans, Valhalla cues take full advantage of our...
STATE-OF-THE-ART UNRIVALED QUALITY. Before a pool cue is shipped, it is assembled, rolled, and...
Features to Consider in Best Pool Cues Under $100
Although they are cheap and appealing if you are on a budget, we don't recommend that you buy just any other pool cue under $100. Below are some features to look out to get the best bang for your buck.
Size
Pool cues come in different sizes and there is not a one-size-fits-all option. Depending on several things such as game room size, you might want to with the standard 58 inches or a shorter stick.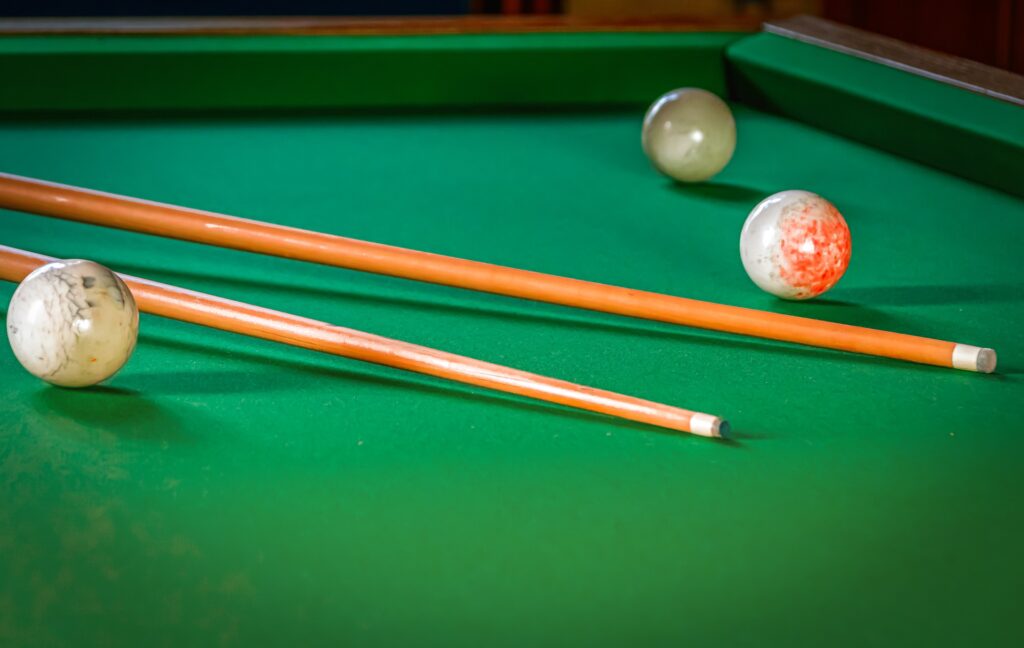 The length can go as low as 48 inches for younger players. We recommend that you consider your playing room and the size of the table to decide which cue length is best for you. There is also a length difference between two-piece and one-piece cues.
For instance, you will find that most standard one-piece cues under $100 are 57 inches while two-piece ones are 58 inches. If you are over 6 feet, 5 inches tall, you may need to make a special order of 61-inch cues for the best performance.
Weight
Closer to the length of the cue is the weight. This is a highly subjective consideration since most players have their own preferences when it comes to weight. Most pool cues under $100 weigh between 18 to 22 ounces. You will also find heavier 25-ounce cues under $100 like the RAGE Heavy Hitter.
Usually, modern pool cues under $100 come with adjustable weight so you can play around until you find one that fits you. Remember that heavier cues are great for breaking while lighter ones are good for playing.
If the cue doesn't come with adjustable weight, you can try out several options under $100 until you find one that agrees with your hand and your budget.
Material
If you care about durability, then you are inevitably going to care about the material. Essentially, this is what the cue is made of. More specifically, you need to look at what the shaft, tip, and butt of the pool cue are made of.
In most cases, pool cues shafts under $100 consist of maple wood. You will find other models made of fiberglass. However, these are expensive and will hardly go for less than $100. You should generally look for cues that consist of hard materials.
We specifically recommend the North American maple which most of our recommendations are made from. Finally, the best tips for this price point consist of leather.
Joints
Many modern pool cues under $100 come as two pieces, that is, the butt and the shaft. This is to allow for easier transportation and storage. For this reason, the two pieces have to be joined together whenever you want to play. Two-pieces pool cues under $100 usually come with different types of joint systems.
Generally, the joint end of the butt and shaft should be able to match and fit perfectly together when screwed. Avoid joints that fit loosely and ensure the pin of the joint is centered in the butt.
Usually, the wood's shape should be natural and not forced to fit into the butt. When this is done, the wood is stressed and could break at the joint. Also, ensure that the pin is polished and do not use any glue when joining.
Wraps
The wrap is usually found on the part of the cue that you hold while playing. As we have already discussed, some people like wraps while some prefer wrapless shafts. That is why we diversified our recommendations under $100 to cater to both groups.
Having said that, cue wraps have their pros and cons. So, it is safe to say that this is a subjective consideration.
While some players argue that wraps provide a better grip on the handle, others say it makes their palms sweaty, which ultimately makes it hard to maintain a firm grip on the cue.
You never really know which group you are in until you try both the wrapped and wrapless cues. Wraps can consist of leather or Irish linen. While leather is more durable, it is more likely to cause sweating than Irish linen.
There are also rubber wraps. However, you will have to ensure that they are of high quality. Cheap ones might be sticky and cause a lot of sweating while playing. Rubber wears out faster than leather and linen so we don't recommend them.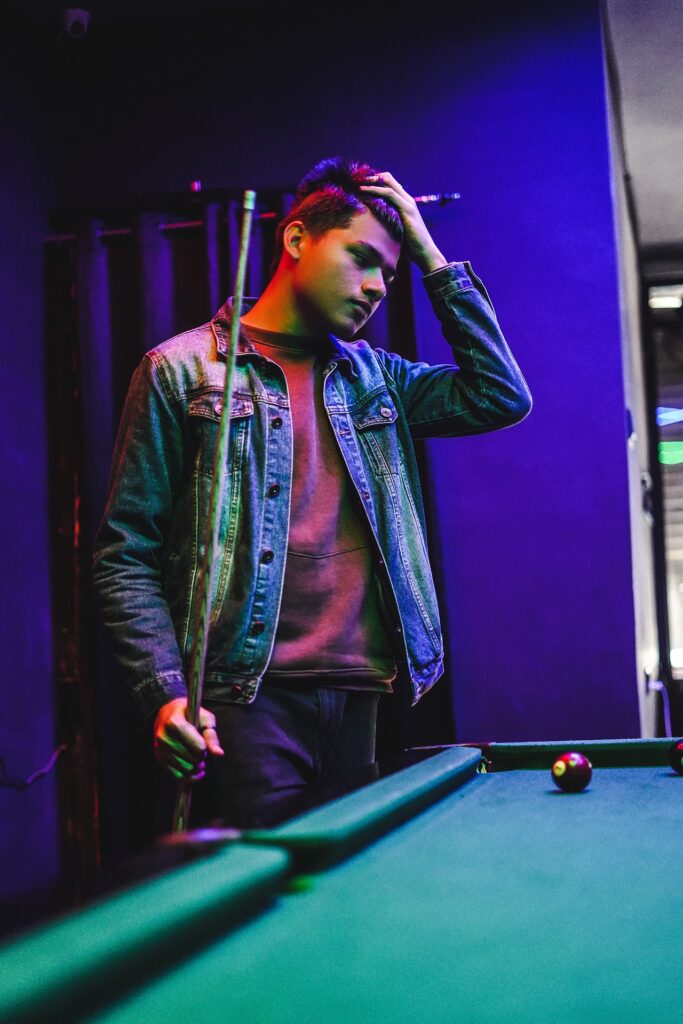 Tips
The tip is the best of the cue that you hit the balls with. For this reason, they have to be of good quality otherwise they will wear out quickly. Tips can either be hard, medium-hard, or soft. If you like spinning the cue ball, we recommend that you use the soft tip.
On the flip side, soft tips go out of shape and wear out faster. So, if you are not planning on doing regular maintenance, you should get a hard or medium-hard tip.
While hard tips are not good at spins, they tend to last longer. However, they are not good for making calculated shots like those on the side of the ball. On the other hand, medium tips can do a bit of both spinning and hard-hitting.
Should I Get a One-Piece or Two-Piece Pool Cue?
If you are shopping around for the best pool cues under $100, there is a good chance you have come across both the two-piece and single cues. Both types of cues have their pros and cons.
We generally recommend that you get a one-piece cue if you only plan to play at home. They are cheaper and will save you a few bucks. On the other hand, if you travel a lot or don't have enough space to store the cues, you will be better off with a two-piece cue.
These pool cues can be separated into two smaller pieces for travel or storage. The only problem with one-piece cues under $100 is that they are prone to warp after some time. So, you only consider them if you are really on a tight budget.
Get a two-piece cue if you are planning to play in tournaments that require you to travel away from home. However, It's still fine to get a two-piece pool for home use if you are not on a budget.
Conclusion
Playing pool doesn't always have to be expensive. We hope our recommendations will help you find some budget options. Make sure to consider such features as materials, joints, sizes, weight, joints, and wraps while buying the cues.