As an Amazon Associate we earn from qualifying purchases.
Pool tables often come with billiard balls. However, some of the billiard balls aren't really great in quality. If you want to change or replace your billiard balls, here are some of the best billiard balls you can get.
Our Top Billiard Balls Review
There are different types of billiard balls you can get. Most billiard balls are categorized into the budget, expensive, and creative sets. Creative billiard sets focus more on aesthetic rather than actual performance.
Budget and expensive billiard balls focus more on performance and durability. Depending on your preference, these billiard balls may be the best for you.
Brand
Aramith Pure Phenolic Pool Balls
Japer Bees Pools Ball Set
Product
Brand
Aramith Pure Phenolic Pool Balls
Product
Brand
Japer Bees Pools Ball Set
Product
Product
Aramith Pure Phenolic Pool Balls
It's no question that an Aramith billiard ball would be the best among the rest. Aramith produces the best billiard balls you can find. The Aramith Billiard Balls consist of high-quality phenolic resin that provides excellent resistance to scratch and impact. 
Aramith uses 100% pure phenolic resin. This makes them last up to 5 times longer than polymers or polyester billiard balls. All thanks to their high-tech cross-linked molecular structure.
The Aramith resin is also the only one calibrated for perfect homogeneity giving it an accurate roll, without any flat spots on the balls. It also leaves no white marks and burns spots on the cloth.
This means that using Aramith balls lengthens your pool cloth life by a lot. These balls won't leave scuff marks and damage the pool cloth.
Aramith Premium billiard balls also use Vitrotech technology: a heat curing process that stabilizes material tensions. It also makes them highly resistant to ball impact because of their vitrified high-density surface.
The Aramith Premium billiard balls are calibrated for an optimal and consistent rebound. This gives you better control of your shots.
In terms of design, the set features the classic numbers in a stripe design. The set contains 16 balls including 8 solids, 7 stripes, and a cue ball.
If you want the best billiard balls out there, having Aramith billiard balls ensures high quality and durability. Aramith billiard balls come with the perfect shape and balance, uniform weight and hardness, excellent finish, and a friction resistant roll.
Aramith Pure Phenolic Pool Balls Regulation...
Complete set of 16 balls includes 8 solids, 7 stripes and a cue ball; Each ball is regulations size,...
Crafted from the highest quality phenolic resin which provides exceptional scratch and impact...
Phenolic resin is proven to last up-to 5 times longer than balls made of polymers or polyester;...
Japer Bees Pools Ball Set
Japer Bees is a leading brand of Polyresin billiard balls. They're great for every level of pool players, whether you're a beginner, intermediate, or a professional pool player. 
Japer Bees provides highly reliable and durable billiard balls. When it comes to cost-performance ratio, they're well received by pool players. That's why the Japer Bees pools ball set is one of our best choice for billiard balls.
The polyresin formula and design standard are followed well. Their production strictly monitors these billiard balls features:
Weight (consistent and equal)
Balance
Diameter (follows the standard)
Roundness
Hardness
Physical appearance
Color (crisp and consistent)
Glossiness
The Japer Bees billiard balls provide true roll and more responsive rebound. This translates to an improvement in your game at the pool table.
You can choose your preferred design between the classic slim and art number typefaces. If you want to go more on aesthetics, then go for art number typefaces. Otherwise, the classic slim is good enough for any game.
The billiard balls have great durability. The finish on it doesn't wear off easily. The high-quality materials ensure you get richer colors and a longer-lasting polished look.
The burn spot resistance (BSR) can easily reach 250°C (482°F). So the friction made from your shots won't leave burn marks.
The rebound is consistent and you get easily used to it as you use them. You'll get better control with every shot.
Overall, the Japer Bees pool ball set gives you the best value for your buck.
JAPER BEES Deluxe Billiard Ball/Pool Ball Set...
★DELUXE QUALITY:High quality Resin Pool balls with Higher Gloss Shine and Longer Last Color. These...
★HOLIDAY GIFTS:If You're Looking for a Holiday Gift for the Billiard Player Person in Your Life,...
★REGULATION SIZE:These Pool Balls are Standard Size 2-1/4" in Diameter and Regulation Weight 6OZ,...
Viper Billiard Master
The Viper Billiard Master Billiard Balls are your go-to for cheap billiard balls because of their consistency in performance while being in the low price range. They're some of the quality billiard balls you can get at an affordable price.
Viper is a popular brand in the billiard industry. They're known for making quality pool cues. However, they also make some of the best billiard balls out there.
The Viper Billiard Master comes complete with 16 balls set with 8 solids, 7 stripes, and 1 cue ball. This is produced with exacting tolerance to ensure consistency for each ball.
Each billiard ball measures 2 ¼ inches in diameter. It's consistent with the American style of play.
The polish on these billiard balls is of high quality. However, it's not comparable to the ones mentioned above. You may observe some visual inconsistencies oftentimes.
These billiard balls have some durability in them. They're not as durable as the ones above and can last for a good amount of time. They can easily chip and break if you put them under a lot of pressure. Let's just say you get what you pay for.
That being said, the gloss and finish are great. The billiard balls perform consistently on the pool table. Think of these billiard balls as the same as high-quality billiard balls. However, they lack in the durability department.
Overall, the Viper billiard master is an excellent choice for billiard balls if you're looking for an affordable alternative.
Viper Billiard Master 2-1/4" Regulation Size...
Complete set of 16 billiard balls
Includes solid balls (numbers 1-7), striped balls (numbers 9-15), an 8 ball, and a cue ball
Each billiard ball measures 2-1/4 inches in diameter, consistent with American style play
Iszy Billiard Ball Set Marble
Iszy is not a new name in the pool industry. They're well known for making high-quality pool accessories. The Iszy Billiard Ball Set maintains the traditional color scheme and adds a new marble swirl into it. 
The billiard balls are not hurtful to the eyes and add aesthetics to your pool table. They're also built for performance.
The marble swirl finish really makes the billiard balls stand out at the pool table. Maintaining the traditional color scheme highlight the design while maintaining the classic style of billiard ball numbers.
Each billiard ball consists of Grade A polyester resin. Every ball has an official size of 2 ¼ inches in diameter and 6 ounces in weight. The numbers are featured in art style.
The contact sound is nice and the roll is consistent. Each ball performs like the regular styled billiard balls.
This billiard ball set is in the low price range and it shows. The durability isn't that great compared to the ones mentioned before. However, the service is great. If you feel like you got a bad ball or set, contact them and they will replace your defective billiard ball.
Unfortunately, if you're too careless with these billiard balls, they may break or chip sooner than you would like.
Overall, this billiard ball set is great for aesthetic purposes. We recommend you use them a couple of times to show off maybe and then play with a billiard ball set that's built for more performance and durability.
Iszy Billiards Pool Balls - 16 Piece Cue Ball Set...
DELUXE DESIGNS - Talk about a marvelous collection of pool table balls. Whether you're going for a...
TOP QUALITY - Our pool ball set holds up great in conversations and the durability department. All...
A TRUE ROLL - What better way to practice your trick shots than with this pool table ball set! The...
Features to Consider For Billiard Balls
Before buying a set of billiard balls, you should first consider these features. It may give you an idea of how you want your billiard balls and what features you want on them.
Material
Billiard balls are usually made with phenolic and synthetic resin. They are mostly resistant to heat, scratches, and chipping. The higher the price of the billiard balls, the higher the quality of materials are used.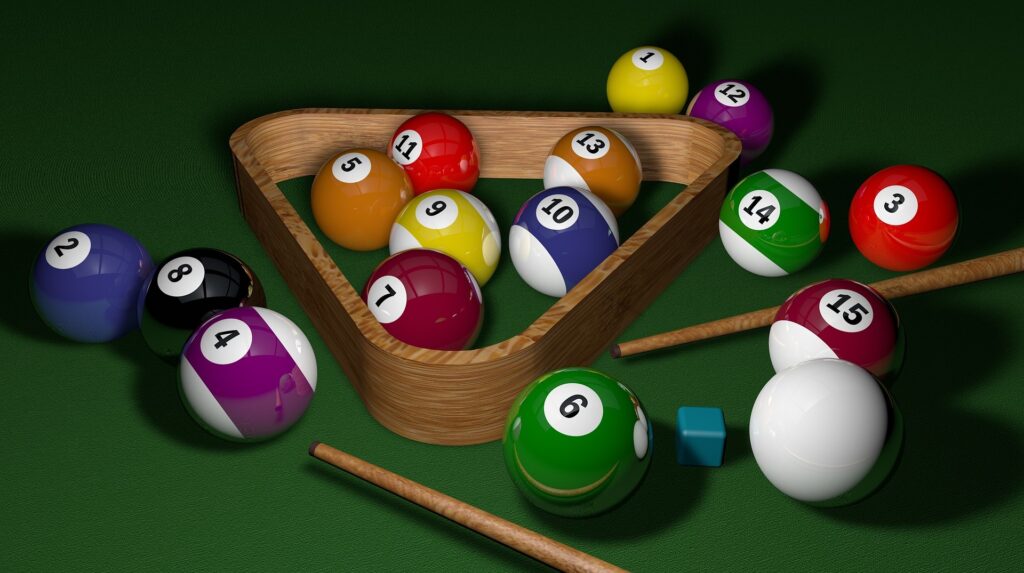 If you want the more expensive options, Aramith has developed a material called "Duramith". It utilizes cross-linking the resin bonds to provide the highest quality.
Cheaper billiard balls use a low-quality resin mix. They also sometimes use polyester. These materials are prone to chipping and don't last for a long time.
Size and Weight
Billiard balls vary in size depending on specifications. You would be better with buying regulation size billiard balls. There are a lot of non-regulation billiard balls in the market and it can be hard to spot the difference when you look at them.
Regulation size billiard balls have 2 and a quarter inches of diameter. Each billiard ball weighs around 5.5 ounces to 6 ounces. The cue ball consistently weighs 6 ounces. Regulation size billiard balls are mostly played with an 8th feet pool table (regulation size for a pool table).
It's best to stick with well-known brands if you are particular about sizes. Cheaper billiard ball sets often claim they're regulation and some don't really follow quality checks.
Finish
You shouldn't disregard the finish especially if you're more into aesthetics. A long-lasting finish will make your billiard balls look good as new. It also provides additional protection from chipping.
Billiard balls that sell at lower prices tend to wear out fast even if the finish is great. If you want your billiard balls to look glossy and new, you should make sure it has a high-quality finish.
Elasticity
Elasticity has a lot to do with how your billiard balls roll around the pool table. This feature is hard to determine if you're just looking at the billiard balls. You need to test it at a pool table to know if it has good elasticity.
Stop shots, in particular, rely heavily on the ball's elasticity. If you want to have a smoother ball control in your pool table, you should consider more elasticity in your billiard balls.
Design
Some billiard balls have a unique design and don't follow the traditional color scheme. If you're more into aesthetics, there are plenty of billiard ball designs that may suit your taste.
Some billiard balls sacrifice performance to have a better design to maintain a price range. If you want to have both performance and design, you may want to spend a little more.
Usage
How long are you gonna use the billiard balls? How often do you play? These are some things you also have to keep in mind. If you don't play that often, you should get a cheap billiard ball set.
If you play regularly, look for billiard balls that are:
Durable
Consistent
Rolls true and straight
If you are looking for a high-end option, always go for an Aramith billiard ball set. Although they really make expensive billiard balls, you won't be disappointed with the quality. There are Aramith mid-range options too, so you won't have to spend too much.
They are extremely durable so you can practice as much as you want on your pool game.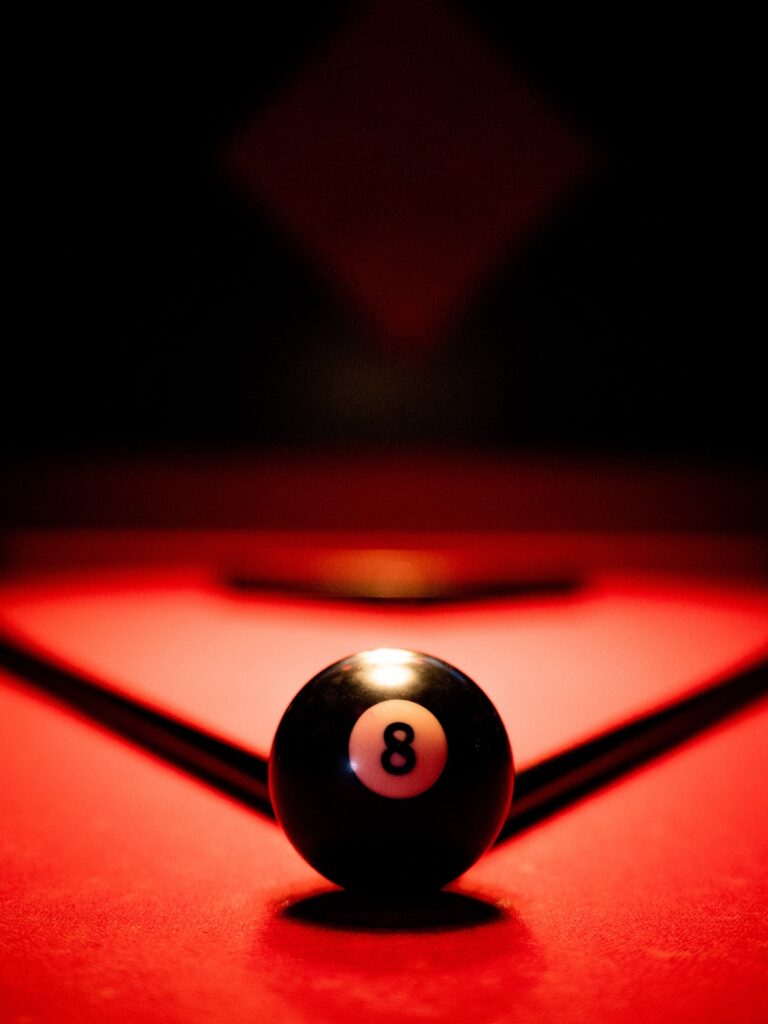 Price
Cheaper billiard balls are usually made of acrylic or polyester material. The expensive ones use phenolic resin. Consider what you want and how much budget range you can afford.
Cheaper billiard balls aren't that great in overall aspects, especially in durability. However, you will find most of them at a really low price. The difference in price between a cheap and expensive billiard ball is massive.
Most pool players would not recommend you get a cheap billiard ball set. Mostly because they wear out fast and chip a lot faster. If you are really into billiards, going for a mid-range billiard ball is the best option.
Why Aramith Billiard Balls are Considered the Best
Aramith is a Belgian company widely known as the best billiard ball makers. Over 85% of pool players around the world use Aramith billiard balls. Aramith combines high-tech process with fine Belgian craftsmanship on their Aramith resin.
They also make some of the most durable and long-lasting billiard balls in the world. You may in fact save more buying an Aramith because of how long it can last without a dip in its effectiveness.
Some of the qualities that make Aramith a high-quality billiard ball include:
Optimal rebound: the unique molecular structure and elasticity of the Aramith resin give it an optimal rebound for perfect ball control.
Perfect balance: the material in the plain and in the numbered part of the ball has a perfect homogeneity. It allows for the billiard balls to have a true and accurate roll.
Scratch-resistant: Aramith billiard balls can withstand over 50 times more impacts than your regular billiard ball. The balls can hold their high gloss polish a lot longer than the average.
Fewer marks on your cloth and balls: Aramith billiard balls have a high resistance to heat. Billiard balls are constantly subjected to heat because of the friction they make when shot or when rolling.
Longer lifespan: if you use your Aramith billiard balls at home, it may last up to 40 years. Make sure you also clean and maintain your billiard balls.
Conclusion
There are plenty of different billiard balls that can fit your needs. Make sure you choose one that can serve you for a long time. We strongly recommend getting an Aramith billiard ball set. Although they may be expensive, you might never have to buy one again.