As an Amazon Associate we earn from qualifying purchases.
In this game, your pool cues are like your weapons in a war. That's why you would want to carry the best of them. Even the top professional pool players make sure they use the best pool cues available in the market.
Our Top Pool Cues Reviews
The best pool cues aren't all about how expensive they are. They're more about comfort and how well they fare on the pool table. There are even some pool cues like sneaky Pete ones where appearance can be deceiving.
That's why you should never let the appearance of a pool cue your gauge of how good it is. There are various pool cues that are great and vary widely in their prices.
Brand
Players Technology Series HXT30 Pool Cue
Viper Desperado 2-Piece Pool Cue Fatal Shot
GSE Games & Sports Expert 2-Piece Canadian Maple Billiard Pool Cue
Product
Material
A grade Canadian hardwood maple
Brand
Players Technology Series HXT30 Pool Cue
Product
Brand
Viper Desperado 2-Piece Pool Cue Fatal Shot
Product
Brand
GSE Games & Sports Expert 2-Piece Canadian Maple Billiard Pool Cue
Product
Material
A grade Canadian hardwood maple
Players Technology Series HXT30 Pool Cue
The Players Technology Series HXT30 Pool Cue is an excellent pool cue for any game. It has a round shape and has different weight options. 
It's great for you to be able to choose what weight option to go for. Weight is an essential factor for your pool cues. So having the option of different weights in this pool cue is a big advantage.
The pool cue feels solid, and it consists made of premium-grade 100% North American Hardrock Maple wood. The wood material feels really durable and won't get warped easily.
This cue has a Kamui black soft tip that provides superior grip, spin, and durability. Some of the best pool cues use Kamui black soft tip because of its durability and effectiveness.
This pool cue also has a low deflection shaft and low deflection ferrule. Low deflection helps with applying better English when taking shots. This means you get more cue ball control and provide a more accurate spin to it.
The shaft feels smooth to your bridge hand. The solid black double-pressed Irish linen wrap also feels smooth and ensures the end of the cue stick stays dry and keeps moisture away.
Overall, this pool cue has everything you need. It's a solid pool cue with a smooth straight shaft and an excellent tip. All wrapped in a classic and stylish design that makes your pool cue look intimidating.
Product Highlights
Made with North American hard rock maple
Acid-etched stainless steel collar
Kamui Black soft tip for excellent English
Lifetime warranty
Viper Desperado 2-Piece Pool Cue Death Mark
The Viper Desperado 2-Piece Pool Cue is a pool cue that's worth the price. It consists of hard Canadian maple wood coated with 9 coats of varnish that protects the pool cue from warping.
This 2-piece pool cue measures 58 inches in length with the butt wrapped with 100% leather. The leather ensures an excellent grip and does a great job of wicking away moisture.
You also get a detachable scuffer. The tip consists of 13mm Le Pro leather which you can modify or reshape according to your needs.
The tip of this pool cue is a commonly used one. It plays pretty great and holds chalk quite well. However, you can easily replace it with a better one if you feel the need to.
This pool cue feels great with your hands and you'll get comfortable with it quite quickly. It also looks really sleek and stylish. The design is just minimal. However, it can catch people's eyes sometimes.
The Canadian maple wood feels durable and it feels smooth to the touch. The shaft is especially smooth which is good for your bridge hand. The stainless steel joints are lightweight and help provide a more consistent surface.
Overall, if you're looking to get the best affordable pool cue, the Viper Desperado 2-Piece pool cue has all the features you need for a low price.
Product Highlights
Genuine leather wrap
Laser engraved graphics
Adjustable weight bolts
Lifetime warranty
Viper Underground 58" 2-Piece Billiard/Pool Cue,...
Constructed from quality hard Canadian Maple wood and features edgy tattoo style graphics down the...
Designed with a 2-piece billiard cue, allowing for easy transportation and storage
Features lightweight ABS joints which help provide consistent feedback during play
GSE Games & Sports Expert 2-Piece Canadian Maple Billiard Pool Cue
GSE Games & Sports provides a lot of high-quality, indoor sports equipment, including pool equipment. The GSE Games & Sports Expert 2-Piece Canadian Maple Billiard Pool Cue is a great affordable pool cue to have. It's especially great for beginners who want to start learning pool and don't want to spend too much on a pool cue. 
Despite its low price, this pool cue can work well at the pool table. It has a professional glossy finish to it. You can choose to pick the weight between 18 – 21 ounces.
The pool cue feels solid and the shots you make with it have a bit of power to them. The lighter-weight ones give you better English. It has a length of 58 inches which is normally the length for the average person. 
The shaft consists of A-grade Canadian hardwood maple. While it's not the best Maple wood out there, it still provides the smooth finish and durability that North American maple wood provides.
The cue butt consists of Australian hardwood with a decal sleeve. It's solid and feels durable so you probably won't get some cracks in it for a long time.
You also get a 12mm premium multi-layer leather tip. It's not that great although you should expect it from an inexpensive pool cue. You can replace it with a new tip however, buying a better pool cue might be a better option then.
Overall, the GSE Expert 2-Piece Pool Cue is one of the best affordable pool cues you can have with this type of design and construction.
Product Highlights
Actually great maple wood for its price
The butt has a rubber bumper for extra protection
Irish linen wrap for better grip and prevent slipping
1-year limited warranty
GSE Games & Sports Expert 58" 2-Piece Canadian...
The pool cue shafts are made from AAA grade Canadian hardwood maple. The cue butts are made from...
The cue stick have many layers of high gloss metallic paint finish to prevent warping and...
12mm glued on multi-layer leather tips, with a quality fiber ferrules. Stainless steel quick release...
Cuetec Starlight Series 2-Piece Canadian Maple Pool Cue
The Cuetec Starlight Series Pool Cue has some of the best quality-made 2-piece pool cues you can find that are also not too expensive.
It doesn't warp easily and is extremely durable. It also has a smooth feel to it that makes it easy to take shots with your hands. 
The tip consists of Tiger Everest ten-layer pigskin. The leather tip is really great and durable. Most beginners and intermediate players would benefit from it a lot. 
The Tiger Everest tip provides great accuracy and a bit of power to your shots. The hardwood butt has a Veltex wrap for a stronger grip. It also keeps moisture away and keeps the butt cool and dry.
The ferrule consists of Polycarbonate and helps absorb the impact from your shots. It also reduces the noise from the impact of your shot. You also have a shaft that has a 15 ½" pro taper that improves your shot accuracy, flex, and cue ball control.
You also get to adjust the weight thanks to the AcuuWeight weight-adjustment system. This is especially useful if you plan to buy this pool cue for other people to use which is common in 2-piece pool cues.
Product Highlights
Veltex grip
Adjustable weight bolt system
Polycarbonate ferrule and a multi-layer pigskin tip
15 ½ inches Pro Taper bonded shaft
Cuetec Starlight Series 58" 2-Piece Canadian Maple...
Adjustable weight bolt system for quick and easy weight changes that allow you to adapt quickly to...
Veltex Grip pulls moister away from your hand to give you the best feel.
The patented S.S.T. is a 15 1/2" Pro Taper power bonded shaft that gives you a true feel and true...
Aska L3 Set of Wrapless 2-Piece Billiard Pool Cue Sticks
The Aska L3 2-Piece Pool Cues come in either a set of 3, 4, or 5. They also come in different colors. We would recommend this pool cues set for a big family or if you have your own pool table at home and want to play with friends.
The pool cues and their shaft consist of Hard Rock Canadian maple and they are durable. The shaft of the pool cue is 29 inches in length. The total length of the pool cue is 58 inches which is perfect for the average person.
Additionally, this pool cue has a joint stainless steel collar which is really durable and secures the 2 pieces for easy assembly and playability.
The different pool cues also have different weights so you can pick one that has the weight you preferred. You can play any type of shot on the pool table with ease. You can use the heavier one for breaking or the lighter one for better English.
These pool cues are wrapless so you will feel the wood from the shaft directly. It gives you a better feel for the pool cue. However, you might also experience sweating and slipping more often if you have sweaty hands.
Finally, a 13 mm. Leather hard tip ensures a solid hit on your every stroke.
Overall, if you're looking for a lot of pool cues at an affordable price, you should get the Aska L3 Set. It has pool cues for every weight option available giving you more versatility in the game.
Product Highlights
Set of pool cues with different colors
Variety of weights for versatility
Durable Canadian hard rock maple
ASKA Set of Wrapless 2-Piece Billiard Pool Cue...
Wrapless 5(Five) 2-Piece Pool Cue Sticks Set, One of Each - Black 21-Ounce, Blue 20-Ounce, Brown...
Canadian Hardrock Maple 29" Shaft. Cue Length is 58" (standard pool cue length)
Stainless Steel 5/16x18 Joint, Black Rubber Bumper
Rage Heavy Hitter 3-Piece Jump Break Pool Cue
Most jump break cues follow the standard weight of 18 ounces to 21 ounces. However, the Rage Heavy Hitter Jump Break Pool Cue breaks this norm by weighing 25 ounces. 
This pool cue is designed with three separate pieces that fit together securely to form a pool cue. You can configure it to a 42-inch 10-ounce jump cue or a 45.5-inch 20 ounce depending on where you're playing.
The tip features a hard and durable 14 mm Bakelite Phenolic. Many regard this material as harder than rock so it's really durable. It also works well and gives you a solid hit to the cue ball.
This is a great option if you have a pool cue you want to minimize on playing. This pool cue is a jump or break pool cue yet it can also serve as your regular pool cue. That way, you get to carry fewer pool cues around.
That being said, if you are aiming to become a professional, you shouldn't use this. Most professional pool players use separate jump cues and break cues for better overall control.
However, if you're just playing for fun and competing in small competitions, it shouldn't be a problem.
Overall, if you're looking for a durable jump/break pool cue that does it all at an affordable price, the Rage Heavy Hitter pool cue is the one you're looking for.
Product Highlights
3-piece design
Les tip maintenance
Extremely durable
Easy to switch design
RAGE Heavy Hitter Jump Break Cue - 25oz 3 Piece...
BUILT FOR EXPLOSIVE IMPACT - a stiff 14mm shaft combined with a rock-hard Bakelite Tip for maximum...
100% HARD ROCK MAPLE CONSTRUCTION - for straightness, strength and warp resistance
DOUBLE TURBO LOCK QUICK-RELEASE JOINT - quick & solid assembly / easily converts for jumping / handy...
McDermott Lucky L59 Pool Cue
If you want a sleek and classy-looking pool cue design that doesn't affect your game performance, then go for the McDermott Lucky L59 Pool Cue. Sure, there are better options out there, however, they're a lot more expensive and on the customized side. 
This pool cue consists of hard rock maple wood and we all know how durable and reliable it is. It can compete with some of the expensive pool cues out there as long as you know how to use it.
The signature graphic sleeve overlay makes it pleasing to look at. It comes with an Irish linen wrap which keeps the grip area cool and dry.
Other than that, there's nothing special going on with this McDermott pool cue. It works as it is intended to. The shaft feels smooth and your bridge hand won't have problems with it.
The tip of this pool cue is decent. It consists of leather and it hits solid and feels durable. You can replace it with a Kamui black tip if you want better performance. Overall, it comes with just the right feel of solid touch.
Unfortunately, the only option weighs 19 ounces and there are no other weight alternatives for you to choose which is a letdown.
Overall, if you want to have a sleek and classy looking pool cue without spending too much, the McDermott Lucky L59 Pool Cue will be a great addition.
Product Highlights
Unique and classy design on the butt
Durable and smooth wood
Low-priced for a pool cue with a unique design
Cuesoul Maple Pool Cue Stick Kit-Rockin Series
If you're looking for the complete package, then the Cuesoul Maple Pool Cue Stick Kit may be the one for you. It has all the pool accessories you need to play pool.
This pool cue is made from Canadian maple wood along with its shaft. It's fitted with a 12.75 mm cowhide tip which is really durable and feels solid when it hits the cue ball.
You also get:
Joint protectors
1 piece billiard towel
1 blue carrying cue bag
They're also 2-piece pool cues with a stainless steel joint M/18. It feels sturdy and easily secures your pool cue in place.
The 13 mm leather tip feels durable and provides excellent ball control. The hit feels solid and it feels you are accurately hitting the cue ball on the right part.
You also get a black and white genuine Irish linen wrap. Like every standard Irish linen wrap, it keeps your handle area cool and dry.
It's surprising how much you can get at such a low price. We initially thought the pool cue would be really bad since you get this on a kit. However, it's actually great. While it's not on par with the other pool cues on this list, it plays decently on the pool table.
This pool cue is great for casual players who want to get a kit to get started. It works great and has a surprisingly great pool cue. Although don't expect much of its durability for this price.
Product Highlights
Made with Canadian maple wood
Stainless steel joint for a durable and secure fit
You get a towel to keep your pool cue dry and in perfect condition
CUESOUL Rockin Series 57" 21oz Maple Pool Cue...
57inch length ,weight 21oz,butt made of imported dried hardwood,shaft made of hand selected and kiln...
Pearl paint finished with very cool pattern design on butt
Stainless steel joint M/18,with Irish linen wrap
Features to Consider for Pool Cues
The best pool cues have some of the best specifications and value ratios you can imagine. Especially for non-professional pool players that want to get the best value for their money.
Sure, there are plenty of great pool cues out there like customized Lucasi Hybrid or a Kamui personalized pool cue. However, you must be willing to pay over a couple of thousand dollars for one. It's just not worth it if you're only playing casually.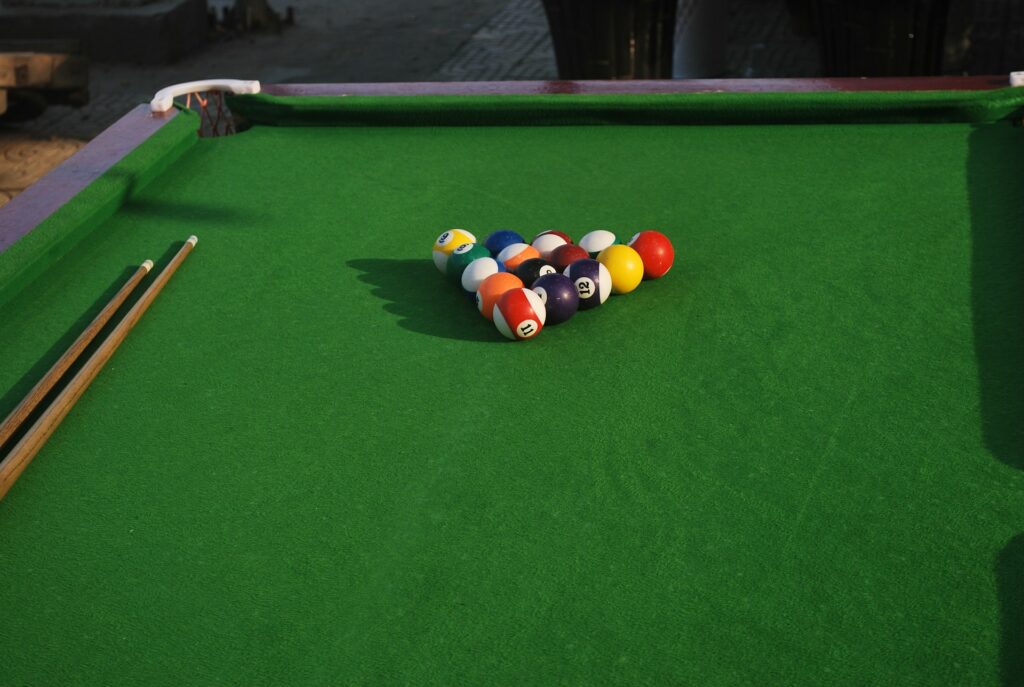 That's why you need to consider the features of a pool cue before choosing one. You should prioritize the features that you really need for your pool cue.
Length
The average length of a pool cue is around 57 to 59 inches. This fits most of your average height pool player. If you are over 6'4 inches or have unusually long arms then you might need a longer pool cue.
Overall, length doesn't matter to you much if you're of the average height. You should only look for longer or shorter pool cues if you're uncomfortable using the average ones.
Sort of Tip
A standard-sized pool cue is usually paired with a tip with an all-inclusive size of 11 to 14 mm. Heavier pool tips tend to be used for jumping and breaking while lighter pool tips are used for better cue ball control.
Professional pool players often prefer lighter cue tips since they don't need that much power and have a lot of pool cue sticks in their arsenal.
If you're only using 1 pool cue stick, then going for a slightly heavier tip will be great for its longevity. It will be a bit durable and still have enough to make it good at applying English.
Weight of the Pool Cue
The weight of the pool cue is an important factor to consider in your pool cue. If you're a beginner or amateur, going for heavier pool cues would be best for you. It helps add more power to your shots and they tend to be a lot more durable.
Slowly get your way through lighter pool cues as they offer better control and consistency. Even professional pool players use lighter pool cues in most of their shots (except for jump/breaks).
Try going for heavier ones first like the Rage Heavy Hitter or you can go get all the weight variants by getting the Aska L3 Set of Pool Cues.
Either way, it's all up to your preference and comfort in using one. It's better to try one out before buying. Go to your local pool hall and ask the experienced players there.
Wood Type
Another important factor to consider is the type of wood the pool cue uses. There are two things that make wood type important and that is the pool cue's tip and the durability of the body.
If you want to get the best value for your money, going for maple pool cues is your best bet. They're commonly durable and have a great quality in them that makes them great for playing pool.
If you favor lightweight and quality, you might have to spend more since brands will use some quality processes to ensure the pool cue's quality.
One-Piece or Two-Piece Pool Cue
If you're the type to play pool only at home, then going for a one-piece pool cue isn't a bad idea. However, it may be hard to store and they're often a lot less durable when subjected to harsh usage.
If you frequently play outside a lot, then a 2-piece pool cue will suit your need for portability and easy transport. This is especially useful for tournaments and competitions that you need to travel to.
2-piece pool cues are easy to store and protect. They usually are stored inside safe and secure storage when traveling. This ensures you have a pool cue that's in good condition for competition.
The Cuetec Prestige Series is a great example of an excellent 2-piece pool cue. It's often seen in most local tournaments too.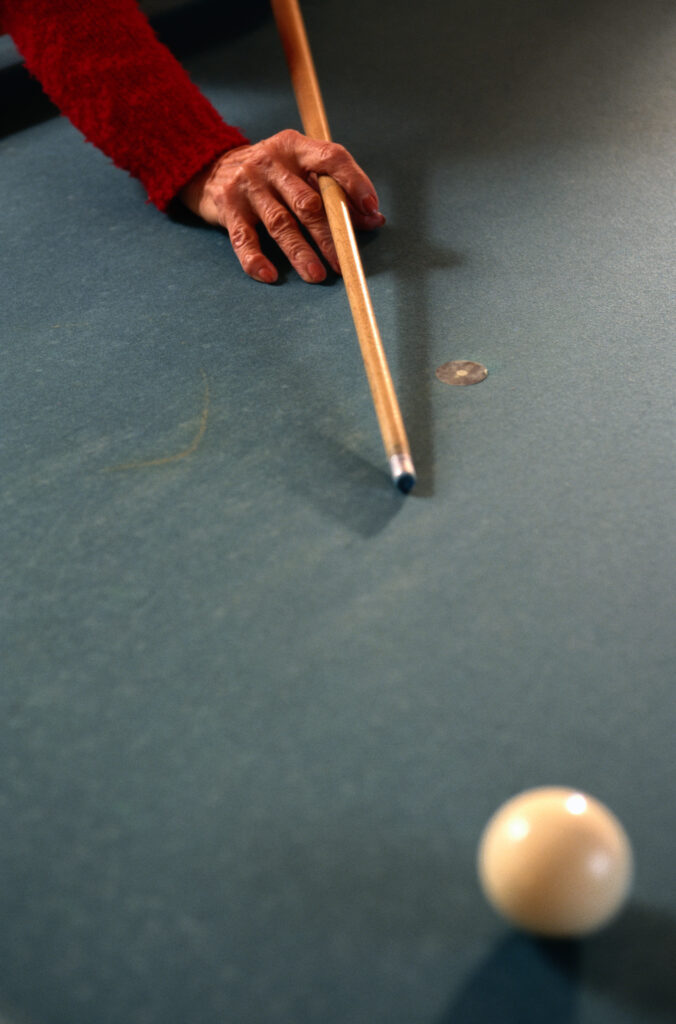 Straight Design
Oftentimes, new pool players often look for pool cues with an adjusted edge which they think is a great feature. In fact, the best pool cues have a straight design. A straight pool cue design also allows you to easily identify if it is warped or not.
Rolling your pool cue on the pool table should feel smooth when it lays flat on the floor or else it has a warped area in it. A straight design also offers better consistency for your pool cue.
Wrap Material
Wrap material is a kind of tape made with different types of material depending on the pool cue mode. It's folded over the edge of the pool cue and makes a grasp for better grip and handle.
The best type of wrap is sleek and is neatly attached to the pool cue body. It should help you strike the cue ball well and with consistency. There are a few types of wrap material out there and there are three distinct ones. These are:
Rubber wraps are alright as long as you check if its explicit and resistant to oil. An oily wrap makes for a slippery grip which will harm your gameplay.
It's better if you go for a wrap combined with rubber and high-quality silicone for your pool cue. For the best option, you should go with an Irish Linen wrap. It will provide you with a smooth performance without making you feel uncomfortable and it stays cold and dry.
Even the best overall pool cue, the HXT15 uses an Irish Linen wrap.
Irish Linen wrap attaches to the pool cue really well too so you can have a long-lasting wrap. Leather is another alternative. However, they tend to be heavier and absorbs water instead of repelling it. So make sure it has a water-repellent coating if you plan to get one.
Equalization Point
A great pool cue has the right equalization point or balance point. It will help you in going for shots with the best possible outcome. That's why it's an important feature for your pool cue.
The equalization point is usually located close to the focal point of the sign and two or three inches far from the tip of the wrapping material.
It's really hard to measure the equalization point if you're choosing online. You have to check it for yourself personally. Your best bet would be to check customer reviews and ask questions to the seller before deciding.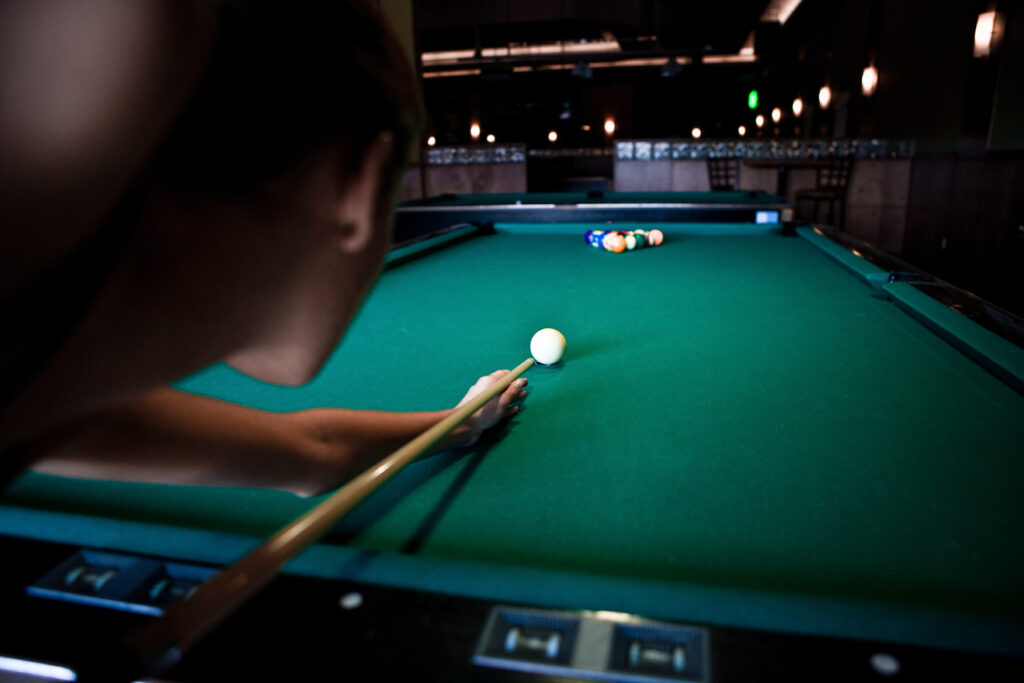 Color
Although not as important, color can affect your game in some way too. Some people prefer using specific hues since they're more comfortable with it.
You also don't want to match the color of your pool cue to the color of the pool table. It will make your eyes hurt or get you distracted when you take a shot.
Avoid choosing brighter hues and choose ones that are dark or dull. That way your eyes can relax and focus on the heavier colored pool balls and the white cue ball.
If you want to make sure that your pool cue fits the pool table you're playing at, then getting the Aska L3 Set isn't a bad idea. You get different color options so you'll be sure to have a pool cue fit for most pool tables
FAQs About Pool Cues
When buying pool cues for the first time, people have a lot of questions on their minds. So we made it easy for you and compiled some of the most common ones here.
Who Makes the Best Pool Cues?
There are a lot of pool cue makers out there and some of them make quality ones. You can get a specific model that is really great and all the other pool cues they make aren't up to par. So it all comes down to the model and customer reviews.
Some of the most famous brands are McDermott, Schon, Lucasi, Players, and Cuesoul. They have some of the most popular pool cues out there.
Are Expensive Pool Cues Worth It?
Expensive pool cues are worth it to some players. Like we said they're more geared towards professional pool players. However, if you have the money to spend on, why not?
Just remember to check the features of your pool cue before you justify buying one. How much would it really help improve your game? Do you really need it? How frequently you'll be using it?
For your average player, a cheap and mid-range pool cue should be enough for someone to enjoy a game of pool.
Are Heavier Pool Cues Better?
They're not necessarily better and more on they bring a different flavor to the table. Heavier pool cues tend to focus more on power rather than control. They're commonly used for breaking and jumping the cue ball.
Beginners also tend to start on heavier pool cues since they don't know how to handle one yet and usually tend to lack power.
As you improve on your pool skills, you tend to prefer lighter pool cues since they provide you with better cue ball control which translates to better positioning of the cue ball.
Conclusion
These are some of the best pool cues you can have at the market right now. They have some of the best quality and features you can get for a pool cue. We hope it also translates to an improvement in your pool game with your new pool cue.