As an Amazon Associate we earn from qualifying purchases.
While casual or new players can get away with using house cues for playing and breaking, professional pool players will need a special break cue for better performance. If you don't know what to look for, this guide will help you find the best break cue and tremendously improve your gaming performance.
Our Top Break Cue Reviews
Have you finally made the decision to move from using the regular house cues for both breaking and playing? The following recommendations should help you get started.
Brand
Players JB5 Midnight Black Jump Break Cue
25oz Rage Heavy Hitter Jump Break Cue
Product
Special Features
Custom turbo lock quick-release joint for a secure fit
Double Turbo Lock Quick Release joints
Brand
Players JB5 Midnight Black Jump Break Cue
Product
Special Features
Custom turbo lock quick-release joint for a secure fit
Brand
25oz Rage Heavy Hitter Jump Break Cue
Product
Special Features
Double Turbo Lock Quick Release joints
Purex HXT-P2
No products found.
The No products found. comes with a bit of a hefty price tag so it might be a turn-off for buyers looking for low-cost options. However, if you are looking for a break cue that focuses on durability, accuracy, speed, and efficiency, there couldn't be a better option for this price point. 
The break cue justifies its high price with a luxurious style that makes it an easy pick. It employs advanced technology to greatly improve its stability and durability. The cue has three interchangeable release joints which make it easy to control and make that first shot.
So, if you like making the super-short vertical joints while playing pool, this break cue will come in handy. It helps to dramatically improve accuracy and apply more force while breaking. The Purex HXT-P2 comes with a tough shaft that can take powerful shots while enabling you to make the most thrilling finesse shots.
There is also the tenacious XLG Quad Face tip that uses a durable carbon Fiber Impact System to boost both the strength and durability of the break cue. What is more, the MZ Grip wrap will help to firmly position the break cue in your hand and make more powerful shots.
Perhaps the most interesting thing about the Purex HXT-P2 break cue is that it comes in five different configurations. These include the 35.5-inch long jump extender and the 58-inch air flight jump handle that makes it easy to tackle even the most tricky shots.
What we Like
Very durable
Premium design
Allows for accurate and powerful shots
Comes in five different configurations
Comfortable to use
What we Don't Like
No products found.
Players JB5 Midnight Black Jump Break Cue 
If you find the Purex HXT-P2 too expensive, we recommend the Players JB5 Midnight Black Jump Break Cue. Although the price is still slightly high compared to other cues, this one provides the best bargain. So, if you are looking for something that strikes a good balance between cost and functionality, this one should be a great pick. 
The Players JB5 Midnight Black Jump Break Cue is a special high-impact ferrule so durable it comes with a Lifetime Guarantee against chipping or cracking. This is the best option if you play in an environment that is prone to chipping or cracking.
There is also a custom turbo lock quick-release joint for a secure fit, a high-gloss super UV finish protects the cue from fading & chipping and makes it last longer than other cues at the same price point. On top of that, it has a double-pressed Irish linen wrap for a sweat-free and stable grip. 
You will particularly find the 14mm 29″ 100 percent North American grade A hard rock maple shaft with Pro Taper a great welcome if you're looking to dramatically boost your breaking power. This is not something that you will find in most break cues, especially those on the lower price point.
The Players JB5 Jump Break Cue's wood was treated with Nelsonite, a patented stabilizer that protects it from atmospheric changes. This break cue has a proprietary epoxy finish that seals the pores in the wood, protecting the cue even further from moisture and warping.
What we Like
Lifetime guarantee 
Quick-release joint for a secure fit 
Special high-impact ferrule
Irish linen wrap for a sweat-free and stable grip
What we Don't Like
Still expensive compared to house cues
Players JB5 Midnight Black Jump Break Cue,...
Solid black genuine double-pressed Irish linen wrap for a classic, slip-free grip
Implex and wood-to-wood joints with two Turbo-Lock quick-release pins gives a medium-soft hit
14mm super-hard bake lite tip puts more pop behind your shot for a crushing break or high jump
25oz Rage Heavy Hitter Jump Break Cue
While most break cues are slightly expensive compared to the regular house cues, you can always find another affordable option. In our case, we find the 25oz Rage Heavy Hitter Jump Break Cue is the best fit for cost-conscious buyers. 
From the name, you can already tell that this cue is heavier than the Cuetec Meteor model above. While this might sound like a bad thing, most people actually prefer their break cues to be heavier. This way, they provide more power that results in explosive breaks.
This is a three-piece set that is almost just as good as any expensive break cue. The cue is constructed from hard rock maple which makes it one of our favorite options when it comes to durability.
The leather tip helps to make this cue even more durable and ensures that you can achieve powerful breaks. What's more, the Matte black wrapless handle offers better slip stroking which helps to increase your control and accuracy when breaking.
You can get this break cue in different colors. That is red, black and silver. You also get a three-year warranty which goes to show how confident the manufacturers are in this break cue.
What we Like
Very affordable
Durable due to the maple construction
Offers better slip stroking with the wrapless handle
Has Double Turbo Lock Quick Release joints
Comes in three different color options
What we Don't Like
A bit heavy for light people and beginners
Elite Break Cue
Ticking the scales at over 24 ounces, the Elite Break Cue is the best option for people who prefer heavier break cues. While some people might go for light cues that are easy to spin, heavy break cues are known to deliver maximum power transfer with impressive ball speed. 
So if you are looking to get an upper hand in the game with powerful breaks, this cue will be a great fit. The break cue is fashioned from AAA grade Canadian maple. It has a short taper design with a wooden pin.
If you have been using house cues for breaking, you will notice a big difference with this stick. It offers good ball dispersion and is great if you don't want to apply a lot of energy when breaking.
There is a phenolic tip and ferrule which is popular for delivering maximum power while breaking. The cue also has a wood joint and a black irish linen to bring out a professional yet comfortable design.
The Canadian maple construction offers a good dose of durability which ensures that the cue lasts longer and is also scratch-resistant. This cue consists of entirely natural wood so you can be sure you are getting upmarket quality.
What we Like
Durable construction
Stylish design
Powerful phenolic tip
More weight offers powerful and accurate breaking
What we Don't Like
A bit pricey
Might be heavy for lighter players
ELITE Heavy 27oz Banned Break Cue, Massive Weight...
HEAVY BREAK CUE: Want a stronger break? The Elite "Heavy" Break Cue is the answer. This breaker...
QUALITY MATERIALS: Crafted from AAA grade Canadian maple and features a shorter taper with a 2-inch...
HEAVY WEIGHT STICK: Rather than weighing just 20oz or 21oz, the Heavy weighs in at approximately...
Features to Consider in a Good Break Cue
Since it is easy to confuse a break cue and a regular house cue, there are some specific features you should look for when buying a break cue. For the most part, break cues are just like the regular cues. However, there are some few features that set them apart.
Break cues have thicker shafts with short ferrules. They also have hard tips meant for jump shots and are mostly heavier than house cues. Having said that, below are some of the features to consider when buying a break cue.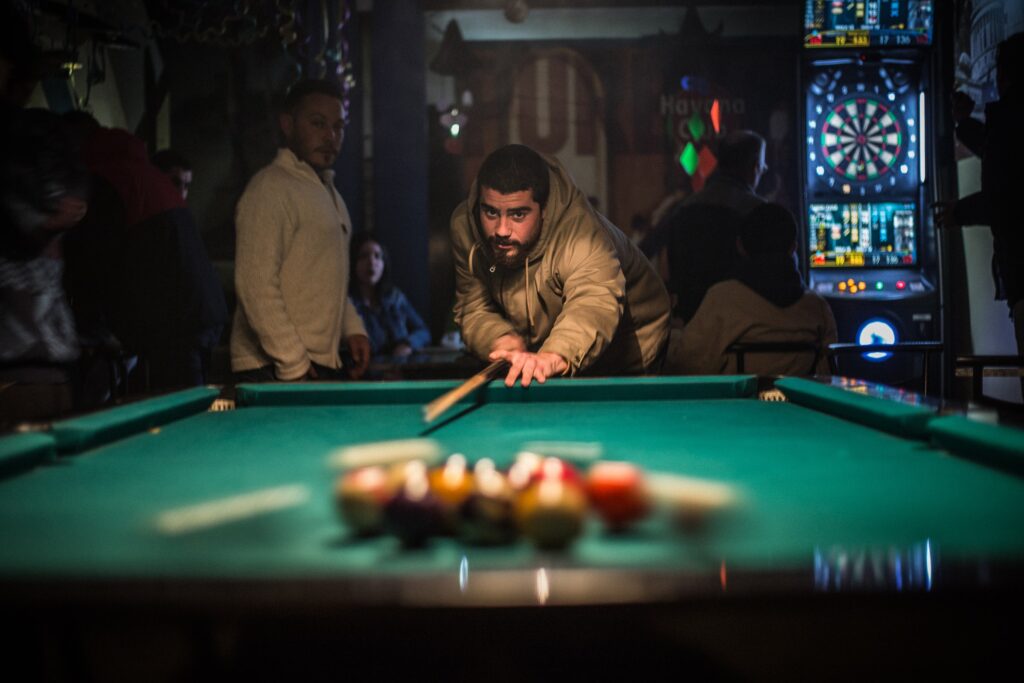 Weight
For starters, break cues are usually heavier than regular playing cues. Most players prefer their break cues to be heavier since they can achieve powerful breaks on the pool table. This is because cues with more mass offer higher momentum and deliver a powerful first shot.
Heavier break cues do not mean that you will need to apply force when breaking. On the contrary, you use your normal stroke and the weight of the cue will do the rest. All you have to focus on is accuracy and the cue provides the needed speed for perfect breaking.
On the other hand, we recommend lighter break cues for players who like fast acceleration and are able to deliver accurate strokes in split seconds. Light cues are easy to swing and achieve harder breaks. So they are good for equally lighter people who don't have a lot of arm power for a heavy break cue.
We recommend that you experiment with both heavy and light break cues to find a weight that works best for you. The good news is, most break cues have adjustable weight bolt systems which allows you to tinker around with the weight until you find your perfect fit. The best weight should offer good accuracy with maximum cue ball speed.
Tip Material
The two most common materials for break cues tips are leather and phenolic. Although phenolic tips are increasingly becoming common, there are people who still prefer leather tips.
If you're looking to deliver more power when breaking, phenolic tips are the best. They are known to offer maximum energy transfer from the cue stick to the ball, are durable and rarely lose their shape.
Phenolic tips deliver powerful breaks and are also great if you're looking for a jump cue. The hard tips will give you a good combination of accuracy and speed which makes for an impressive first shot.
The only problem is that phenolic tips are not scuffable. This means that you will need to take your time when applying the chalk before every shot. Otherwise, you will experience a lot of miscues.
On the other hand, leather tips offer increased control and spin. They can be scuffed which means they hold chalk pretty well to boost control and accuracy. To find a material that is best for your cue tip, we recommend that you try both and see which suits you better.
There are other personal preferences like the sound the tip makes when it hits the cue ball. That's why you should try both before settling on your preferred choice.
Accuracy
While you might think that ball speed and power is important while breaking in pool, accuracy is even more important. In this case, accuracy means that you are able to hit the target ball well, send some into the drop pockets and put yourself in a good shape to make the next shot.
So, while power and speed are important, you should never sacrifice accuracy and end up jeopardizing your entire performance. This is why you should focus on finding a break cue that delivers accurate shots and give you a good head start.
You might need to try a few break cues before finding one that offers a good balance of accuracy, power and speed. That means looking at different shapes, weights and sizes. Keep in mind that when it comes to accuracy, your own skills matter. You might have a good break cue but you are still clumsy at the table and you might not get the most accurate shots.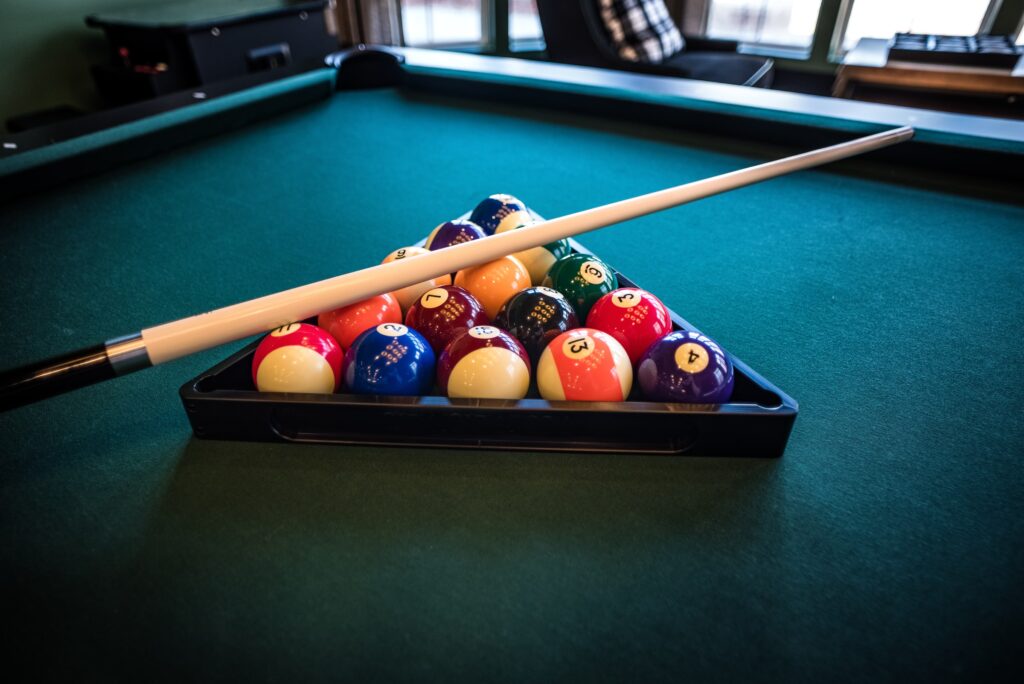 Why Should You Use a Designated Break and a Playing Cue?
Although the break and house cue have subtle differences, using both while playing can have a big impact on your performance. So, while casual players can get away with using only the house cue, professional ones should highly consider a designated break cue.
Here is why;
Consistent performance: When you use a regular cue to break, chances of getting ahead of the other players are low. However, a designated break cue will ensure consistent high performance since you will be able to get a good head start and stand winning the game.
Less maintenance: When you use the regular house cue for both breaking and breaking, you will be subjecting it to a lot of pressure that it wasn't built for. After some time, the tip and ferrules may start to wear out, require regular maintenance and ultimately become useless. However, using a designated break cue will ensure you avoid a lot of repairs and unnecessary losses.
Improve skills: Since breaks cues and playing cues are designed for different purposes, using them for what they are meant for will make you a better player and also ensure you make powerful breaks and pocket more balls.
Conclusion
Hopefully, this guide will help you find the best break cue for your unique needs. While most people don't think they need them, break cues are great if you are looking to improve your gaming performance by delivering a powerful first shot.