As an Amazon Associate we earn from qualifying purchases.
Pool tables can vary a lot in value. You might think that they are extremely expensive. However, there are actually pool tables that you can buy even on a budget. In this article, we're going to help you find the best budget pool table you can get. 
Our Top Budget Pool Table Reviews
You don't necessarily have to own an expensive pool table to enjoy the game. Sometimes, an affordable pool table is good enough to have some fun. Pool games aren't necessarily just for you to get better and for competing. Budget pool tables are there for you to have fun without worrying about anything.
Brand
Hathaway Fairmont Portable Pool Table
Rack Crux Folding Pool Table
Playcraft Sport Bank Shot Pool Table
Product
Brand
Hathaway Fairmont Portable Pool Table
Product
Brand
Rack Crux Folding Pool Table
Product
Brand
Playcraft Sport Bank Shot Pool Table
Product
Hathaway Fairmont Portable Pool Table
The Hathaway Fairmont Portable Pool Table is one of the best affordable pool tables you can get in the market. This sleek professional-grade pool table is great for small spaces and long hauls. 
This pool table features sturdy steel legs that you can fold for easy transport. This feature also makes it easy to store so you can have extra space at home whenever you need it. The Hathaway Fairmont features a compact, 6-foot frame. This feels durable enough to last a long time. However, we wouldn't recommend you expose it to continuous banging or beating.
The cushions feel responsive and the rebound is great. You also have blended wool felt. The pool balls roll smoothly and consistently on the blended wool felt.
This pool table also comes with integrated leg levelers. This ensures that you will always play on an even playing field no matter what the surface is. It's extremely helpful, especially in a home setting.
This pool table includes has all the accessories you need to start a game of pool for fun:
Nylon carry bag
2.25 inches standard billiard balls 
Two 48-inches two-piece pool cues
2 pieces of pool chalk
Table brush
Racking triangle
Overall, if you are looking to enjoy playing with your very own pool table without spending to much, the Hathaway Fairmont Pool Table is a great option.
Product Highlights
Easy to transport and portability
Great for both kids and adults
No assembly required
Contains pool accessories
Hathaway Fairmont Portable 6-Ft Pool Table for...
EASY TO TRANSPORT – This gorgeous table includes durable, steel legs that easily fold for...
FAMILY FRIENDLY – The Fairmont's compact 6-foot frame is perfect for kids learning the game....
NO ASSEMBLY REQUIRED – Every table ships fully assembled and ready to play. Simply unfold the legs...
Rack Crux Folding Pool Table
The Rack Crux Folding Pool Table measures 55 inches in length and is a multiplayer pool game table that comes with a lot of perks. 
First, its fold-up design makes it easy to store and easy to set up. It's an ideal space-saving small pool table, especially for small homes. This model is suitable for both kids and adults. It's also great if you're just starting to familiarize yourself with the game and practice some shots.
The 55 inches length is just the right size for both kids and adults to enjoy. It's the optimal size to get an authentic feel for the game. The cushions feel bouncy and responsive to pool balls. Although not as much as when you play on standard pool tables.
This pool table also contains pool accessories such as:
Leg levelers
Two 48-inch billiard pool cues
16 1.5 inch resin billiard balls
2 pool cue chalk
Triangle rack
Premium brush
The table bed uses MDF that feels solid and durable. It also feels even and the pool balls move comfortably on the surface. It has L88 rubber cushions which have a decent bounce and rebound feel to them.
This table gives you a great bang for your buck if you want an inexpensive pool table. Its components are great for the pool table's price point.
Product Highlights
55 inches in length and portable
Lightweight, durable, heavy-duty
Easily stored and set-up
Lifetime warranty
RACK Crux 55 in Folding Billiard/Pool Table (Blue)
🎱 Dimensions (L x W x H): 55 x 29 x 32 inches; Weight: 44 pounds ✅
🎱 SMOOTH FELT TOP: 1/2-inch MDF bed with blue regulation grade velvet felt for smooth ball rolls;...
🎱 RUBBER BUMPERS: Features L rubber bumper cushions that help ensure consistent bounce and better...
Playcraft Sport Bank Shot Pool Table
The Playcraft Sport Bank Shot Pool Table is a 40 inches pool table great for both kids and adults alike. It is easy to set up and the legs are easily attachable. 
This pool table is really popular among kids and adults alike. That being said, the legs may be too tall for your children so you may want to leave them unattached if they're playing on their own. If you want to play on it with them, on the other hand, then you should attach the legs or you'll be kneeling while playing all the time.
The pool table is extremely lightweight, weighing only 20.5 pounds. It has a cherry laminate exterior which gives it a stylish look and you won't even know that it's inexpensive.
Despite its appearance, this model features an MDF bed table construction that's sturdy and feels durable.
You also get all the pool accessories you need such as:
Two 36 inches pool cues
15 ball rack
Set of billiard balls
Cue ball
Pool chalk
Brush
This is a great affordable pool table if you just want to have some fun playing pool. That being said, don't expect top-notch quality for the price you are paying for it.
Product Highlights
Quick and easy set-up
Includes pool accessories
Stylish cherry laminated exterior
MDF construction at a low price
Features to Consider in Budget Pool Tables
Considering you're choosing a budget pool table, there are limitations to what their features can offer. Don't worry, though, as there are still many pool tables out there that are excellent in quality while being affordable.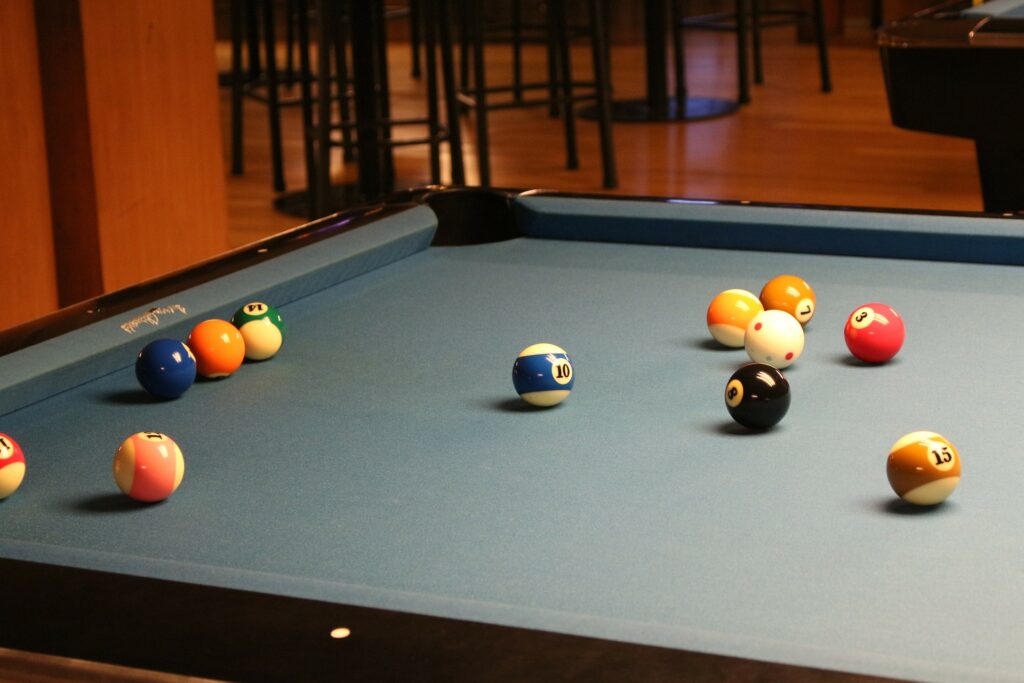 Size
Depending on what you prefer, you can pick from several pool table sizes. Just keep in mind the room you will be placing the table in.
Your room should be large enough to accommodate the pool table while also have space for players to move around and take a shot comfortably.
Most budget pool tables don't reach the standard pool table size which is either 7 feet or 8 feet. So they're a lot easier to fit into most rooms.
Bed Table
The horizontal playing surface is commonly known as the bed table. There are different types of bed table. You can either have:
Slate
Synthetic slate
Medium-Density Fibreboard (MDF)
Wood paneling
Honey-combed plastics
The two most common and notable materials used in budget pool tables are slate and medium-density fibreboard (MDF). Slates are mostly used on expensive pool tables so you won't find it that much on budget pool tables.
Board Bed Tables (MDF)
Board bed tables will often use plywood or MDF. MDF is the second most popular material next to slates. MDF is great in terms of quality and provides a smooth and level surface to your pool table. You can even find them on 7-foot pool tables.
MDFs are also more lightweight compared to slate and are generally cheaper, so you get a lower pricing and a lightweight pool table.
Slate Bed Tables
If you can find a budget pool table that uses slate, then you better go and get it. It's the most popular material and it's one of the best in terms of quality, too.
Slate consists of clay, fine grains, mica, and quartz. It's a rock slab that offers the best playing surface a pool table can have. However, we hardly recommend looking out for this if you're on a budget. Slate bed tables are rarely sold for cheap.
Felt
The felt or billiard cloth covers the rails and playing surface of your pool table. It's one of the most important parts of your pool table too.
Most pool tables use a density of 21 to 24-ounce materials. Cheaper ones may use lighter weaves to cut the price at the cost of durability.
For a budget pool table, look for a pool table that uses wool or worsted wool. They often have a seamless weave which is great for a pool table's playing surface. They are also more durable and are easy to clean.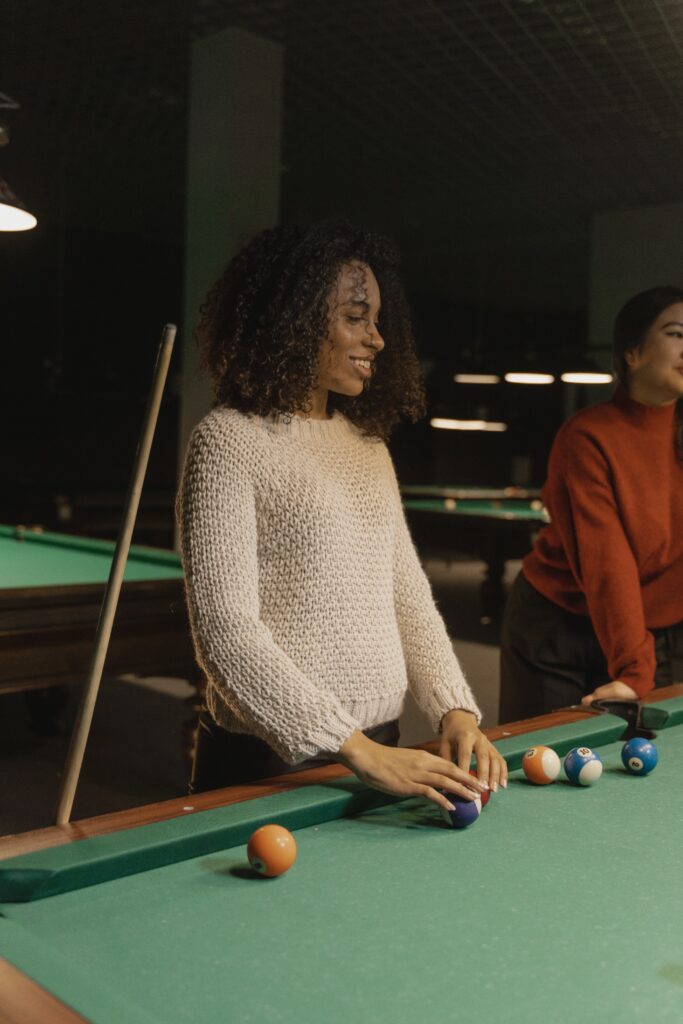 Billiard Pockets
Billiard pockets aren't that important and are more on what your preference is. However, it's a different thing if we're talking about an automatic ball return system. Although you won't usually find it on budget pool tables.
Most budget pool tables use plastic pockets so you have to get used to it. You sometimes get rubber pockets on some models. However, they can be priced a bit higher.
Expensive pool tables use leather drop pockets so finding one on a budget pool table is surprising. It's not that much of a steal because the more important parts may have been compromised.
Cushion
You can't expect too much on a budget pool table cushion if you compare it to even mid-range ones. However, they do have some bit of accurate bounce and rebound to it as long as you have the right size of pool balls.
If you find a budget pool table that has great cushioning, always go for it. Cushioning and the playing surface is more important if you want to enjoy a great game of pool.
Conclusion
Budget pool tables often come in small sizes. However, they are still a lot of fun to play with. Hopefully, after reading this article you'll be able to choose a budget pool table that fits your needs and budget.