Thank you for your support!
Pool chalk is a standard for every pool game. It helps keep the smoothness of the tip of the pool cue. Low-quality pool chalks can cause rough patches on the tip and will affect your stroke. To avoid this, you need to have the best pool chalk in the market.
Our Top Pool Chalk Reviews
We've compiled a list of the best pool chalk available on the market. Choose a model that can help you reduce the friction generated between your bridge hand and the cue shaft because of moisture and sweat.
Kamui Pool Cue Billiard Chalk
Kamui is a Japanese brand famous in the pool world for its high-quality pool accessories. Their pool chalk compares to nothing in this list. The Kamui Pool Cue Billiard Chalk (0.98 Beta) is one of the best pool chalk you can use. 
This pool chalk is a lot finer than almost any other pool chalk. Upon coating, the particles of the chalk coat the surface evenly. This makes your shots easy to spin and less room for miscues.
The pool chalk feels similar to good quality fine clay. It has excellent adhesion. You only have to apply the pool chalk once in a game and you won't notice a reduction in performance in between your shots.
The application produces a thin layer that creates better friction when you hit the cue ball and reduces the chance of sidetracking or skimming when you're hitting side splits. It also improves your English and makes it easier to hit shots more accurately.
We really like how consistent the Kamui Pool Cue Billiard Chalk is when used in a game. Sometimes you can go to a game chalking only once. The chalk applied can last for 10 or more strokes before it loses its effectiveness.
Overall, the Kamui Pool Cue Billiard Chalk is consistent chalk that has great adhesive and longevity. A single cube can last you more than a month with regular use.
Predator Cue Chalk
If you want the best value for your buck then the Predator Cue Chalk is something you might want to consider getting. This chalk has all the important things you want for pool chalk, it helps you apply better spin, commit fewer miscues, and provides better shot accuracy. 
This pool chalk is very adhesive. You can make 4 or more shots before you reapply it to your cue tip. You won't have to constantly apply it every shot so it adds to its longevity.
It has just the right combination of quality and chalk texture for its value.
This is a straight product with no gimmicks. It does its job of keeping your pool cue and hands from producing too much friction giving you great value for your buck.
However, there are some things that you might find uncomfortable. For example, this pool chalk only comes in blue. You might not like it on your green pool table or for other colors of the pool table.
However, it doesn't leave that much stain marks on your pool table. If it ever leaves some marks, it's fairly easy to clean. Some users also reported that the chalk leaves a dark dot on your hands or cue ball, this can be sometimes hard to remove.
Other than that, this pool chalk works great, especially for the money you pay for it.
Felson Pool Cue Chalk Cubes
The Felson Pool Cue Chalk Cubes is a great pick if you are looking for the best pool chalk with a reasonable price. It comes with a lot of color options. You can match it with your pool table so stains won't be noticeably visible. 
The pool chalks are great in quality for an inexpensive pool chalk. Although, it's not as great as the other options mentioned above. It doesn't last long. However, you get 12 in a pack so that makes up for it.
The rounded applicator tip helps make it fit easier into any pool cue. The chalk provides good friction between the cue stick and cue ball. It's consistent although you may need to reapply it every one or two strokes.
Some users reported that the pool chalk seems a bit gritty and rough. You might have to grind the chalk onto the tip to apply it properly. This will result in a little more chalk dust to clean up.
This pool chalk is perfect for home use if you don't play pool that often. This pool chalk pack can last for 6 months to a year if you don't play regularly.
Overall, if you're looking for pool chalk and you are tight on cash, getting the Felson Pool Cue Chalk Cube is a great choice.
Master Pool Cue Chalk
Master is a US-based brand and is great for beginners and professionals alike. Even the World Pool-Billiard Association (WPA) recommends it for their professional tournaments. Like the Felson, the Master Pool Cue Chalk also has 12 pieces inside a pack. 
Felson barely edges Master since this pool chalk is a bit pricier than Felson. Master is slightly better in quality. However, you won't notice that much of a difference.
Master Pool Cue Chalk is just the right balance. It's neither too soft nor too hard. It also doesn't leave that much of a mess behind when you use it. Your pool table and pool balls will look clean.
This pool chalk has the right degree of adhesiveness despite its price. It sticks nicely well to your cue tip so you can have a better surface for an accurate stroke.
However, you will have to apply the pool chalk for every shot you take to get that consistency you want. This will result in the pool chalk running out faster than better options. You can expect it from pool chalks in the range of low to mid-range prices.
Expect each cube to last you for around 3 weeks to a month if you play regularly.
You have a lot of color options to choose from (a total of 10) to match your pool table.
Overall, this is a great American made pool chalk. It works as intended and has a really nice adhesive.
Silver Cup Billiard Chalk
We have another affordable pool chalk from Silver Cup. The Silver Cup Billiard Chalk contains 12 cubes in a pack.
What makes these great is you can get them for over 20 color options so you can have a better chance of picking one that has the same color as your pool table.
This is great for people who have a unique pool table color and don't want to leave visible stains on it. Some pool chalk stains can be very hard to clean too.
This pool chalk hovers around the low-end side so expect that it won't last very long. You have to apply it for every shot. The adhesiveness is pretty decent and provides a smoother surface on your cue tip.
The chalk is a bit coarse. This might generate a bit of friction between the cue ball and the cue tip. The additional friction might help you perform a good and steady stroke.
The adhesion is great. It provides excellent coverage on your cue tip. The chalk thins out fast though. You have to consistently apply it for every shot you take.
Expect each cube to last for about two weeks to a month with regular use. With 12 cubes, it can last you for almost a year with regular use.
Overall, if you have a unique pool table, you should consider getting the Silver Cup Billiard Chalk with all of its color options you might find one that matches your pool table color.
Hathaway Silver Cup Cone Talc Chalk
The Hathaway Silver Cup Cone Talc Chalk is one of the best overall cone pool chalk you can get right now. This pool chalk has one of the best talcs. What we really like about this pool chalk is its unique shape that helps in keeping your hands dry, cool, and smooth.
If you apply it to your pool cue, it really aids in decreasing the friction you get between the bridging hand and the pool cue shaft.
Its solid texture assures it won't easily cut down on breakage. It will be able to keep its shape if stored and used properly. The chalk is also hard and compressed which adds to its durability.
Although it's hard, you can easily apply it by wiping your hand over the cone. It doesn't leave that much mess behind. Just wipe off some of the little residues so your pool table can look classy and clean.
You can even use this chalk in other sports like martial arts and weightlifting.
If we were to find a negative with this pool chalk, it sometimes comes broken maybe because of rough delivery. However, they will immediately replace your broken ones and is prompt to answer back once you contact them.
Overall, the Hathaway Silver Cup Cone Talc Chalk is one of the best cone pool chalk you can get. It's durable, doesn't leave too much mess behind, and significantly reduces the friction you make.
Features to Consider for Pool Chalk
Pool chalks are simple and straightforward. It's gotta do its job of maintaining the right amount of friction between the pool cue and cue ball. Other than that extra features are an added bonus.
Adhesiveness
The most important thing you need to check is the adhesiveness of your pool chalk. This identifies the pool chalk's capacity to hold on to the cue tip after a number of strokes.
Some pool chalks can stick to cue tips well after 8 or more strokes. Others only stick after 4 or fewer strokes. The higher the adhesiveness, the less you are going to use it. Lesser usage means a longer time you'll be able to use it.
Water Retention
You might accidentally expose your pool chalk to water. Pool chalk that has water retention can help a lot in avoiding the drying factor.
Pool chalk that gets exposed to water usually dries very fast. However, it becomes flakey and loses some of its valuable properties.
Flaking may also cause your pool chalk coat to fall on your table or get on your hands. It will create a mess or stains which can sometimes be hard to remove.
Color
You also have to consider the color of your pool chalk. Most people match the color of their pool chalk to the color of their pool table.
It's a helpful way to hide stains that you may get from using your pool chalk. The powdery mess gets blended into the pool table color to maintain its original look.
However, do remember cleaning it up from time to time. Accumulated chalk residue can affect the smoothness of the pool table and affect the game.
Longer Lasting
Longer lasting pool chalks don't break up easily if dropped. Sometimes we get careless and drop our pool chalks. Low-quality ones usually easily break up if it gets dropped.
Look for quality pool chalks that retain their shape even if subjected to other pressures and factors.
Price
Pool chalks don't really have that much difference in prices. However, there are some high-quality ones that have a high price range. They are usually excellent, and the differences are noticeable.
Depending on your preference, one pool chalk might be better for you.
Other Factors to Consider for Pool Chalk
Aside from the features that you get from the pool chalk, there are other external factors that you also have to consider for choosing the best pool chalk for you.
Skill Level and Frequency of Use
Depending on your skill level and weekly usage, you should pick chalk that fits your needs. For beginners, you don't really have to spend too much on pool chalk. Make sure you know how to properly use it first.
Start with cheaper ones so you can familiarize yourself with them without spending too much.
For tournaments and professional level, You would want to go for high-quality ones like Kamui pool chalks. They're well-received by most professional pool players.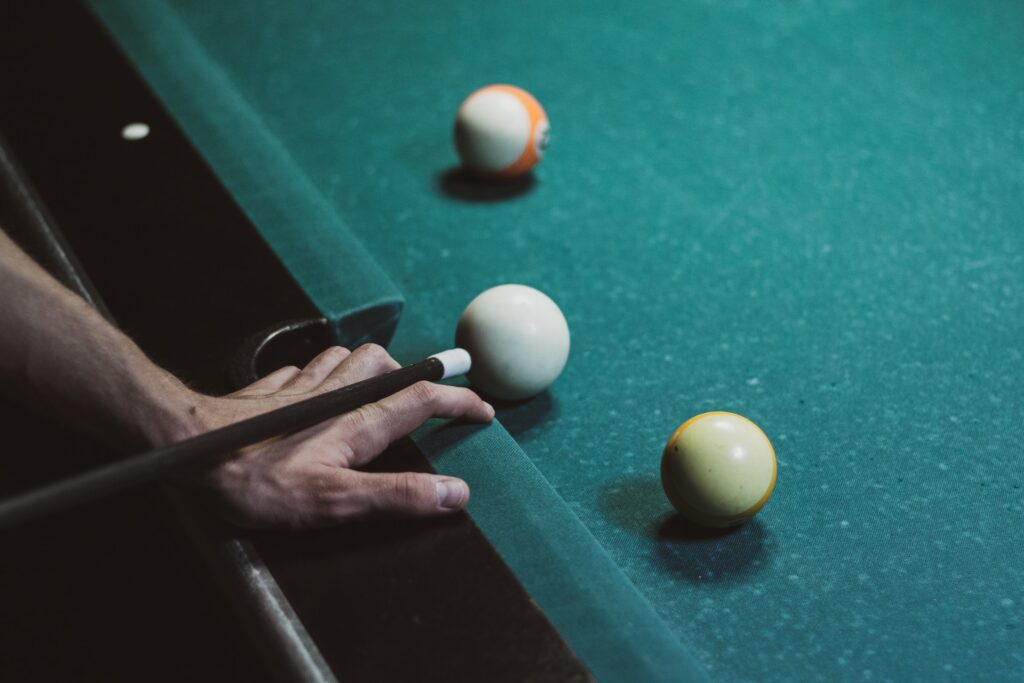 Storage
It's important to store your pool chalk properly. Remember how water can affect your pool chalk. Don't expose it to moisture as it will do the same. It could end up lost or get some damages through physical means or humidity.
Some pool chalks come with their own storage. It can be handy if you travel to another pool hall to complete. Some people just leave their pool chalk in their pool room since they also control moisture in it.
How to Properly Chalk
Even if you use expensive pool chalk, it's useless if you don't know how to properly use it. Using the proper technique also prolongs the lifespan of your pool chalk and also keeps the cue in shape to reduce miscues.
Keep your pool cue at an angle.
Slowly rotate the stick while gently brushing the chalk for even coverage.
Make sure you don't put too much pressure or you'll end up with an uneven surface.
Tips for Chalking Properly
Don't drill a hole in your pool chalk: most beginners think that drilling a hole in the pool chalk will help apply it properly. This only reduces the pool chalk's durability and longevity. It also makes an uneven coating.
Chalking too much is bad: most people love chalking too much because it really feels good to do it. While this is not necessarily bad, it's not great either. You can leave more chalk dust on the pool table.
Do not apply chalk over the table: This is another common sense. The chalk residue will settle down on top of the pool table.
Don't blow the tip: some people blow the cue tip to remove excess chalk on it. The moisture from your breath can sit on the tip. When you reapply the chalk it may transfer to your pool chalk cube and can lead to flaking.
Always keep the chalk facing up: this is to prevent chalk residue from falling off in places you don't want it to.
Tips on Using Expensive Pool Chalk
High-quality pool chalks have a different feel in them compared to other pool chalks. You also get some benefits from using them like:
Better longevity: high-quality pool chalks usually have excellent adhesive to them. This means a lesser frequency of chalking them to your cue tip. You use less chalk on average per shot compared to other pool chalks.
Less chance of caking: expensive pool chalks don't cake up easily on your cue tip. This means that you'll rarely miscue your stroke.
Lesser mess: expensive pool chalks use finer chalk. It sticks better to your cue tip and doesn't fall off easily. However, if you do get stains from it, they're harder to wipe off because of the stickiness.
Most pool chalks are relatively cheap so you can just buy different brands and check which one of them fits best on your pool table before you try the most expensive ones. You can sell the other ones or donate them to your friends or at a local pool hall.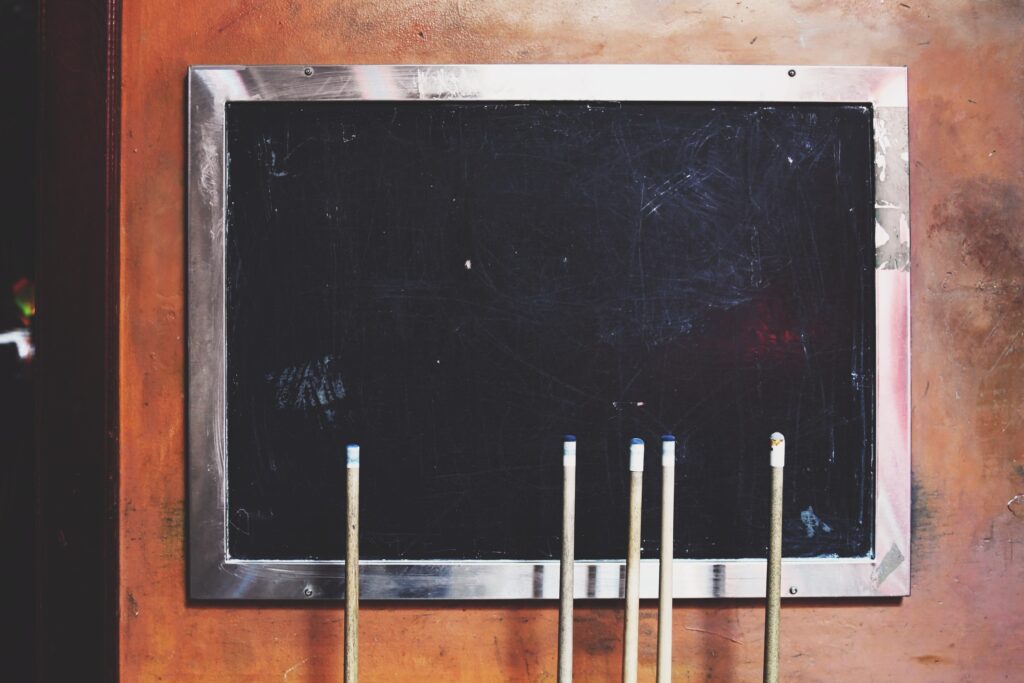 Frequently Asked Questions
These are some of the most common questions new people ask when they are thinking of buying pool chalk.
Why Do You Use Chalk on a Pool Cue?
The answer is simple. It's to increase or decrease the friction you generate between the cue tip and the cue ball. It reduces your chance of miscues and increases your capability to apply better English on the cue ball.
For dead-center shots, there's not much noticeable benefit you get from it. However, it's still better to chalk your pool cue when taking dead-center shots as an added precaution.
What Is a Miscue?
Miscuing on a pool game refers to when a pool cue tip slips unintentionally from the ball's surface which leads to a bad shot. This only happens on non-dead center shots where there is less surface area for the cue tip to hit.
How Often Should I Need to Chalk My Pool Cue?
It depends on your pool chalk and the quality of your cue tip. The more worn out your cue tip is, the more times you should apply chalk on it.
Pool chalks also vary in terms of their adhesive properties. High-quality ones have high adhesiveness so the chalk sticks to the cue tip surface a lot longer. On average, high-quality pool chalks can last for up to 8 or more strokes before you reapply them on the cue tip.
Cheaper quality pool chalks sometimes require you to chalk them up for every shot you take. Others can go 3 to 4 strokes before you need to reapply the chalk.
What Happens if I Don't Chalk Frequently?
As said many times before, if you don't chalk your cue tip, it will lead to miscues. You also won't apply better English or spin to your cue ball. There's a reason why professional pool players chalk their cue tips too.
Conclusion
Pool chalks are an important part of the pool playing experience. It keeps your pool cue accurate for non-dead-center shots and helps you apply better English. Pool chalks vary in adhesion and color. Pick one that fits your needs and comfortable for you.