As an Amazon Associate we earn from qualifying purchases.
If you're starting to enjoy playing pool, one of the first steps towards mastering the game is buying your own pool cues. However, since there are too many options to consider, you might not know how to get the best pool cues for beginners. Don't worry, this guide will help you get a pool cue that is the best fit for you.
Our Top Pool Cues for Beginners
After doing plenty of research on several of the top models available in the market, we have identified the following pool cues as the best options for people looking to face their first pool games.
Brand
CUESOUL Pool Cue Stick Set
Product
Materials
North American hard rock maple
Product
Materials
North American hard rock maple
Brand
CUESOUL Pool Cue Stick Set
Product
Players HXTC15 Billiard Pool Cue
While professional players can still enjoy a good game with the Players HXTC15 Billiard Pool Cue, we find it to be the overall best choice if you are just starting out. There are a few features that make this pool cue beginner-friendly. 
To begin with, it is a fairly affordable option. You don't want to blow your savings if you are just buying your first pool equipment. So, while this is the most expensive option in our guide, it is still quite affordable compared to other pool cues with similar features.
This is also a low-deflection cue. Most beginners struggle with cue ball deflection and accuracy. If you get a high-deflection pool cue, you will struggle to master accuracy and your overall performance might stagnate. However, since the Players HXTC15 Billiard Pool Cue has a low-deflection shaft, you will be able to master ball control faster. 
We also found the Players HXTC15 Billiard Pool Cue to be one of the most durable for this price point. This is good for you as a beginner since you are most likely to expose the stick to damage. Fashioned from 100% premium North American rock maple, the shaft is stiff and can withstand excessive force and avoid breakage. 
What we Like
Durable
Low-deflection shaft
Lifetime warranty 
What we Don't Like 
The soft tip might wear off after some time
Players HXTC15 Billiard Pool Cue PureX Enhanced...
Back-end loaded Mz Multi-Zone Grip for a super comfortable grip that won't slip in your hands
International products have separate terms, are sold from abroad and may differ from local products,...
Back-end loaded Mz Multi-Zone Grip for a super comfortable grip that won't slip in your hands
Players C-950 
No products found.
Players is a big name in the billiards market. Most of their cues are beginner-friendly and the No products found. is no exception. One of the things that most pool newbies struggle with is getting a good hold of the cue. If you find a slippery stick, it will easily slip off your hand when you make a shot and make it hard to attain accuracy. The Players C-950 phases off this problem by using a double-pressed linen wrap to provide a firm grip on the cue. 
This helps to improve both accuracy and ball control. The pool cue consists of high-quality maple hardwood and just like the Players HXTC14, it also comes with a lifetime warranty. This will allow you as a beginner to play confidently without worrying about getting a defective pool cue and having to buy a new one. 
Additionally, the cue also has a Nelsonite coating to protect it from harsh climatic conditions and boost its durability and firmness.
Unlike the Players HXTC14, the C-950 has a hard oak leather tip that can hold its shape for a longer period. The hard tip will also help you master ball control faster and makes for consistent play. 
What we Like
Durable
Lifetime warranty
Affordable
Offers a firm grip
What we Don't Like
Prone to warpage if not maintained properly
No products found.
CUESOUL 58″ 19oz DS Maple Pool Cue Stick Set
As a beginner, we don't recommend that you spend a lot on a pool cue. As you develop your skills, you will naturally want to get more professional cues. However, even though you are looking for other affordable options, you should get one that doesn't sacrifice functionality too much. The CUESOUL Pool Cue Stick Set is that option. 
The CUESOUL Pool Cue Stick Set comes with a pool cue, three billiard cue chalks, a cue cleaning towel, one cue tip tool pick, and a billiard glove, you get the most necessary billiard accessories when playing cue. 
TheCUESOUL Pool Cue Stick Set selected Canadian maple wood with Luxury Pearl White finish, stainless steel Bottom ring with durable rubber bumper, offering maximum protection for each cue butt.
The cue also has a Canadian maple pool cue shaft, shaft construction designed to eliminate deflection for improving accuracy, easier to control the billiard cue ball. Has a high-quality original cowskin cue tip, a nice grip when hit on the cue ball. Stainless steel collar, and stainless rocket pin.
What we Like
Affordable
Comes with additional accessories
Durable
What we Don't Like
The weak joint might affect balance and ball control
Dull design
CUESOUL SOOCOO Series 58" 19oz Pool Cue 11.5mm +...
WEIGHT ADJUSTABLE:58inch,19oz maple pool cue,cue weights will vary.
SHAFT:A++ canadian maple pool cue shaft,shaft construction designed to eliminate deflection for...
BUTTE:selected canadian maple wood with Luxury Pearl White finish,stainless steel Bottom ring with...
Viking Valhalla
As we have already mentioned, amateur pool players are more likely to expose the cue to damages than professional players. For this reason, durability is paramount when selecting a good stick for beginners, like the Viking Valhalla pool cue. 
Although there are quite a number of options when it comes to durability, we believe the Viking Valhalla is the best durable option for beginners. This is a two-piece pool cue with an Irish Linen wrap to provide a firm grip while playing. This ensures that you are comfortable and confident when making your first few hits.
If you are just learning the perks of the game, you will find this cue's alluring design and durable shaft welcoming. The 58-inch pool cue consists of high-quality materials to enhance durability and deliver a powerful hit. These include a Canadian maple shaft and leather tip.
Wrapped in Irish linen, the handle offers a firm and comfortable grip. There is also a Urethane finish to offer additional protection while giving the cue a stylish and radiant look. The solid wooden core does a great job at preventing the cue from such defects as warping, dings, and scratches.
Finally, you can get this pool cue in up to 7 different color options and 4 weight options. That is 18-21 ounces.
What we Like
Attractive design
Durable
Affordable
Great playability for beginners
What we Don't Like
The tip could be improved
Viking Valhalla 500, 600 & 700 Series 2 Piece...
IMPROVE YOUR GAME WITHOUT BREAKING THE BANK. Features a 58" maple shaft cue, two piece design for...
A PREMIUM IMPORT. Designed by our Viking Cue Artisans, Valhalla cues take full advantage of our...
STATE-OF-THE-ART UNRIVALED QUALITY. Before a pool cue is shipped, it is assembled, rolled, and...
Features to Consider in a Pool Cue for Beginners
Getting started with billiards is not as easy as it sounds. There is so much to learn beyond hitting a ball with the cue stick. For beginners, getting the right cue can be the difference between mastering the game quickly and never getting off the ground.
Here some features you should look out for.
Size and Weight
Mostly, size and weight circle back to personal preferences. As a beginner, you might find that you click better with heavy or light pool cues. Usually, pool cues come in about 55 to 60 inches and 18 to 22 ounces.
Depending on what you prefer, you can tinker around with different weights and sizes until you find one that is the best fit for you. However, based on our research and experience, we think 19 ounces is the best weight for beginners. Most cues come in this size and are also budget-friendly.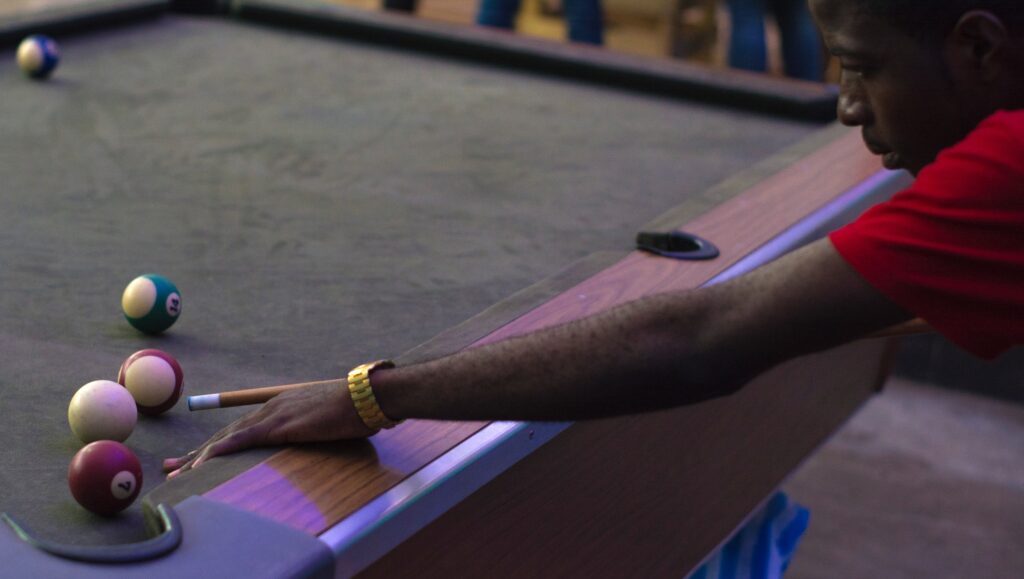 So, if you don't already know what is a good weight for you, 19 ounces will be great to start with. While heavier cues can deliver more power, they make it difficult to spin and control the ball. On the other hand, lighter cues are easy to control although they afford less power.
Material
Based on our experience, harder high-quality materials achieve more powerful shots compared to soft ones. Most pool cues are fashioned from maple so you will most likely come across them when buying your first stick.
Maple wood will accord more control and at the same time allow you to exert maximum force on the cue ball. They are also very durable and ensure that you use the stick for long enough before getting your next one.
Durability is a good thing especially if you are still clumsy with the stick and more likely to expose it to damage.
Tip
Being the most abused part of the pool cue, it is only fair that the tip should be good enough. Cue tips can either be of leather or phenolic material. Either way, we recommend that you go with harder tips as opposed to soft ones.
This is because hard tips are less prone to damage and bring out the best impact when striking the ball. You will also find cues that have layered leather tips with medium hardness. Layered in this case means that they are constructed from different thin strips of leather. The strips are pressed and glued together.
In this case, the tip will last much longer compared to those with single leather tips. They also hold their shape better and require less maintenance. So, unless you are looking for a specific tip or working with a tight budget, we recommend you consider those with layered leather.
Wrap
As a beginner, learning to control the cue is just as important as getting a good hit at the ball. As easy as it sounds, getting a good hold of the cue is frustrating. It's even worse if you are using a stick with a bare maple finish.
Wraps are used on the butt of the cue to ensure that you get a good grip and be confident and comfortable enough. However, all wraps are not the same. The best wraps consist of leather. However, these are expensive and might not be good for beginners.
If you would rather go with the cheaper options, we recommend Leatherette wraps. Leatherette is a synthetic material made from either plastic or vinyl. You might experience some sweating. The same happens with leather so that is pretty inevitable.
Otherwise, we think the Irish linen is the best option for beginners. There is little sweating and doesn't cost a fortune.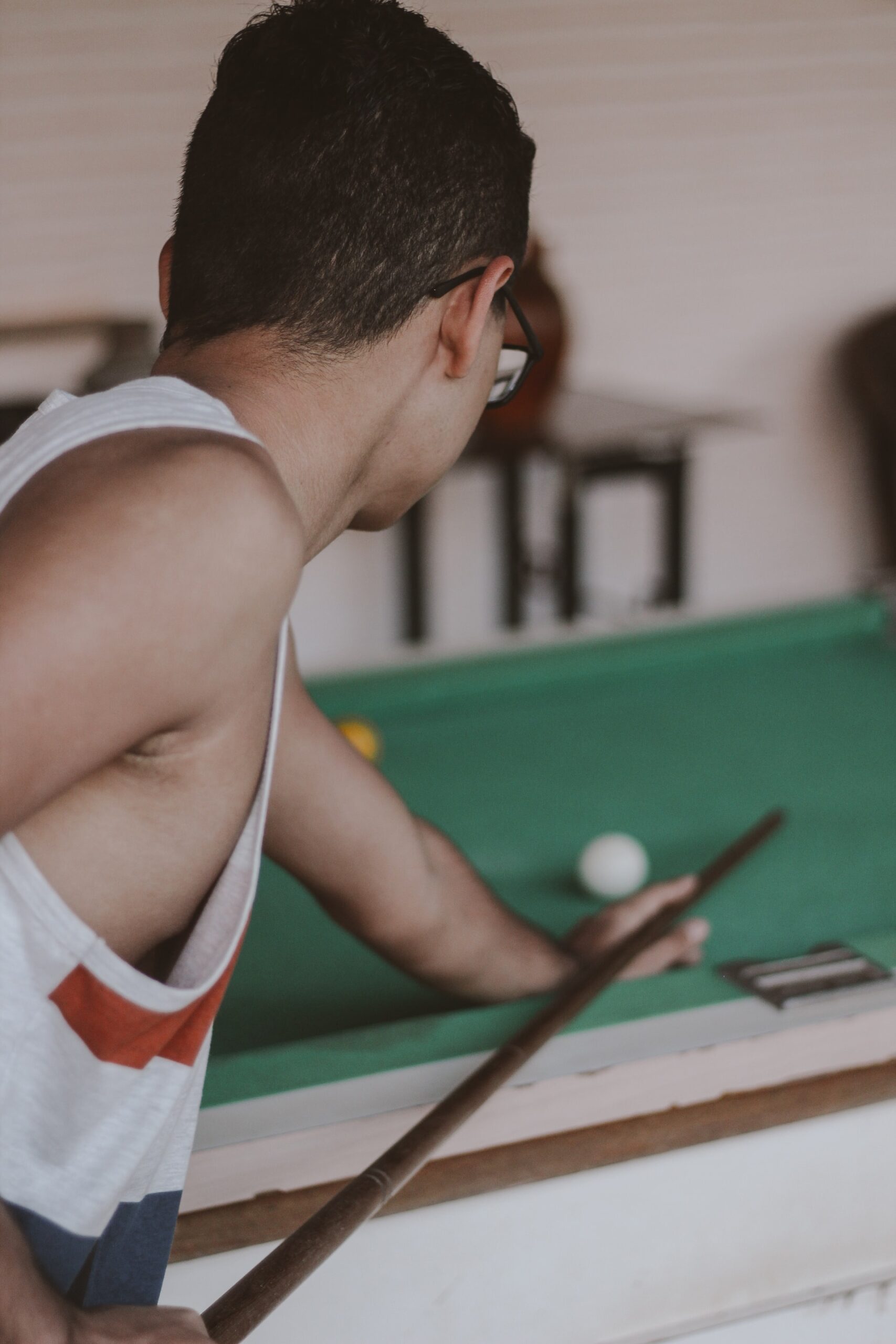 Joint
The joint is where the upper and lower part of the cue connect, that is the butt and the shaft. This is common with two-piece cues that need to be separated during transportation or storage. The best joints are flat to the cue shaft with the pin centered on the butt level. We don't recommend unpolished or glued joints.
Although joint pins won't significantly affect your gaming capabilities, it is important that you get something that won't come apart in the middle of the game. There are different types of joint pins. However, most cues for beginners will have either a 3/8 x 10 or a 5/16 x 18 pin.
These two allow you to upgrade the shaft in the future based on your preferences. There are also other types of joints like Uni-loc, Mezz united, and wavy locks.
Shaft
The shaft is at the epicenter of the pool cue, especially the upper part. It mostly determines the quality, price, and other features of the whole cue.
When talking about the shaft, we mostly focus on the deflection. Deflection is when the ball doesn't follow a vertical axis when hit on the center. While it might not sound like it, the shaft mostly determines deflection.
So, when shopping around for a pool cue, look for a shaft with standard or low deflection. This allows you to confidently control ball speed, direction, and afford more accurate shots.
In terms of material, look for hard rock maple shafts. They are durable and very flexible to use. You might also find some carbon fiber shafts. These are more expensive and might put you off if you are operating on a budget. However, they are of high quality and offer great performance.
Warranty
Some of the pool cues like those from Players and the Viking Valhalla come with a lifetime warranty. Others like the McDermott Classic Pool Cue have up to three years warranty. Mostly, the warranty is a sign of the kind of confidence the manufacturers have in their products.
So, the longer the warranty, the higher quality the cue probably is. As a beginner, you are probably looking for a cue that won't come apart after a few shots. This is especially if you are on a budget. Make sure that you have solid protection on your purchase by ensuring the product has a good warranty.
Conclusion
Understanding the perks of billiards as a beginner might seem daunting at first. However, with consistent practice and the right tools, you should be on your feet in no time. Hopefully, this guide will help you find a pool cue that clicks with your budget and personal preferences and needs.