As an Amazon Associate we earn from qualifying purchases.
The best pool table felt should help both novice and advanced players improve their game. It should also help players take better and more accurate shots. A high-quality pool table cloth helps prolong the lifetime of the pool table, no matter how old the table is.
Our Top Pool Table Felt Reviews
Finding the best cloth for your table from dozens of felts in the marketplace has never been easy. Not all felt consists of durable materials. Only a handful come with the player's needs and experience in mind. We have hand-picked some of the best felts for you.
Brand
CPBA Competition Worsted Professional Pool Table Cloth
Accuplay 19 oz Pool Table Felt
Billiard Cloth Professional Pool Table Felt
Product
Material
80% wool 20% Nylon. 100%. Pure Australian Wool
Special Features
High thread count prevents penetration of dirt and chalk
Enough for table and rails
Designed for indoor billiard pool
Brand
CPBA Competition Worsted Professional Pool Table Cloth
Product
Material
80% wool 20% Nylon. 100%. Pure Australian Wool
Special Features
High thread count prevents penetration of dirt and chalk
Brand
Accuplay 19 oz Pool Table Felt
Product
Special Features
Enough for table and rails
Brand
Billiard Cloth Professional Pool Table Felt
Product
Special Features
Designed for indoor billiard pool
CPBA Competition Worsted Professional Pool Table Cloth
Although worsted pool table felts are usually more expensive than other fabric types, they are the best option if you care about durability. The CPBA Competition Worsted Professional Pool Table Cloth uses a high-quality blend of 80% wool and 20% nylon.
This combination allows for faster and smoother ball roll while also ensuring that you use the cloth for long enough. So, if you are looking for professional-grade playability, then this is one of the best pool table cloth you can consider.
While this cloth is a little pricier than woolen felts, it's actually in the low-end category when compared to other worsted cloths.  The one-piece pool table felt comes pre-cut with 6 rail cloths. It also comes in different sizes to cover a variety of table sizes. These are 7 feet, 8 feet, 8 feet oversized, and 9 feet. 
Also, if you are looking for a few color options you have a wide variety to choose from since the cloth comes in 8 different colors. These are black, tournament blue, camel, royal blue, tournament green, burgundy, and powder blue.
So, while you can save a few bucks with a woolen cloth, the CPBA worsted pool table cloth provides many benefits that are worth considering. Apart from the durability, you will also experience a smoother and faster playing surface. That means more accuracy and less shedding and wear.
What We Like
Affordable for a worsted cloth
High-quality material
Available in different colors and sizes
Comes pre-cut
What We Don't Like
A bit difficult to install
CPBA Competition Worsted Professional Pool Table...
Worsted or woolen cloths? There is definite difference in the ball rolling speed and precision...
Our worsted cloths offer the best performance and durability on the market. Precision worsted in...
High thread count not only results in long lasting wear but also prevents penetration of dirt and...
Accuplay 19 oz Pool Table Felt
The Accuplay 19 Pool Table Felt offers the best bang for your buck of all the non-worsted felts in the market. It delivers great durability and playability compared to most high-end felts out there. Its ease of application makes it a worthwhile replacement for an old, unresponsive pool table felt.
The felt is wide enough to fit in tables measuring up to 9 feet. We recommend it if you are looking for a great replacement option for your old pool table felt. It is more than enough to cover the surface of most pool table sizes. You can even use the extra cloth to cover the base of your pool table.
This felt is a great pick for novice players since it makes it easy to play and control ball direction. Experienced players too can enjoy memorable gameplay on the smooth playing surface. It needs minimal maintenance to keep it from shedding and peeling.
The felt boasts an elegant design tailored to complement the appearance of every table. Its beautifully woven fabric comes in multiple color options: black, light grey, and English Green. You can pick a color that most clicks with your game room decor and pool table.
What We Like
Offers an amazing playing experience at an affordable cost
Highly stretchable to provide a surprisingly smooth playing surface
Easy to clean and maintain
What We Don't Like
Not suitable for smaller tables
Billiard Cloth Professional Pool Table Felt
Are you looking for a durable and high-quality felt for your pool table that isn't expensive? Then the Billiard Cloth Professional Pool Table Felt is a worthy pick for you. Manufactured from soft fiber and nylon material, this cloth offers a more plausible stretching capability than most expensive options. The material is soft, durable, and crafted with playability in mind.
The versatile design means the felt can easily blend into pool tables in a variety of environments. It isn't susceptible to pilling and won't discolor after use for many years.
The felt fits perfectly in most 9 feet tables. You can also easily cut it for extra usage without losing its durability. It provides an ultra-smooth playing surface, which will tremendously improve your gaming performance, especially during competitions.
We recommend that you use this felt in indoor pool tables to perfectly complement the decor of your game room. It also works well for newly constructed tables, although it is still a more affordable replacement for older pool table cloths.
The felt is vibrant and clean looking to keep you enjoying your game for hours. It blends nicely with the décor in most playing rooms.
What We Like
Very nice quality for for its price
Built for a wide array of environments
No discoloration
Great durability
What We Don't Like
Doesn't come in many colors like most cloths
Needs regular maintenance to keep it in proper playing condition
Billiards Cloth, Professional Pool Table Felt fits...
Good Material: Made of high quality nylon and soft wool,provide superior cloth stretching...
Universal Design: Designed for indoor billiard pool. Great for holding up in a variety of...
Wide Usage: Great for holding up in a variety of environments, used to bars, clubs, hotels and more.
Champions Saturn II Billiards Cloth Pool Table Felt
If you are looking for a pool table felt that will nicely blend into your personal game room decor, we recommend the Champions Saturn II Billiards Cloth Pool Table Feltere. This is the most ideal felt if you play from home and you're looking for something that is durable and easy to install.
This tournament-tested cloth gives players a premium play performance. Though built for commercial use, you can also use the Champions Saturn II Billiards Cloth Pool Table Felt for recreational matches at home.
This pool table cloth features a unique design to deliver a seamless ball roll. Therefore, you can make faster and more accurate shots. Crafted from 25% nylon and 75% wool, the cloth comes in a set containing 6 rail cloths and 7 cloth pieces.
The set also comes with a one-bed cloth. Unlike most standard pool table cloths, this one is available in multiple colors. This way, you choose the color that is most aesthetically pleasing and matches the décor of your game room.
The Champions Saturn II felt is easy to install on tables of varied sizes, unlike most standard felts. This makes it an ideal option for home users who don't want to pay a professional for the installation.
Designed to give you greater ball control, the cloth is also durable and doesn't need constant replacements. It has an excellent overall quality.
Finally, the manufacturer seals this felt with DuPont Teflon, which gives it added superior stain resistance capabilities. Just like in bars, spillage is very common at home which means this feature will come in handy.
What We Like
The cloth comes in several colors and sizes for players to choose from
Offers great playability for novice and professional players
Minimal chances of peeling or shedding even after several years of use
Superior quality
Durable material
Easy to Install
What We Don't Like
The felt discolors over time
Boshen Pool Table Felt
If you have a pool table at the bar with a worn-out cloth, the Boshen Pool Table Felt will be a great replacement. There are a number of features that make this cloth a good fit for bar pool games. 
First of all, it's pretty durable. The combination of 10% wool and 90% nylon makes for a very compact construction that can stand constant abuse from bar players. Additionally, it is spill-resistant. This is a feature that comes in handy considering how frequent spills occur in a bar.
The cloth is also pre-cut which significantly reduces the installation time. So, if you would rather skip all the preliminary preparations, we recommend the Boshen Pool table felt. This is the best felt that comes pre-cut and ready to install.
Unfortunately, this felt does come in only one color which can be a bit of a turn-off. However, if you are not picky with colors or green is your favorite, this shouldn't be a problem. Plus, green is a pretty good color for a bar because it can hide stains.
Finally, you will find it easy to install this felt, even if you are doing it for the first time. However, if you are not sure of what to do, or you're having a hard time following the instructions correctly, we recommend you get a professional to install it for you.
What We Like
Comes pre-cut which saves time on installation
Durable construction
Easy to install
Different sizes for different tables
What We Don't Like
Boshen Billiard Cloth Pool Table Felt with 6 Cloth...
【Green Color】-- Favorite Color for Billiard Felt, eyes are Less Prone to fatigue, corner shadows...
【No Cropping Required】-- Billiard cloth: 100" x 54"(L x W), Strip: 54" x 6" (L x W). Pre-cut,...
【Single-sided Thickened】-- Made of 100% nylon, which is thicker than the ordinary single-faced...
Features to Consider in a Pool Table Felt
Should you get a worsted or woolen felt? What size and color do you prefer? These and other questions are worth considering when shopping around for the best pool table cloth. If you are buying the cloth for the first time and don't know what to look for, below are some features you should prioritize.
Type of Cloth
When it comes to choosing a pool table cloth, your options will most probably come down to worsted or woolen.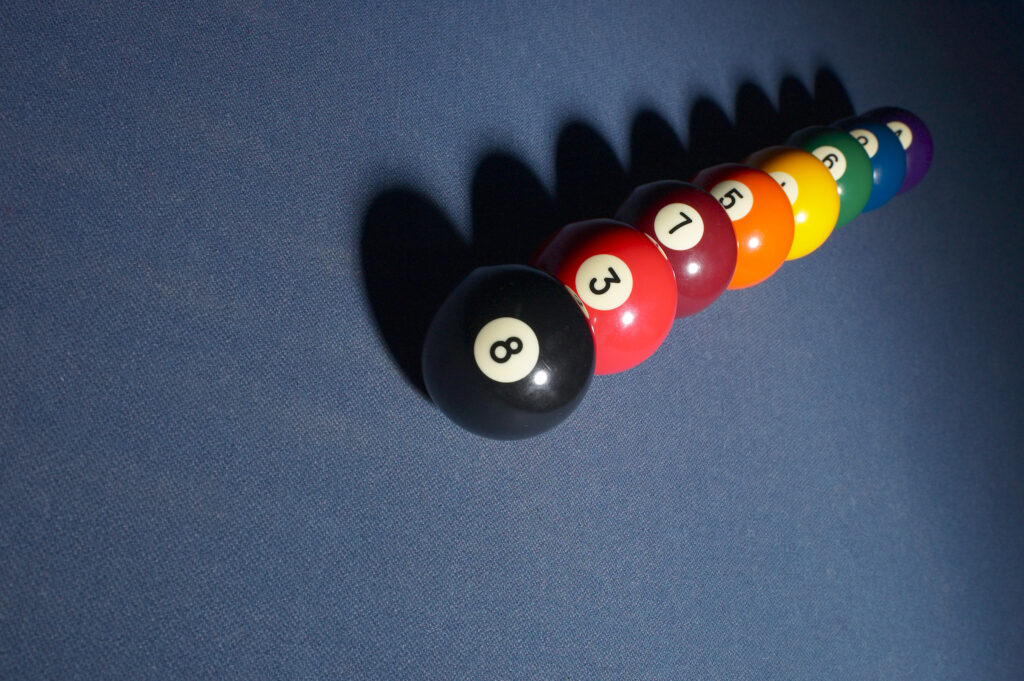 Ideally, felts consist of a blend of different materials. Some of these materials may include either polyester, wool, or nylon. The key difference lies in fabric specifications and the thickness of the materials used.
Felts are available in three major categories. Each category has unique properties designed to suit different players and different tables. Below are the main categories of pool table cloths.
Woolen Felt: these felts are popular in public tables in clubs or bars. The manufacturers usually weave the fibers in one direction, allowing the ball to move at varying speeds. You can trace the weaving pattern in the felts under close inspection. The pattern enhances gameplay, enabling players to easily curve the balls while making shots. The weaved fabric gives the felts a velvet-like quality.
Worsted Felt: manufacturers make these felt by weaving the fabric into a worsted structure. This structure makes them smoother and finer, ultimately reducing friction. You'll see these felt mostly used in tables reserved for competitions and recreational use.
Outdoor Felt: these felt use more durable and high-quality materials that help protect them from outdoor heat and moisture. The best material for these felts is acrylic fabric. The material withstands the harsh outdoor climatic elements.
Size of the Pool Table
The size of your table determines the actual size of the cloth you need to cover the table. That's why you need to measure the size of your table before purchasing a felt. In most cases, you will find billiard tables in four standard sizes. These are:
7 feet
8 feet
8.5 feet
9 feet
Ideally, these measurements represent the length of the table as opposed to the entire bed size. So, don't forget to measure the table before setting out to purchase a felt.
Usually, you can buy a pre-cut felt that fits the size of your table or get a one-sheet cloth then cut it yourself. The former option is good if you don't want to waste a lot of time on preparation and just go straight to installation.
Pre-cut Pool Table Cloth vs Single Sheet
Some pool table felts like the CPBA Competition Worsted Professional Pool Table Cloth comes pre-cut while others come as a single sheet. In this case, pre-cut means that the cloth has already been cut to fit your table size.
This means that you won't have to do the cutting yourself like with single-sheet cloths. That being said, pre-cut clothes are easier to install and take less time since you won't be doing the cutting. Either way, we still recommend that you get a professional to install the felt for you if you have never done it before.
Ease of Installation
Ideally, the best felt should be easy to install whether with or without professional assistance.
Ideally, the package should include an installation manual to make things easier and stress-free.
Follow these steps below if you have opted for a DIY installation
Remove the outdated felt: rip off the old felt if it has been glued to the table. Remove the outdated felt using a staple remover if it uses staples.
Level your pool table: ensure the table is flat before installing the cloth. You need a flat surface to ensure the ball rolls well after hitting it.
Measure the pool table: measure to know the precise size of cloth to install on your table. You risk purchasing the wrong size if you don't get the accurate measurements. The measurements should be a couple of inches longer than your table. Such an allowance is vital for ensuring there will be adequate cloth to cover the surface of the table and the railings.
Spread out the felt: Make precision cuts if you need to cut the felt if it is a bit oversized. Ensure the cloth covers the surface and the rails.
Test the cloth: before stapling or gluing the cloth onto the table, test to see whether the ball rolls perfectly. Make sure no bumps are left behind. Bumps will keep the ball from rolling hence affecting your playing experience.
Staple the felt: Staple the felt after spreading it so as to hold it in place. Do this using a stapler. Alternatively, glue the cloth to the table if your table offers room for gluing.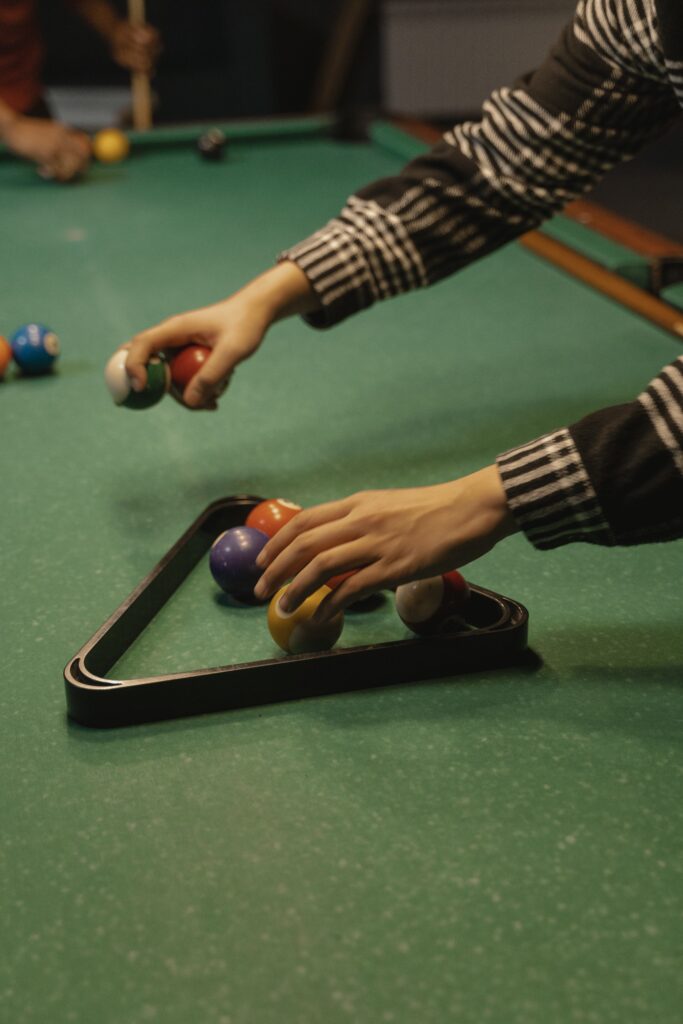 Coating and Treatment
If you are willing to spend a little more on your pool table felt, you can opt for treated ones. These are pool table cloths that have gone through a chemical process to make stain and liquid spill-resistant.
In most cases, manufacturers don't treat worsted pool table felts since their compact construction naturally makes them resistant to spills and stains. For example, the Champions Saturn II Billiards Cloth Pool Table Felt has been treated with Teflon to prolong its lifespan.
We most recommended getting treated or coated pool table felts if you will be playing in an environment that is vulnerable to spills and stains. And while this is good for durability, in the long run, it might slightly affect the performance of the felt.
Most professionals have reported that coated felts compromise ball speed and accuracy. The compromise is only subtle and novice or recreational players might not mind. However, if you are a professional, we recommend getting a worsted non-treated felt so you don't risk jeopardizing your gaming performance.
Color
Color has no effect on the performance or durability of a pool table felt. However, color is a vital feature to check in a felt. If the color doesn't match your décor, your table won't have a professional look.
The brand of the felt you prefer should come in as many colors as possible. With so many colors at your disposal, your odds of picking the color that perfectly matches your décor are high.
Some colors age rather fast and others show signs of wear much quicker than others. Choose a color that won't age or tear quickly. For instance, green is a great color for most players, for it conceals marks on the cloth.
However, the green fades in a couple of months. Also, green shows signs of wear within months. Bright colors such as red are stunning although they don't hide masks. Plus, they need regular maintenance to keep them pleasantly looking.
Here is how to pick the perfect color for your felt
Avoid dark or black colors since they create super dark shadows
Pick the color that best complements the décor of your playroom. Consider the color of both your table and playing room.
Avoid felts that are too bright since they reflect light that could become an eyesore over time
Pick the color that is most pleasant for you. This creates a stunning look for your table and playroom
Conclusion
Knowing the effect a pool table felt has is vital for all players, whether inexperienced or experienced. However, with a thorough understanding of the things to look for while choosing your felt, you will pick the best pool table felt with ease. Hopefully, our review has brought you closer to selecting the right felt that suits your playing needs and preferences.