As an Amazon Associate we earn from qualifying purchases.
If you want your shots to create less cue ball deflection. A low deflection shaft helps you with that. If you want to replace your shaft with a low deflection one, these reviews will help you find the best low deflection shaft you can get.
Our Top Low Deflection Shaft Reviews
Shafts play an important role in your pool cue. That's why you should put some heavy some consideration into it. A lot of pool players like to have a low deflection shaft on their pool cue.
We've got you covered because we compiled a list of some of the best low deflection shafts you can get right now. This list will definitely narrow down your choices and help you improve your pool game.
Brand
McDermott iPro Low Deflection Pool Cue Shaft
Lucasi Hybrid Zero Flex Slim Technology Pool Shaft
Product
Brand
McDermott iPro Low Deflection Pool Cue Shaft
Product
Brand
Lucasi Hybrid Zero Flex Slim Technology Pool Shaft
Product
McDermott iPro Low Deflection Pool Cue Shaft
It's no wonder McDermott falls on this list. They make some of the best pool cues around. It translates to their low deflection shafts too.
The McDermott iPro Low Deflection Pool Cue Shaft is McDermott's most radial consistent shaft. It's mainly because of the iPro's octadic laminated shaft construction combined with its triple-layer carbon fiber core. 
Radial consistency is the pool shaft's ability to reproduce the same results no matter what its current state. The shaft will perform more predictable for every shot you take making it easy to stay consistent and precise.
The octadic laminated shaft construction features eight spliced pieces of premium maple. They form the radial for a consistent shaft that provides a better pool cue feel.
This construction method significantly reduces the performance inconsistencies made by natural wood grain. It maximizes energy transfer from the shaft into the cue ball at impact. It allows you to generate a higher spin rate even when hitting closer to the center cue ball.
The iPro's triple-layer carbon fiber core extends the full length of the shaft. It helps keep the entire shaft stabilized for better control and precision.
It also increases radial consistency, reduces vibration, and is consistent compared to a traditional maple shaft.
The tip is a Navigator Alpha and features multiple layers of Japanese pigskin leather. The Japanese pigskins are bonded then compressed for 3 minutes. This process helps the tip mushroom less and provide a better feel in your shot.
Overall, it has the features you are looking for on a low deflection shaft. This is why we placed the McDermott iPro Low Deflection Pool Cue Shaft as the best overall.
Lucasi Hybrid Zero Flex Slim Technology Pool Shaft
The Lucasi Hybrid Zero Flex Slim Technology Pool Shaft uses the Lucasi Hybrid technology. This technology combines unique design and workmanship to provide you with better:
Accuracy
Ball control
Solid hit
Lesser vibration
Reduced deflection
Smoother stroke
This pool shaft measures 11.75 mm in a 10-layer laminated pigskin tip from Japan. A lot of professional pool players like it because it holds the shape longer than even premium layered leather.
Pigskin leather is a high-quality material. Lucasi cuts every piece to a uniform thickness and checked for hardness. They are laminated together using a special vacuum-sealing process. This helps create a uniform response on the tip for a better feel and feedback on your strokes.
The Zero Flex Slim 11.75 mm Hybrid shaft enhances the technology of the Zero Flexpoint Shaft. Lucasi added the Slim taper to the Hybrid shaft formula and includes the special polymer Zero Flexpoint ferrule. This makes the pool cue more accurate and has a lower deflection. 
The ferrule is ½ inch in length made with a special polymer. It has a lightweight core that significantly reduces front-end shaft weight. It also improves ball control because of how tight it reinforces.
The eight-piece radial Total Sweet spot Construction (TSC) maximizes your energy transfer for a better solid hit.
The front end is really light and so is the slimmer tape for more accuracy and lower deflection.
Overall, if you want value for your money, the Lucasi Hybrid Zero Flex provides a lot of features that are definitely worth the price.
Lucasi Hybrid LHT87 White Thorsten Hohmann Series...
Fusion G5 Grip wrap with the X-Shox Dampening System for a comfortable, stable grip with less...
Stainless steel joint collar with Uni-loc pin gives a rock solid hit with quick break down
11.75mm Zero Flex Slim Low Deflection Technology Shaft topped with a 10-layer laminated leather...
Purex Classic HXT Low Deflection Technology Pool Shaft
No products found.
The No products found. is an excellent choice if you want a more affordable option. The HXT shaft comes in two dip diameters and ten different joints. You can fit almost any cue no matter the brand. 
You can turn your old pool cue into a great one by replacing the shaft with the HXT shaft. You can pick two diameter options, 12.75 mm and 11.75 mm. This shaft allows you to keep your cue butt.
This shaft is true to the aim shaft. Just line up and strike and you won't have to worry about deflection or negative feedback. The pool cue shaft is also covered by a lifetime warranty.
The HXT ferrule is 1 inch in length made with a lightweight polymer core. This significantly reduces the front-end shaft weight lowering the cue ball deflection and increasing accuracy.
With a solid maple construction, this shaft plays really smoothly and you get used to the feel of it pretty fast. The tip is a Kamui Black soft tip made from 10 layers of carefully selected pig skin treated using a patented method. The tips provide you with excellent grip, spin, and durability.
Overall, if you want to get a high-quality low deflection shaft that is inexpensive, the Purex Classic HXT low deflection shaft is an excellent option.
No products found.
Cuetec Cynergy CT15K Low Deflection Pool Cue Shaft
The Cuetec Cynergy CT15K low deflection pool cue shaft provides pinpoint tip placement and excellent accuracy and cue ball spin. 
The shaft is designed and developed with the input of the Cuetec Pro Team. the shaft measures 11.8 mm. The front-end is flyweight in construction. The lightweight build means you get to have better feel for the pool cue.
Each Cynergy is wrapped with a unique pattern of spun 15k carbon fiber tow. It's reinforced with Cuetec's poly-foam core. It ensures some durability in it despite its lightweight build.
It's constructed with alternating 90 degrees and 0-degree carbon lay. It provides the shaft with power and straightness.
You can find a polyurethane foam core inside the shaft. It develops feedback and the sound is dampened significantly by a hollowed-out section below the ferrule. This also results in minimized cue ball deflection.
Every shaft uses an elongated 9.6-inch super-straight taper. It helps with a better feel for your stroke.
The carbon fiber utilizes an ultra-thin white sighting ferrule and laminated Tiger Sniper for a lower deflection on your shots.
The Cuetec Cynergy is a shaft that has a high emphasis on feel. The shaft's deflection is higher than most other low deflection shafts around.
The carbon fiber is great if you want your shaft to look good as new for a long time. However, once dirt builds up, it really looks greasy.
Overall, the Cuetek Cynergy is a great pickup if you want a carbon fiber shaft. It's really lightweight and provides a superb pool feel. Even Shane Van Boening prefers using this shaft.
Features to Consider for Low Deflection Shaft
There are things you need to keep in mind if you want to know what low deflection shaft works for you. These are some of the features you need to consider before choosing one.
As a pool player, you have to look up these specific things to know more about a pool cue shaft:
Construction of the shaft
Density
Technology used
Material
Flush joint vs. piloted joint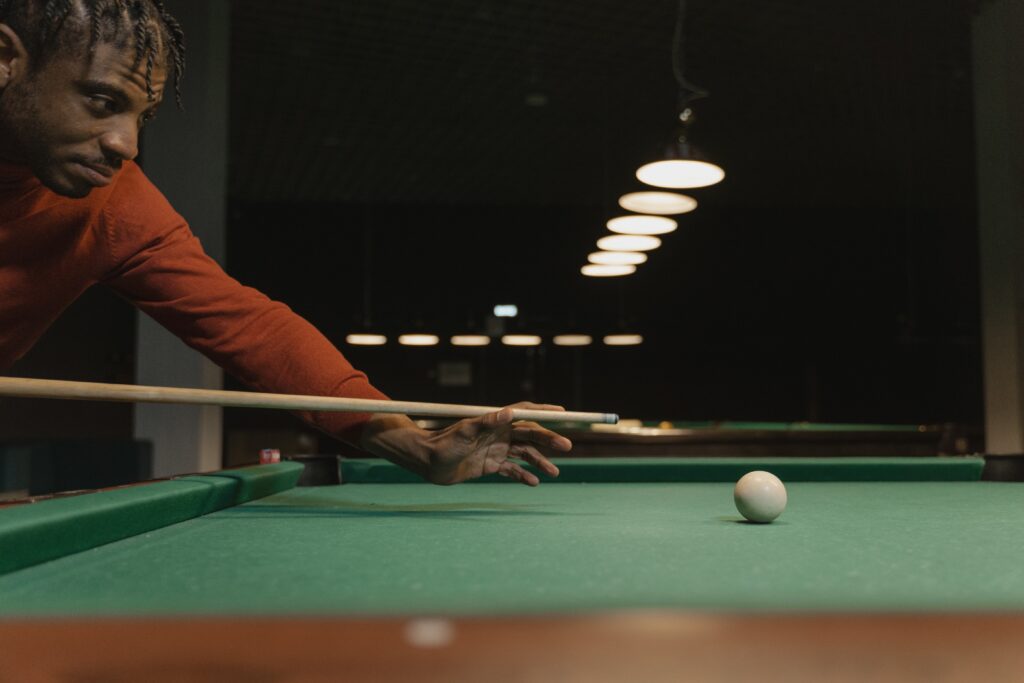 Materials
The shafts use different materials depending on the brand and model. The most commonly used materials are ash and maple wood. More pool players are now preferring to use shafts made out of carbon composites because they provide better stability, durability, and power.
However, pool cue shafts made out of carbon composite cue shafts cost a lot more than other cue shafts made in different materials. This is mainly because of the construction and technology used.
The material used to make the shaft affects how it will perform on the pool table. Shafts mostly affect your pool feel on the pool table. It also affects cue ball control and the smoothness of your shot.
The material of the shaft determines how the kinetic energy is transferred in the shaft. Most shafts use advanced lamination technology that ensures uniform distribution of energy. It distributes it to sweet spots across the body of the shaft.
With a low deflection shaft, you can aim and shoot without putting in too much energy for high-powered shots. Getting a carbon composite shaft will save you a lot in terms of its long-term usage and durability.
You also can't go wrong with ash and maple since they've been traditionally used before.
Technology
Different brands of pool shafts offer unique technology and feature exclusively in their pool cue shafts. It's important that you know what you want to get in your pool cue shaft before picking one.
Decide on what you would prioritize on your pool cue shaft before you give out your money for a high-quality shaft. Most pool cue shafts today are designed for 1 purpose specifically. For example, Cuetec Cynergy is designed for improving your feel.
A shaft may be for low deflection or for spin-effects or for powerful strokes. There are a lot of different low deflection shafts built for these purposes. Most shafts also come with specialized tips laminated with 10-layered pigskin laminated on it.
Density
The density of your shaft affects what area your shaft excels at.
Denser tips tend to focus more on durability and having a powerful stroke. A less dense shaft provides you with better English, cue control, and feel. Depending on what you're after, the density of the shaft will affect what pool cue shaft you choose.
Construction
The construction is closely related to the technology used in a shaft. Most known pool accessory brands highlight the way they make their pool accessories and that includes pool cue shafts.
Make sure you research into it and how it affects the performance of the shaft. For example, the process for making Cuetec Cynergy carbon fiber enhances your feel for the shot.
Price
You can find a lot of low deflection shafts in a different price range. Cheap ones usually use polymer as their material. Mid-range ones use maple or ash while the expensive ones use carbon fiber.
Make sure you check these things to gauge if the price is worth its value:
Material
Technology
Features
Design
Versatility
Durability
Brand
Customer reviews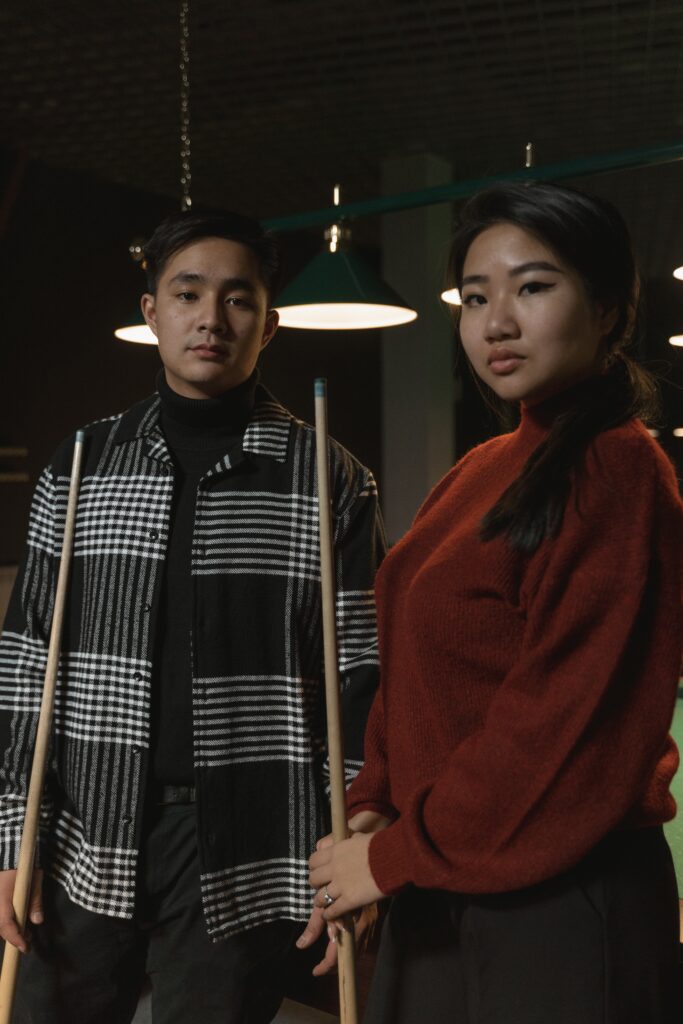 While carbon fiber shafts may look good on paper, you're better off using a mid-range wooden shaft if you're just a beginner. It takes a bit of time of getting used to before you get accustomed to using it.
If you don't mind the long learning curve and getting used to it, you can go directly for a carbon fiber one.
Advantages of Low Deflection Shafts
Here are some of the advantages of using a low deflection shaft:
The cue ball comes off the cue tip closer to the aiming line if you use sidespin. You won't have to adjust your aim too much when using a sidespin shot.
You might get more consistent in sidespin shots since the possible range of squirt is smaller than regular shafts. The less squirt, the less aiming adjustment you need.
Backhand and front hand English might improve with a low deflection shaft.
The effects of stroke swoop (intentional or unintentional) will be canceled for short and fast shots. This might be useful with a break cue where you mostly commit stroking errors.
It's possible to get slightly more spin on the cue ball using a low deflection shaft.
You commit fewer errors when applying English since the range of squirt is smaller.
Disadvantages of Low Deflection Shafts
Here are some disadvantages of using a low deflection shaft:
Low deflection shafts are expensive.
It might take a while to adjust to the smaller range of squirt.
You may not like the "feel" of the low deflection shaft.
It might be harder to masse or jump the cue ball.
Some pool players like to bring a lot of pool cues and one of them includes a low deflection shaft. It's all about mixing your pool cues and using them for appropriate situations.
Do Pros Use Low Deflection Shafts?
Some pros use low deflection shafts. However, a lot of them use custom cues that have different types of shafts. Low deflection cues are more "whippy" than standard cues. They have less mass upfront so the shaft bends out of the way instead of pushing the cue ball sideways.
This helps you apply English better on the cue ball. Low deflection shafts benefit beginners more since applying English might be new to them.
Conclusion
These are some of the best low deflection shafts you can get right now. Depending on your budget or what you prefer, each one can provide you with different things. Carbon fiber makes the best shafts while ash and maple wood follow behind.