As an Amazon Associate we earn from qualifying purchases.
With so many pool cues available on the market, it gets difficult to pick a pool cue that would be right for you. We got you covered because we will show you the best pool cues brands in this buying guide.
The Top Pool Cues Brands Available
If you really want to improve your game, you'll want to have the best pool cues in your arsenal for better shot accuracy and consistency. These are some of the best pool cues brands that you can get on the market right now.
Product
Special Features
Stainless steel joint collar with Uni-loc pin
Poly joint collar with 5/16 x 18 joint pin
Double Turbo Lock Quick Release joints
Product
Special Features
Stainless steel joint collar with Uni-loc pin
Product
Special Features
Poly joint collar with 5/16 x 18 joint pin
Product
Special Features
Double Turbo Lock Quick Release joints
Lucasi Custom Cues
The Lucasi Custom Cues is famous for its Hybrid pool cues and accessories. They sell some of the most affordable custom cues in the market. With their products, you get a 60-day satisfaction guarantee. This allows you to chalk the cue and try it out for yourself without any risks. 
They also have a lifetime warranty that covers manufacturer defects and warpage. Their Hybrid pool cues combine design and quality for a better pool performance. Their pool cues offer you better accuracy, ball control, a more solid hit, less vibration, reduced deflection, and a smoother stroke.
Lucasi Hybrid Pool Cues has features like:
Cue butt features: Their pool cues consist of a four-piece butt construction. This increases durability, consistency, and reduces vibration for a better feel for the shot and landing solid hits.
G5 grip technology: This provides a golf-style grip for better traction and stability also increases your ball control.
X-Shox dampening system: Their pool cues feature a shock-absorbing memory foam integrated into the wrap. This reduces vibration by more than 27% decreasing shot distortion.
Total sweet spot construction (TSC): Lucasi assembles every Lucasi hybrid pool cue with an eight-piece radial construction extending the sweet spot throughout the entire shaft. This makes energy transfer more efficient so you get better power, control, and consistency.
Kamui original soft leather tip: The tip of their pool cues consist of high-quality pigskin leather. Each layer is pressed and vacuum-sealed to make a tip with a uniform response. This reduces deflection and maximizes cue ball control.
Finally, they also offer custom pool cues made with quality wood cured and turned for 2 years.
Lucasi Custom Super Birds-Eye Pool Cue with Blue...
Black and white genuine double-pressed Irish linen wrap for a classic, slip-free grip
Stainless steel joint collar with Uni-loc pin gives a rock solid hit and quick break down
12.75mm Lucasi Custom Solid Core Low Deflection Technology Shaft topped with an Everest tip by...
Players Cues
The Players Cues have been making their great pool cues for over 27 years. Players Pool Cues offer everything from regular playing cues to low deflection technology cues. 
All Players pool cues use 100% North American Grade A hard rock maple. Experienced craftsmen handpick the wood for every pool cue, so you get the best quality and straightness.
They turn each blank seven times during the curing of the wood to prevent warping. They treat the wood with Nelsonite, a stabilizer that protects the wood from atmospheric changes. Finally, a proprietary epoxy finish seals the pores in the wood, protecting it from moisture and warping.
Players Cues use exotic and hardwoods like:
Cocobola
Walnut
Purpleheart
American birds-eye
Straight grain maple
You can also choose from a wide variety of inlays. They offer traditional and modern cues with genuine handcrafted inlays. You can also pick from high-quality graphic designs in the colors, patterns, and styles based on what you want.
Players Cues feature wraps in a wide variety from:
Genuine double-pressed Irish linen for a smooth feel
Simulated wraps for a smooth stroke
High-tech Isoprene for better grip
Leatherette
Genuine leather
Suede
Players pool cue has a high-gloss super finish that gives it an armor coating protecting it from fading and chipping. They treat each shaft with a special French cue wax. This allows it to glide through your fingers for a smoother stroke.
Finally, the high-impact ferrule on a Players Cue is also durable. It can withstand most chipping or cracking for an entire lifetime.
Players C-9921 Classic Smoke-Stained Birds-Eye...
Black and white double-pressed Irish linen wrap for a classic, slip-free grip
Poly joint collar with 5/16 x 18 joint pin gives a firm hit
13mm premium Le Professional Le Pro tip This hard oak leather tip by Tweeten holds its shape longer...
Rage Pool Cues
The Rage Pool Cues is a fairly new brand to the pool cue market. Rage pool cues consist of 100% maple wood. They offer well-crafted butts and forearms for consistent and accurate shooting. 
Rage pool cues also come with a 3-year guarantee against manufacturer defects. However, the warranty excludes warpage and damage due to wear by a third party or resulting from abuse or mishandling.
Rage pool cues have a good grip with a double-pressed nylon wrap. It has a firm hitting ability with chip-resistant fiber ferrule and leather tips.
Many pool players like Rage pool cues because of their contemporary design and sleek look. You can choose from a wide variety of Rage pool cue designs like:
The Flaming eight-ball pool cue
Barbed blades pool cue
Diamond eye pool cue
Da-bone pool cue
Koi power pool cue
Star thrower pool cue
Snake charmer pool cue
Rage designs their pool cues for players of all ages and skill levels who want to have a decent pool cue without having to spend too much. Rage pool cues have a very attractive price point that makes them popular online.
While they do have a lower price point than most pool cue brands, Rage pool cues aren't made in the USA. All Rage brand cues are made in China which mostly explains why they have lower prices compared to others.
However, Rage pool cues enjoy a lot of positive feedback. We would recommend Rage cues for beginners. If you're looking for long-term use, another brand might be a good idea.
McDermott Cues
The McDermott Cues have been making pool cues since 1975. They're based in Wisconsin. McDermott uses over 150 separate procedures for making their pool cues. They also have a lifetime warranty and includes coverage for warpage. 
What makes McDermott Cues popular is the quality of the construction. They also use exotic materials and intricate inlays. McDermott Cues offer a lot of variety pool cues like:
H-Series: This series features a fully-adjustable Variable Balance Point (VBP) weight system. This allows you to reposition weights forward or backward inside the cue. You will have better control and balance with this feature.
Select Series: This series comes equipped with i-Pro Slim or i-3 shafts for a better feel. It's great for amateurs and beginners.
G-Series: This series is famous for its quality construction, exotic woods, intricate inlays, and a variety of customization options.
GS-Series: This series features a traditional all-maple shaft with a premium stain and finishing process.
Classic Series: This series includes some of McDermott's unique creations. Great for people who love collecting rare pool cues.
Wildfire Laser Engraved Pool Cues: This series features advanced wood carving and 3D rotational wood burning technology.
For avid collectors of pool cues, they have a wide gallery of rare pool cues. They are original in custom, investment-grade collectible pool cues. Some of them use the most exotic materials around the world.
Aside from their default built pool cues, you can design your own custom made McDermott pool cue. You start from scratch and decide what your pool cue turns out. There are so many combinations that you can choose from.
Viking Cue
The Viking Cue brand is a famous legend in billiards. Viking Cues are mostly known for their Valhalla Pool Cues. They have over 50 years in the art of making custom pool cues. Their pool cues are also made 100% in the USA. 
You also get a lifetime warranty against manufacturing defects and warpage.
What's great about Viking Cue's is their many innovative features in their pool cues like:
eXactShot® Pure Performance
ViKORE® American Performance Shaft
VPRO® Conventional Shaft
All Viking cues come standard with an Everest tip by Tiger. The tip is bonded to a durable ferrule material. The design of the ferrule along with the tenon provides a solid hit on the cue ball with minimal deflection.
They carefully make the joint components with high-grade stainless steel and brass. It takes around 5 turns to secure the shaft to the butt. Every joint of each cue has wood to wood construction so it feels smoother to the touch.
As mentioned, the ferrule on Viking pool cues is extremely durable. Each ferrule undergoes 250,000 tries in play to check for its durability. So you can say they're one of the hardest ferrules you can get in your pool cue.
Finally, Valhalla pool cues bring you solid performance and style in 7 different color options. The butt of the cue has an Irish linen wrap to consistently give you the best grip. The butt also has an adjustable weight that you can set from 18 to 21 oz.
Viking Valhalla 200 Series 2 Piece 58" Pool Cue...
IMPROVE YOUR GAME WITHOUT BREAKING THE BANK. Features a 58" maple shaft cue, two piece design for...
A PREMIUM IMPORT. Designed by our Viking Cue Artisans, Valhalla cues take full advantage of our...
STATE-OF-THE-ART UNRIVALED QUALITY. Before a pool cue is shipped, it is assembled, rolled, and...
What Makes the Best Pool Cues Brands
There are certain qualities that you need to look out for if you want the best pool cues brand. Some brands are just way above others in certain aspects while another brand may be highly specialized in one specific thing.
Regardless, these things should be what you look out for if you want the best pool cues brand.
Reputation
There are certain pool cue brands that most professionals use because of their reputation. Some pool cue brands also attract amateur pool players.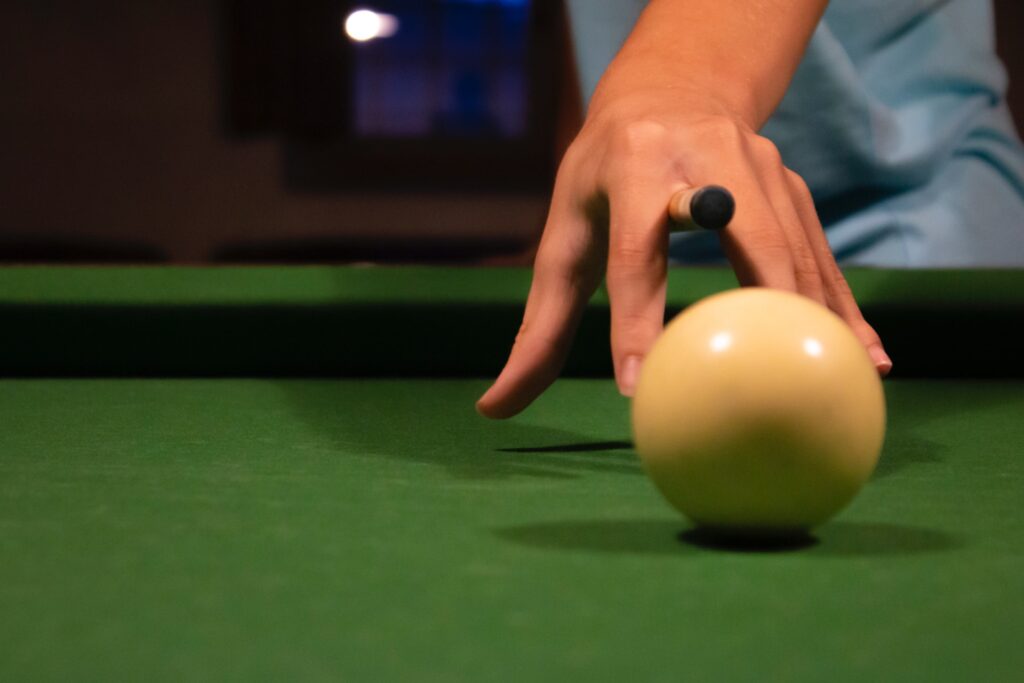 Some brands have been around for more than a couple of decades. There's a reason they stay long and people like the brand a lot. The pool cues must be really well made.
If you don't know where to start, you can just go into a pool hall and ask people what pool cue brand they would recommend. They will often say to you one or more brands in common.
Build Quality
Some of the best pool cues brands know what is great in their pool cues and keeps them while innovating new technology to make their pool cues better.
The best pool cues are made by the finest craftsmen and undergo a lot of processes to ensure that their quality standards are met.
Make sure you know how a brand's pool cue is made and what process they follow to make it. It will tell you how much effort they put into making their pool cues.
Wood Type
The best brands use the best available wood type out there. If you're looking for the best balance between cost, durability, and performance then brands who like to make their pool cues with maple fit you.
Maple is one of the most popular woods used by a lot of manufacturers. They don't cost much and are really durable while others use lighter and darker woods. These tend to be more costly especially if there are additional inlays and other decorations.
Features to Consider in Good Pool Cues
Pool cues need to have some great parts and features if you want them to work efficiently and for a long time. Here are some of the things you need to look out for before deciding on a brand and buying one of their pool cues.
Ferrule
The ferrule is the little white piece located just below the tip. The ferrule ensures the durability of the tip area.
A good-quality ferrule ensures your cue is consistent and doesn't bend or break. The ferrule works like a shock absorber for the tip of your cue.
Tip
The type of tip depends on your pool skill level and how much feel you want in your shots. A softer tip provides you with more feel in your shots. However, they tend to break or chip faster than harder tips.
Harder tips last a lot longer and retain their shape better. So the choice of soft and hard pool tips is just a matter of what you prioritize between better feel and durability.
Most professional pool players use a harder tip. They also use multiple cues in case they break. If you're planning to buy only one pool cue, you should maybe go for the harder tip.
Wrap
The wrap is the material at the bottom of the cue. It's responsible for stopping the pool cue from slipping out of your hand. Some pool cues don't have any grip at all. However, this feature may be helpful for you as a beginner.
There are three popular wraps in pool cues; Irish linen, rubber, and leather. Make sure you check if the wrap is explicit and not oily. Oily wrap will be slippery so it will affect your game.
We find wraps that combine rubber and high-quality silicone performs the best. Irish linen wrap will give you a smooth performance. Leather is decent and it needs to be sleek for a smooth feel.
Weight
Most pool cues weigh between 18 and 21 ounces. If you're new to pool, try going for a heavier pool cue. At least 20 ounces of weight so you have more heft and you can make the cue ball spin no more.
Once you get used to it, try going down an ounce and observe how it feels. Lighter pool cues feel better while heavier pool cues provide better control. Check every weight for pool cues and choose which suits you best.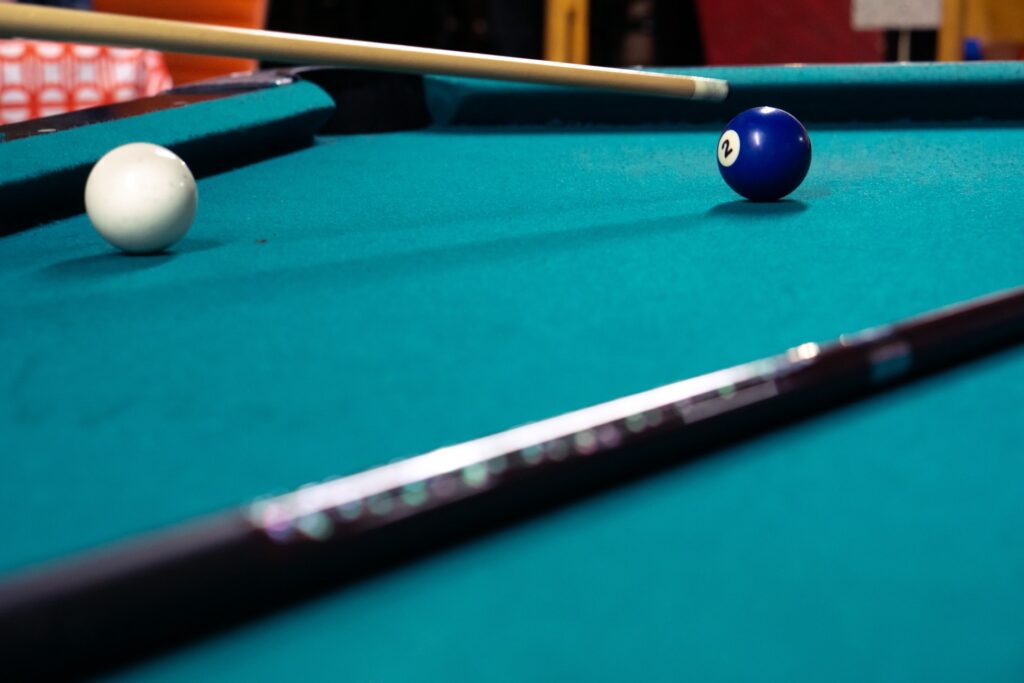 Material
Manufacturers use different materials in making their pool cues. They can either be hand-spliced or machine spliced. Depending on the material and the process used, pool cues vary in price.
Some of the materials used to make pool cues are:
Maple wood
Fiberglass
Carbon fiber
Graphite
Plastic
Aluminum
If you are a beginner, we recommend getting a pool cue made from either maple wood, graphite, or fiberglass. They're relatively cheaper in price and effective at the same time.
Others like to have harder pool cues for longer durability. Some buy it because of the rarity of the material they'll be adding to their collection.
Size
Standard pool cue sizes range from between 57 and 61 inches. Most pool cues are 59 inches. Other sizes cater to people who are shorter or taller than average.
You may also want a shorter pool cue if you play in rooms without much space around the table. You may also want to try smaller pool tables which are cheaper. Your kids also get to enjoy and practice playing pool.
Balance Point
The balance point is commonly located near the center of the pool cue. It's a few inches away from the end of the wrap.
The balance point of your cue affects your shot control. So choose a balance point that you feel you're comfortable working with.
Straight Design
Straight design pool cues keep it from rolling when it lays flat on the pool table. While this may not be much, it might be a great design to have if you carelessly put your pool cue in an incline and it rolls and falls into the ground.
To check if a pool cue has a straight design, hold it in your hands with one end facing your face. Stare directly down the length of the shaft and check if it is straight.
Rings
The rings indicate how great the finishing of a pool cue is. A good pool cue has no bubble near the ring. The ring of the cue should be extremely attached to the cue.
Metal rings are probably the best ones out there right now. They are normally for decorative purposes. They also add weight to your pool cue for better control.
One-Piece vs Two-Piece Pool Cue
One-piece pool cues are great for home use and if you are starting to learn pool. If you are a seasoned pool player, going for a two-piece pool would be best.
A two-piece pool cue comes apart and often comes with a case for storage. If you want to have more ease in travel when going to tournaments, competitions, or to your local pool hall, go for a two-piece pool cue.
Both pool cues provide the same function. The only difference is that you can fold a two-piece pool cue so you can travel with it easier.
Conclusion
There a lot of different brands for pool cues. Some of them have been making pool cues for more than 20 years. Some are just starting and building a reputation. In the end, it's all about your preference and how comfortable you are with the pool cue.