As an Amazon Associate we earn from qualifying purchases.
As an intermediate player, you are naturally looking to upgrade your pool skills. You may have overused your entry-level pool cue or looking for an upgrade. This buying guide will help you find the best pool cue for an intermediate player like you.
Our Top Pool Cue for an Intermediate Player Reviews
Intermediate pool players should start exploring beyond the basic pool cues and get to know them. While you may be comfortable with your current one, there might be a better pool cue that matches you better than your current one.
Brand
Viper Revolution Spider 2-Piece Pool Cue
Collapsar 2-Piece Pool Stick
Product
Material
100% Solid Canadian Maple Wood
Brand
Viper Revolution Spider 2-Piece Pool Cue
Product
Brand
Collapsar 2-Piece Pool Stick
Product
Material
100% Solid Canadian Maple Wood
PureX HXT30 Pool Cue
No products found.
The No products found. consists of 100% premium-grade, hand-selected, North American hard rock maple. It has a classic look to it and makes you look like a professional pool player for an intermediate player.
The HXT30 offers a lot of features that an intermediate player would appreciate on their pool cue. 
The shaft of this pool cue features a patented stabilizer called Nelsonite. It protects the pool cue from changes in the environment like humidity. You also get a special Epoxy finish on the shaft to protect it from moisture and warping.
This pool cue uses a 12.75 mm. Kamui soft black tip that provides superior grip and spin. The Kamui tip is also durable so it retains its shape for a longer than average and needs less maintenance.
The Kamui tip really helps you control how much spin action you make with your pool cue. You may not get used to it at first and get surprised by the extra spin you're making. It will take you a couple more games to get used to it so be patient. 
The tip can be too soft for your taste. Although it has a good deal of durability to it.
The butt wrap on this pool cue is a solid black double-pressed, Irish linen wrap. This helps with keeping your hand comfortable and absorbs sweat to keep it from slipping and a consistent grip on the butt of the cue.
Finally, this pool cue also has a low deflection ferrule so you can expect to have better English when using this pool cue. Overall, this is one of the best pool cues for an intermediate player you can get.
Product Highlights
Solid straight shaft with a patented stabilizer called Nelsonite
Comes with a Kamui soft black tip
Low deflection ferrule for better English
No products found.
Viper Revolution Spider 2-Piece Pool Cue
The Viper Revolution Spider 2-Piece Pool Cue makes it to the top as one of the best pool cues if you are looking for a lower-priced option. It's a stylish pool cue that has a lot to offer for an intermediate player.
The first thing you'll notice is the intricate spider design that looks good on the pool cue. The art style looks like a tattoo and the stainless steel rings add to its beauty that would surely make this pool cue an eye-catcher.
The Viper Revolution Spider isn't just about looks. This pool cue consists of durable Canadian Maple wood that gives you a great feel in your bridge hand for smoother strokes. You also even get graphics at the tip and nine coats of varnish that prevent the pool cue from warping. 
The pool cue is a 2-piece billiard design for easy storage and transportation. There's also a removable scuffer you can use for shaping the tip. This pool cue stick has different weight options for you to choose between 18 to 21 ounces, so you can get your preferred weight pool cue.
This pool cue features a silicone wrap on the butt. This helps with adding grip on the butt of the cue. It also reduces tension and vibration so you can get a consistent grip. The shaft and butt combined with lightweight stainless steel joints help you get better-shot feedback.
The only bad thing about this pool cue is its tip. It's not necessarily bad if hard tips are what you prefer. We would recommend you get a Kamui soft tip to replace the tip on this pool cue.
Overall, the Viper Revolution Spider is our go-to choice if you want to get the best bang for your buck.
Product Highlights
Unique tattoo-style graphics for aesthetics
Made with Canadian Maple wood
Nin coats of varnish prevent pool cue warping
Viper by GLD Products Revolution 58" 2-Piece...
Constructed from quality hard Canadian Maple wood and features edgy tattoo style graphics down the...
Designed with a 2-piece billiard cue, allowing for easy transportation and storage; Includes a...
Features stainless steel joints which help provide consistent feedback during play
Collapsar 2-Piece Pool Stick
The Collapsar 2-Piece Pool Stick is an excellent choice for an intermediate player if you're looking for an affordable pool cue. It consists of 100% North American Grade A Hard Rock Maple that provides an excellent feel at the bridge hand. It also doesn't easily warp and loses its shape. 
However, it may not feel as smooth as the pool cues mentioned on this list. A few extra fine-grit sandpapers will make it smoother.
The joints that connect the 2-piece pool cue also feel durable and seamless so you won't have to worry about it getting too loose.
The 13 mm 7-layered solid pigskin cue tip and high-impact ferrule feel durable so it will last for quite a long time. It also hits solid and provides great English in your shot.
This pool cue features a wrapless handle butt which you can get in different colors. The wrapless handle butt provides adequate grip. It's not as great as the other pool cues mentioned above which is understandable at its price point.
You can get an option with a green or blue camo case suit. It's a 2 holes camo hard carry case that's great if you are also looking for something to store your pool cue stick while traveling.
This pool cue stick is lightweight and a bit on the shorter side. It has its advantages for being smaller. You can fit it in hard-to-reach spots and get off a shot with ease.  
Overall, the Collapsar 2-piece pool stick is a great pickup for an intermediate player looking for an inexpensive pool cue.
Product Highlights
The tip is durable thanks to its material and hits solid
Wrapless handle butt for raw grip
Can also be used as a break pool cue because of its solid and durable tip
Made with grade A North American Maple
Cpllapsar COLLAPSAR R Series 58Inch 2-Pieces Maple...
★Unique design by collapsar cue【 Length】: 58" (standard length); 【Weights】: 19-20.5oz;...
★【Shaft】: B+ Grade, Hand-Selected Hard Canadian Maple Wood.
★【Joints】: Stainless Steel,5/16 x 14 Pin, WITH Joint Protector and 1 Year Quality Warranty.
Iszy 2 Piece Break Pool Cue
The Iszy 2 Piece Break Pool Cue hovers between beginners and intermediate players as the go-to pool cue for breaking. This pool cue has a decent quality to it and doesn't break your bank for what it's worth.
This pool cue is a great choice for intermediate players who are still improving their breaking skills. It has aluminum joints and mid-level deflection that make this pool cue great for breaking. The glue on the leather tip also ensures you have a durable and solid tip that won't get damaged whenever you break. 
The shaft of this pool cue is thick. It's not overly thick so it still feels comfortable on your hand whenever you hold it.
When it comes to breaking, this pool cue does its job quite well. It has a good solid heavy feel to it which some people might get a little used to.
Unfortunately, it isn't as durable as other high-quality break pool cues. However, it's not as expensive as others and its performance is quite great. That's why a lot of beginners and intermediate pool players like using this pool cue.
Overall, if you want to improve your game, you should start getting a break pool cue for your breaking shots and this is a great choice.
Product Highlights
Aluminum joins and mid-level deflection are great for breaking
A durable and solid tip will last you for a long time
A thick shaft supports the pool cue in breaking
CUESOUL SOOCOO Series 58″ 19oz Maple Pool Cue
If you're looking for the complete package, then getting the Cuesoul SOOCOO Series pool cue is a great idea.
This set starts with two great pool cue sticks. You also get a cue case, three billiards cue chalk, a cleaning towel, a cue tip tool pick, and one billiard cue glove. You get all the pool equipment you need for an intermediate player. 
The pool cues are great in design. They are decent and look great with their design. They have a good feel to them and shot feedback is actually quite nice. However, they don't just feel as durable as we would like them.
That's only fair, considering this product focuses more on getting all the things you need for playing pool since it's such a value to get. You can use the pool cue to practice before a game or tournament. The pool cues consist of maple wood which gives it a nice feel and shot feedback.
Overall, if you want to get started for entering tournaments, pool hustling, and competitions, get this pool cue stick kit to have every pool accessories you'll need.
Product Highlights
Contains pool accessories that are useful for an intermediate player
The pool cues are decent and even looks great for pool hustling
Cue case is great for traveling and competing in different places
CUESOUL SOOCOO Series Pool Cue + Cue Case + Cue...
WEIGHT ADJUSTABLE:58inch,19oz maple pool cue,cue weights will vary.
SHAFT:A++ canadian maple pool cue shaft,shaft construction designed to eliminate deflection for...
BUTTE:selected canadian maple wood with Luxury Pearl White finish,stainless steel Bottom ring with...
Viking Valhalla 2 Piece Pool Cue
The Viking Valhalla 2-Piece Pool Cue is available in a lot of color options and it's also one of the best pool cues to have for traveling. It's a 2-piece pool cue so you can easily store it. 
The butt has a secure grip to it thanks to the Irish linen wrap. You can even adjust the weight of the butt from 18 – 21 oz. for better compatibility with your grip hand. 
The rubber bumper at the bottom protects it from cracking and chipping. It has a 13 mm. leather tip that makes applying English on the cue ball a lot easier.
The tip is already shaped and scuffed. You can replace it with a better one if you want. It works well and feels solid when you hit the cue ball. The contact feels solid thanks to its high-impact ferrule which also adds to the tip's durability.
The shaft consists of Canadian Maple. It feels smooth on your skin and bridge hand. You can easily get into a consistent form in a game. There's metal threading in the shaft to ensure a durable and secured lock for a 2-piece pool cue. 
Valhalla really nailed it on this pool cue. It has what you need for a portable pool cue. It has a great design, the pool cue feels nice to the touch, the lock is secure and durable, and it's easily transportable.
Product Highlights
Has a lot of color options so you can have a bit more customization
A really durable pool cue that can last a long time
Metal threading in the shaft ensures this 2-piece pool cue is secured
Viking Valhalla 300 & 400 Series 2 Piece 58"...
IMPROVE YOUR GAME WITHOUT BREAKING THE BANK. Features a 58" maple shaft cue, two piece design for...
A PREMIUM IMPORT. Designed by our Viking Cue Artisans, Valhalla cues take full advantage of our...
STATE-OF-THE-ART UNRIVALED QUALITY. Before a pool cue is shipped, it is assembled, rolled, and...
Features to Consider for Pool Cue for an Intermediate Player
Intermediate players have different needs for their pool cues compared to beginners. Intermediate players have a better understanding of how pool cues work in the game and how they should be used compared to beginners.
Here are some of the features you should keep in mind as an intermediate playing looking for a pool cue.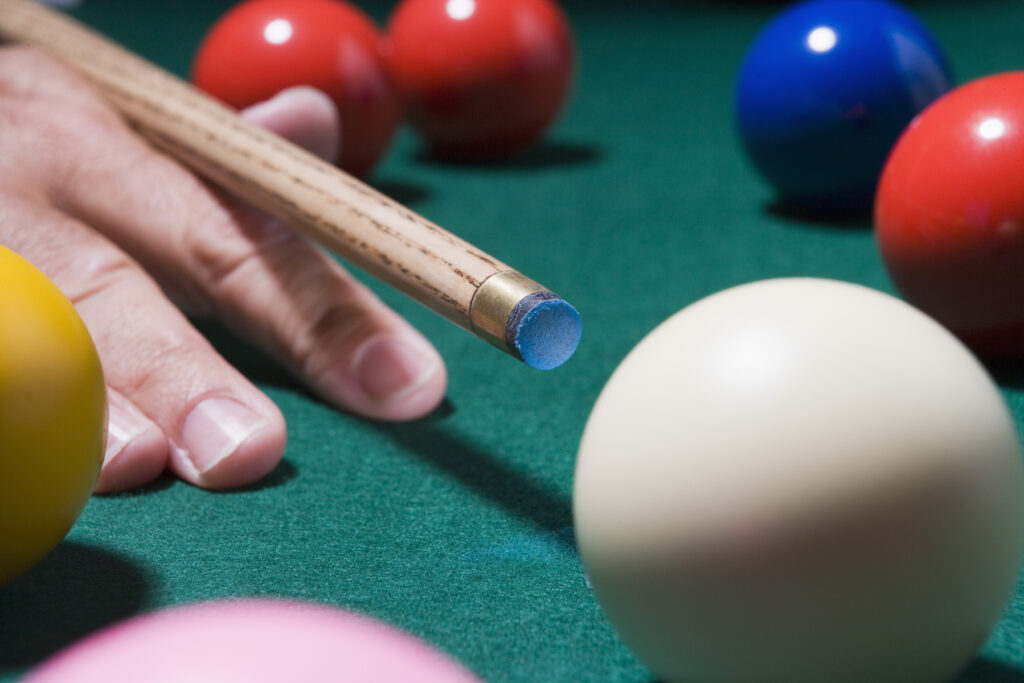 Weight
The weight is usually a most talked about topic among pool players. Most professional pool players like to use lighter pool cues. They prefer having more cue ball control since they usually don't lack in the power department to need extra weight.
Most pool cues weigh around 17 oz. up to 21 oz. There may not be much of a difference when you look at it. However, there is once you use it.
Most intermediate players prefer using pool cues that weigh around 19 to 20 oz like the Viking Valhalla 2-piece pool cue. The extra weight is still preferable since you haven't gotten fully used to properly adding power to your shots.
Lighter pool cues provide accurate and precise shots which is why most professional pool players use them. Intermediate players should start getting used to lighter ones so 19 or 20 oz. is a great weight to start. You can even go for 18 oz. if you like it.
It would also be preferable for pool cues to have their own adjustable weight bolts. They're usually located behind the bumper in the butt of the cue. This way you can adjust the weight so it feels more comfortable for you.
Tip Density and Size
The tip type you want will depend on what gameplay you are favoring over the other. Pool cue tips can either go soft, medium, or hard. They each offer different things to your game.
A soft tip gives you the best cue ball control among the three. However, you also lose a lot in durability and power to your shots.
The medium tip provides a bit of balance to power and control. Most pool players will recommend you a medium tip if you're a beginner or intermediate player.
Professional and experienced pool players usually have multiple cues. For intermediate players, you sometimes can only afford one, so going for a medium tip is perfect for balance.
Pool players use hard tips for breaking in the game. A great example of a hard tip is the one you find in either the Iszy 2 Piece Break Pool Cue and Collapsar 2-Piece Pool Stick. It offers the most powerful hit you can do to the cue ball. Most professional pool players only use hard tips for breaking and nothing else.
Material
Pool cues can come in a lot of different materials. Most pool cues use fiberglass or wood. As an intermediate player, you should start using wood type pool cues.
Fiberglass is commonly cheap and doesn't warp easily. However, wood gives you a better feel for the cue stick compared to fiberglass.
Look for Hard Maple Wood which many manufacturers use in American-made pool cues. Most professional pool players like Hard Maple Wood because it gives them better accuracy, power, and control.
Hard Maple Wood usually costs a lot more compared to fiberglass so be prepared to spend a few extra dollars if you're planning on getting one.
Wrap Type
You can choose from different wrap types, each with a different feel. Most use a wrap type made with Irish Lenin or nylon. You also sometimes see ones made of leather.
The wrap is at the butt end and thicker end of your pool cue. The additional wrap helps with adding grip. As an intermediate player, you should go for either Irish Lenin or nylon.
Professional pool players prefer using a leather wrap. This is quite an expensive one so you should just stick to Irish Lenin or nylon at your skill level.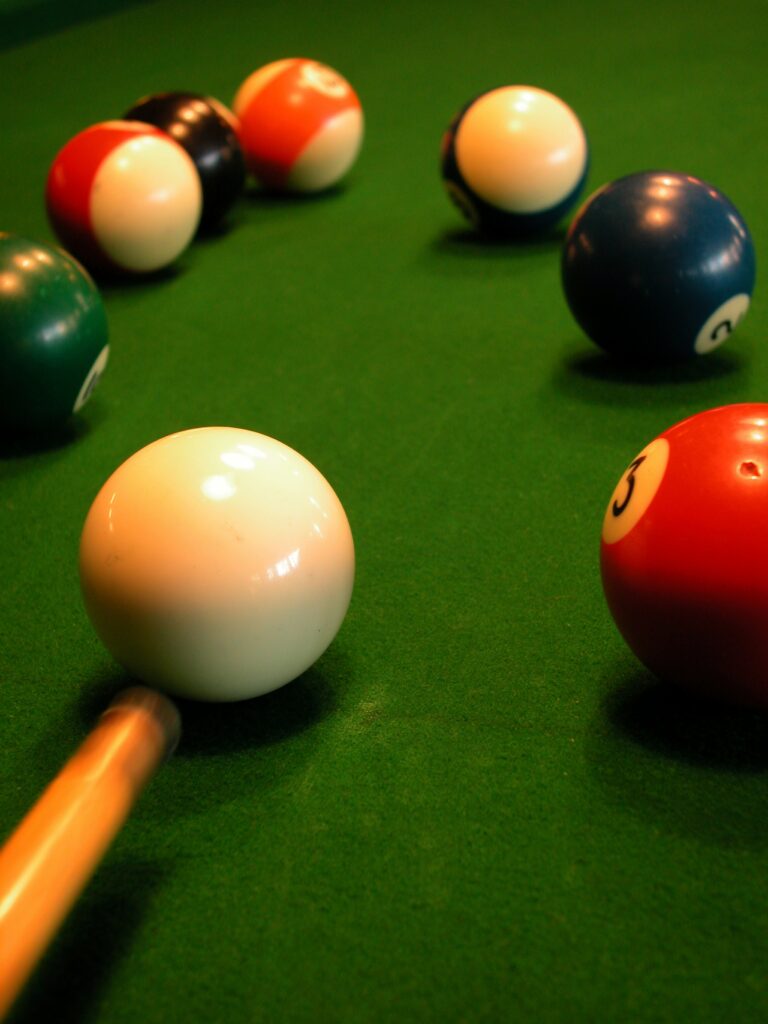 Balance Point
The balance point refers to the center of the stick a few inches away from the wrap's end. It's also the center of gravity of your pool cue.
A pool cue with the right balance cue will make you grip the cue further back. It makes you able to control your power better.
Most beginners don't appreciate the balance point of a pool cue. As an intermediate player, you should pay attention to this. Knowing if your pool cue has the right balance point will lead to more consistent shots.
Shaft
The shaft is where you usually place your bridge hand so it's one of the most important parts of a pool cue. The standard diameter size of a shaft usually hovers between 11 – 13 mm. It depends on you what diameter you are comfortable with.
Some pool cues also have lower deflection shafts. They are best suited for making precise and control shots. Low deflection shafts also vary depending on how low they can deflect the cue ball. Pool cues that have lower deflection usually are more expensive so keep that in mind.
Cue Taper
There are two types of cue taper, conical and pro. Most 2-piece cue tapers have a standard size between 12 – 14 mm. Conical is usually found in house cues. It smoothly tapers from the fat end to the skinny end much like a cone.
A Pro taper has the shaft at one constant diameter from the tip back around 12 – 14 mm where it begins to cone out towards the joint.
As an intermediate player, you can choose whatever you're comfortable with. Most would pick the Pro taper because it doesn't interfere with the stroke or tip position at impact.
The HXT15 and the Viper Revolution Spider have some of the best cue tapers you can get. So if you prefer a great cue taper, go for either of these two.
Price
The price depends on how much you would be willing to spend on a new pool cue. For intermediate players, we would recommend getting a budget or mid-level pool cue. If you're planning to compete a lot, go for 2-piece pool cues.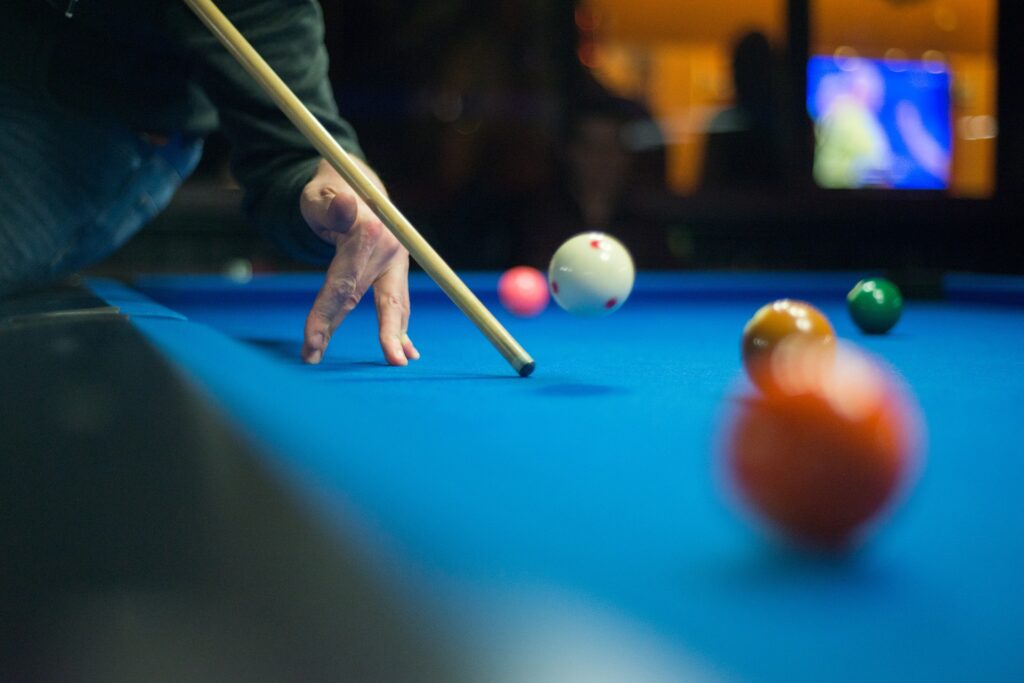 Budget level pool cues are also great if you want to compete against better-skilled players. Cheap-looking cues will increase your chances against them (although you'll have to spend on some side hustle).
An intermediate player should always look to compete against experienced pool players for tips and experience.
Intermediate Players Frequently Asked Questions
Intermediate asks these questions a lot when they are thinking about buying a new pool cue for their current skill level. We hope it will help you give a better and clearer answer on what pool cue you should go for.
Are Two-Piece Pool Cues Better for an Intermediate Player?
One-piece pool cues are okay if you're only playing at home. They're also good for you as a beginner or for your kids. One-piece pool cues also tend to bend easily if not handled properly.
As an intermediate player, you're still building the habit of properly handling and maintaining your pool cue.
Two-piece pool cues are better for transportation. It's great for intermediate players who want to travel and compete to gain experience and improve their skills.
Should I Buy a Case for My Cue?
Buying a case for your pool cue is part of properly caring for it. You need a compatible case to protect your pool cue from chipping and breaking. The inside should have ample cushioning to keep your pool cue protected inside.
As an intermediate player, you should form a habit of storing and maintaining your pool cue properly. Your pool cue stick is like your weapon in a battle.
Are Heavy Pool Cues Better?
Most professional pool players prefer using lightweight pool cues. Heavy pool cues are mostly used for breaking.
Professional pool players use lightweight pool cues since they don't have the need to use more power in their shots. They already have experienced so much to gauge how much power they need for a shot.
Lighter cues are more preferred for better cue ball control for better cue ball positioning to set up your next shot.
Conclusion
These are the best pool cues you can get right now. For intermediate pool players, it's better to start with mid-level or budget pool cues and gather experience by competing against experienced pool players.