As an Amazon Associate we earn from qualifying purchases.
A pool table is a great addition to your game room arsenal. However, since most of them are insanely pricey, finding the right one if you are on a budget can be challenging. That is why we prepared this guide of the best pool table under $1000 to help you find an affordable option.
Our Top Pool Tables Under $1000 Reviews
After doing plenty of research, testing, and getting expert opinions, we have identified the following pool tables to be the best picks for budget buyers.
Brand
Fat Cat Trueshot 6' Pool Table
Product
Product
Product
Brand
Fat Cat Trueshot 6' Pool Table
Product
Rack Vega Pool table
When it comes to making pool tables that stand out from the competition, Rack doesn't disappoint. The Rack Vega Pool table got our attention for its affordability and upmarket quality. The table has a very straightforward assembly process. 
Since it is a bit bulky, you might need a hand during the assembly. However, it takes a short time to put it together because it comes with drop pockets and felt cloth already attached. We've found this table to be very stable even on uneven floors. 
The Rack Vega Pool table has also one of the best designs around. It sports a blended blue felt cloth on a durable 1-inch MDF bed. This gives a professional and fun look compared to other tables. 
The Rack Vega has sturdy legs to hold it firmly to the ground. The legs are adjustable which means you can easily level the table when playing on an uneven floor.
What's more, the table comes with an impressive package of accessories set. These include:
Full-size billiard balls
A triangle rack
Two wooden 57-inch cues
Two cubes of chalk
A table brush in case you need to wipe off excess chalk dust
The best part is, you get a lifetime warranty with impressive service and free shipping.
What we Like
Has leg levelers
Lifetime warranty
Sturdy and professional design
Reliable service
Simple assembly process
What we Don't Like
Unlike slate beds
MDF beds might warp in the future if not properly taken care of
Bulky
Rack Vega 6-Foot Folding Billiard/Pool Table...
🎱 Perfectly Sized & Portable - Multi Player Game Table - No Assembly - Easy Storage - Fold Up...
🎱 Beginner/Intermediates Friendly - Better For The Whole Family ✅
🎱 Lightweight, Heavy Duty - Perfect Balance Between Stability, Sturdiness, Maneuverability,...
Dunhill Billiard Table 
If you're looking for a traditional design with a touch of quality and a professional feel, we recommend the Dunhill Billiard Table. We find this table to offer a plausible balance between functionality and cost. For that reason, it is one of our best picks.
The table comes with a smooth felt game table surface playing bed. This makes for a sturdy and durable playing surface. In addition, it employs a rustic, farmhouse style X-leg design, luxury billiards table.  
To further boost its durability and classic look, you get the parlor-style drop pockets. Designed with professional K66 rubber bumpers that provide a consistent bounce and predictable shot. Just like the Rack Orion Pool table, this one also comes with custom leg levelers to make it more sturdy on slated or uneven ground.
The table comes with the following accessory set:
Triangle rack
Two wooden cues
A cloth brush
Balls
Chalk
What We Like
Has a classic look and feel 
Comes with leg levelers to make it more sturdy 
Uses PVC laminate finish to make it durable and scratch-resistant 
Has sturdy wooden legs 
Designed with professional K66 rubber bumpers
What We Don't Like
Bulky and difficult to move around 
DOM Classic Sport - 87" Dunhill Billiard Table,...
SET INCLUDES: (2) Pool Cues, (1) Pool Balls Billiard Set, (2) Pieces of Billiard Chalk, (1) Billiard...
BUILT-IN LEG LEVELING SYSTEM: Featuring built-in leg levelers for balanced play, ensures game play...
RECOMMENDED ROOM SIZE: 17 Ft L x 13 Ft W
Fat Cat Trueshot 6' Pool Table
If you are looking for an affordable pool table, we recommend the Fat Cat Trueshot Pool Table. This table is also ideal if you have limited space and are looking for something that won't take up too much of your game room. 
This pool table is lightweight and portable, making it ideal if you will be moving around most of the time. For instance, if you want to play outdoors, you will only need two people to move it out. The best is, it comes with foldable legs. This boosts its portability even further making it a great choice for families and young players.
The foldable legs also make it easy to store in limited space. It is sturdy and makes for a fun table to play on if you don't plan on blowing your budget. The balls are low friction and the bed is sufficiently cushioned to provide smooth bounce and ball roll.
The table comes with:
Two cue sticks
Two chalk pieces
A triangle rack
A cloth brush
What we Like
Easy to move around
Great for limited spaces
A good option for families and beginners
Scratch-resistant felt cloth
What we Don't Like
Not sturdy
Doesn't have leg levelers
Fat Cat by GLD PRODUCTS Trueshot 6 Ft. Pool Table...
Your purchase includes One GLD Fat Cat Trueshot Pool Table of 6 ft. | Set of billiard balls, Two...
Pool table dimensions – 76" L x 43" W x 32" H | Weight – 114 lbs. | Balls (each) –...
Compact design allows you to enjoy your favorite game in spaces you never thought possible
EastPoint Sports Masterton Billiard Pool Table
Whether it is the low price tag or classic and fun look, the EastPoint Sports Masterton Billiard Table has undoubtedly become a favorite of many pool enthusiasts. The 87-inch pool table will be a great addition to any game room garage or even basement. 
While it comes with a traditional parlor-themed look, the table packs a number of features that make it more durable than some of the pricier options. These include the rails coated with LusterLong finish to make them scratch and wear-resistant.
EastPoint Sports covered and reinforced the parlor-style drop pockets for added durability. The legs, just like those of MD Sports Crestmont and the Rack Orion Pool table have small built-in levelers. However, in the case of the EastPoint table, they hid the levelers hidden underneath the clawfoot legs so you might not even notice they are there until you check.
The table comes with such accessories as:
Two cues
Billiard balls
A triangle rack
Chalk
A brush for wiping off excess chalk dust
Just like the Rack Orion Pool table, it also comes with K66 rubber bumpers for a smooth and consistent bounce. It has a simple assembly procedure and is a great pick for novice players and families.
What we Like
Durable tradition design
K66 rubber bumpers for smooth play
Simple assembly process
Leg levelers for uneven floors
Affordable
Sturdy clawfoot legs
What we Don't Like
Heavy and difficult to move around
Not good for professional players
EastPoint Sports Billiard Pool Table 87 Inch -...
Enjoy Hours Of Fun For The Whole Family With The 87" Masterton Billiard Table! This Exquisite 7 Ft 3...
Designed With Professional K66 Rubber Bumpers That Provide A Consistent Bounce And Predictable Shot,...
Includes 2 Pool Cues, 1 Pool Balls Billiard Set, 2 Pieces Of Billiard Chalk, 1 Billiard Triangle,...
Hall of Games Edgewood Billiard Table
If the traditional design of the EastPoint Sports Masterton Billiard Table puts you off, you will love the look of the Hall of Games Edgewood Billiard Table. We love this table for the fact that it veers off the traditional design that we see with most tables and embraces a bold and modern look. 
The industrial look will seamlessly blend with most modern interior decor. While you won't experience glaring differences compared to standard pool table designs, you will no doubt appreciate this table's portability and the fact that it occupies way smaller space than many other tables.
The minimal design makes this billiard table a great pick if you have a small game room. It is also 84 by 44 inches and very light to carry around. This means you can painlessly move it around. This comes in handy when you want to enjoy some outdoor pool games.
Like most of the tables we have recommended, this one also has leg levelers. So, whether you are playing on an uneven floor or moving to slanted outdoors, you can always enjoy a smooth play. The levelers are also hidden like those of the EastPoint Sports Masterton Billiard Table.
Accessories included are:
Standard size billiard balls
Two stand size cue sticks
A wooden triangle rack
A wood brush
Two cue chalks
What we Like
Modern classic design
Lightweight and easy to move around
Versatile size for small game rooms and outdoor use
Easy to adjust leg levelers
K818 ball bumpers for smooth ball bounce
What we Don't Like
Not good for professional pool games
Not very durable
Hall of Games Charleston 48" Billiard Table with...
Premium velvet gray felt provides smooth game play on a playfield that measures 45.375" x 21.375".
Designed with quality rubber bumpers for a consistent bounce and built in drop pockets.
Sturdy box legs with crossbar support and 1.5" hidden leg levelers provide an even playing surface.
Features to Consider for the Best Pool Table Under $1000
Getting a good billiard table under $1000 might seem like a difficult task. However, if you know what you are looking for or what makes a pool table great, you should be able to find one that is the best fit for you.
Below are some of the features you should look out for when buying a pool table for under $1000
Size
Both the size of the pool table and cue sticks will largely depend on the size of the room you intend to play in. For this reason, you first consider the size of your game room before deciding what size of pool table you want.
Most pool cues have a standard size of 57 inches. In this case, you will need a clearance of about 4.5 feet on each side of your room to allow for sufficient playing space. However, if you are using smaller cues of 52 inches, you will need a clearance of about 4 feet.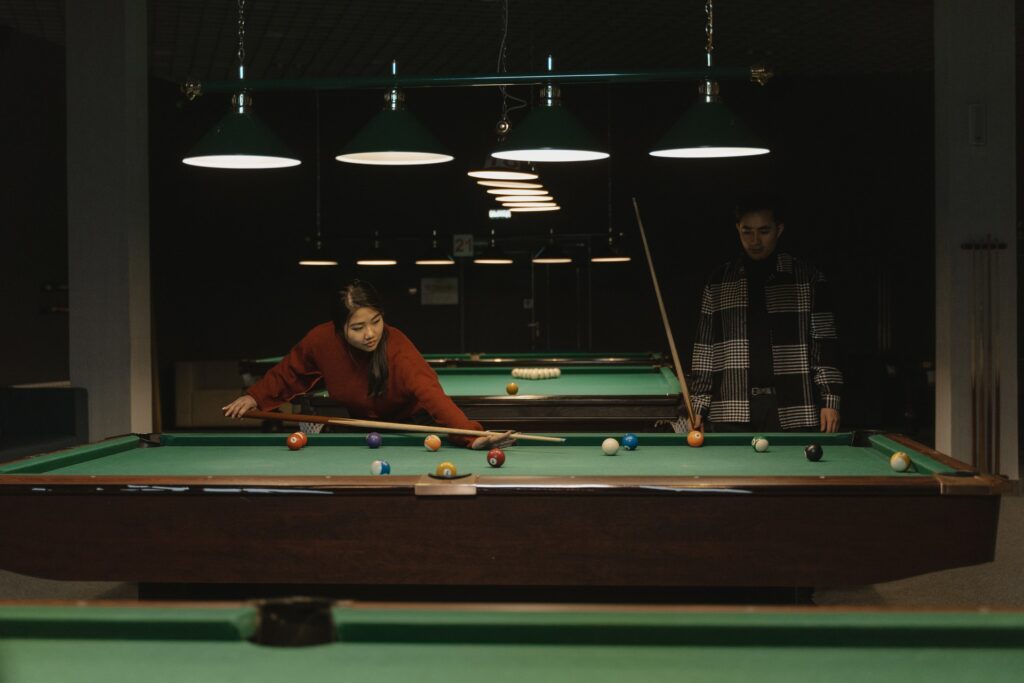 Drawing from the above, if you plan on buying the standard pool table of 8 by 4 feet and a 57-inch cue, your room should be at least 17 by 13 feet. For smaller pool tables like the Hall of Games' Edgewood table, a slightly smaller room will cut it.
Frame
The frame is a very vital component of the pool table. It provides support and reinforcement to keep the table surface from sagging or cracking. Unfortunately, most buyers ignore this feature and end up settling on substandard pool tables.
The best pool table frames consist of hardwood and are glued to the playing surface or bed. Bigger slates will typically require more frames for added durability. If you find a cheap table with extra framing, you should seriously consider it if you value durability.
Keep in mind that harder wood frames produce fewer vibrations when hit by the billiard ball. This way, the ball has a smooth bounce and does not veer off the table. If you find frames with laminated surfaces, make sure that it is high-pressure laminate.
Cushions
Cushions help to provide a consistent bounce of the ball while playing. They go attached to the rails and control the ball's motion when it hits the rails or frame. Good cushions should consist of either natural gum, gum blends, or synthetic materials with a canvass backing.
We found the most effective cushions are those of natural gum attached to the rail through the slate. Depending on the size of your pool table, there are several cushion profiles to choose from. These include:
These profiles typically depict the size and shape of the cushion to help match them to the correct pool tables.
Legs
The legs bear about 90% of the total weight of the pool table. Apart from carrying the upper cabinet of the pool table, they will also take the extra weight when players sit or lean on the table. For this reason, it is essential that they have a sturdy build quality to avoid breaking.
Usually, pool table legs consist of solid wood that are extensions of the slate or fixed to the upper cabinet using an anchor system like in the case of the Hall of Games' Edgewood table. The latter option is better since it allows for better portability and replacement in case the legs break.
Also, make sure to look out for adjustable leg levelers. While most modern pool tables come with them, ensure to check especially if they are hidden. This will come in handy when playing in uneven or slanted floors.
Felt
This is the piece of cloth that covers the upper surface of the pool table, also known as the bed. Although felts come in different colors, you will mostly find them in green (such as the EastPoint Sports Masterton Billiard Table) and red (such as the Hall of Games' Edgewood table). Other common pool table colors are tan, brown, and blue.
Since most of the action takes place on the felt, it is important that you go with a high-quality one. Although this will be challenging for pool tables under $1000, you should be able to find some good options. Typically, most pool tables have a blend of nylon and wool felts that are resilient and easy to clean.
We recommend glued felts rather than screwed into the pool table. Also, look out for felts with more wool content since they are more durable. Usually, a good felt should have 20% nylon and 80% wool.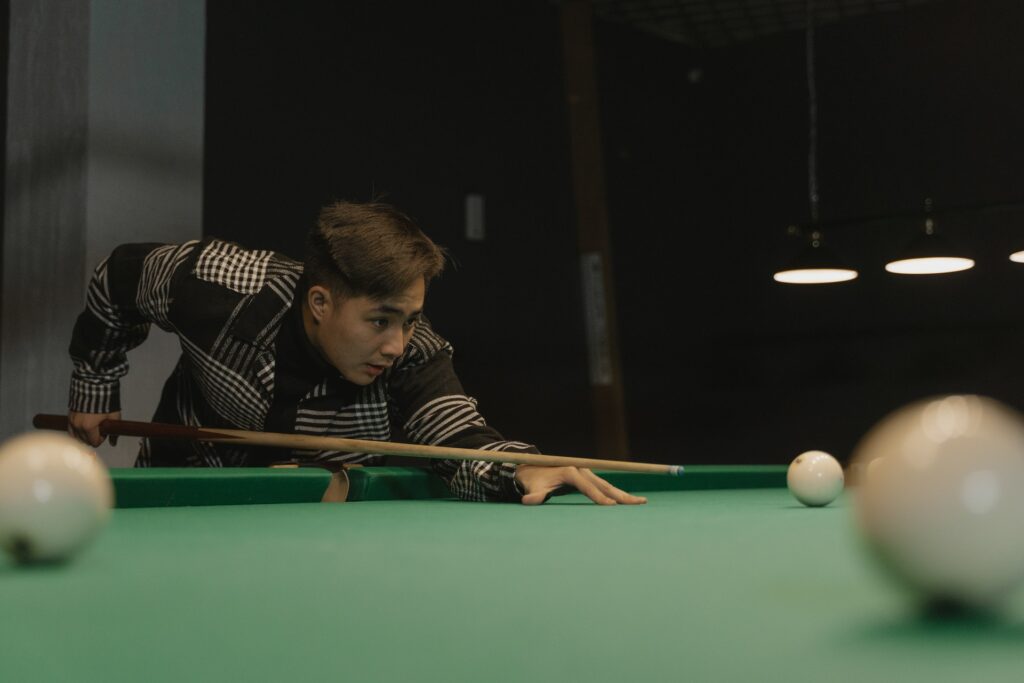 Drop Pockets
The pockets are simply the six holes around the pool table edge that collect cue balls while playing. Drop Pockets might consist of plastic, leather or rubber.
Most have a ball return system that allows the balls to settle in a single compartment for easy collection at the end of each game. We find pockets of rubberized plastic and leather to be the best. Hard plastic may sometimes crack and break due to consistent use.
On the other hand, rubberized plastic pockets are soft and more durable. For the best experience, make sure that pockets are properly attached to the frame so they don't come off.
Slate
The slate makes the upper main surface of the pool table, that is the playfield. While not all pool tables are made with slates, the majority of them are. Some like the Rack Orion Pool table have an MDF (Medium-Density Fibreboard) bed instead of slates.
Most pool tables have three-layered slates. This simply means that the slate is divided into 3 separate layers and then put together to form a sturdy pull table bed. You will also find pool tables with only one or two layers of slate.
Generally, we recommend that you get pool tables with slates that are at least half-inch thick with a 3-piece matching set and a diamond-honed surface. A matching set means that all three slate pieces were cut from the same slab.
Warranty
Checking the warranty is very important when buying a budget pool table. Unlike the pricier premium ones, cheap pool tables are more prone to damages and malfunctions. For this reason, we recommend that you ensure it has a good warranty.
Some like the Rack Orion Pool table have a lifetime warranty which means you are covered for as long as you are using the table.
Usually, longer warranties mean that the pool table is of a higher quality. Therefore, the manufacturers are confident in them enough to provide a long or even lifetime warranty.
Conclusion
We hope this guide will help you find the best budget pool tables for your needs. Make sure to factor in important features such as bed material, frame, cushioning, size, and warranty in order to get the best deal for you.