As an Amazon Associate we earn from qualifying purchases.
Are you a pool game fanatic? Do you want to use the best cue stick to win those challenging games? However, you will come across cue sticks of numerable brands, variations, styles, and materials that might confuse you.
Finally, and most importantly, pricing is a crucial consideration while purchasing pool game cue sticks.
How To Choose A Pool Cue
If you are new to the pool game and want to use a cue of your own, then there are things that you must consider on priority. First, using a wrong cue stick can affect your game in the worst possible manner. This is because you will miss your shots, the angles you make will go false, and many other problems.
However, picking up the right cue can change your game, and you will possibly improve. Therefore, you need to know how to choose a pool cue, and this guide will help you find the right one.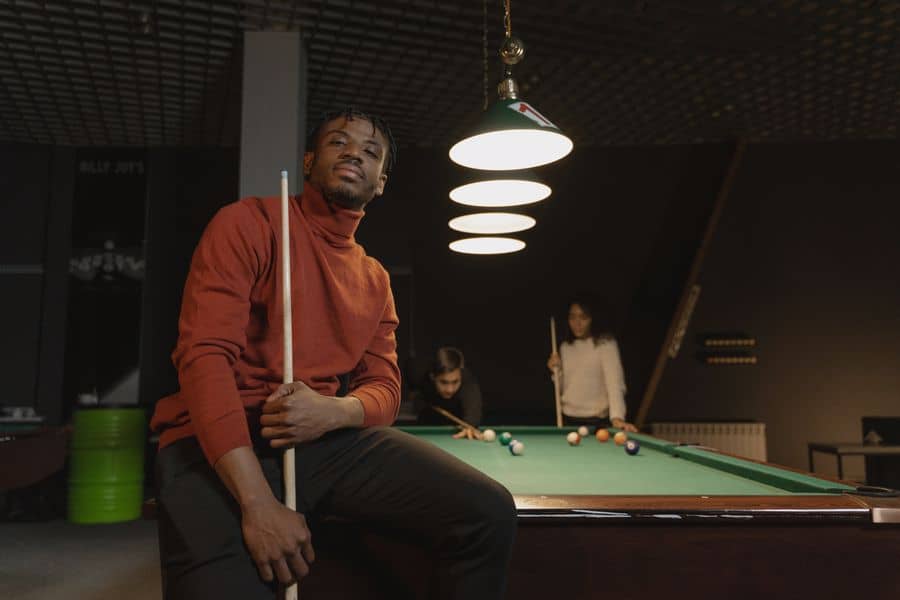 Step 1: Consider The Length Of The Pool Cue
If your height ranges between 5 feet 8 inches and 6 feet 5 inches, then a cue length of 58 inches will be perfect for comfortable use.
People who are of greater height than that must use cues of up to 61 inches.
For people or children below the height of 5 feet, 8 inches should opt for a cue of length 48 or 52 inches.
Tip!
If you are getting a two-piece cue, check for its straightness after connecting both pieces. Most of the two-piece cues result in a bent structure after joining the pieces.
Step 2: Consider The Weight Of The Cue
Weights of the pool cues range between 17 ounces and 21 ounces. But, choosing the weight is completely upon the comfort of the player.
A cue weighs the most on its butt-end. Therefore, if you feel the grip of the cue too heavy on your backhand, get a light cue instead.
For an individual with short height, it is better to opt for a light cue. It will save the effort of lowering the cue butt and tip.
If you are a pro player, you should get one light and one heavy cue to make desirable shots. For example, a heavy cue can help you with breaking shots, while a light cue will help you give gentle push shots.
Step 3: Choose The Type Of Wrap
Wrap options include linen and leather.
The wrap comes in contact with the handgrip for making smoother shots.
If you have an excessive sweating problem, then go for leather or linen wraps on your cue. This absorbs a considerable amount of liquid to give you a good grip.
Some cues come with no wraps, which is not preferable at all. Also, bare fiberglass or wood grips will start to slip after using them for a while.
You can prefer using rubber grips as well. But, they will wear out faster than linen or leather.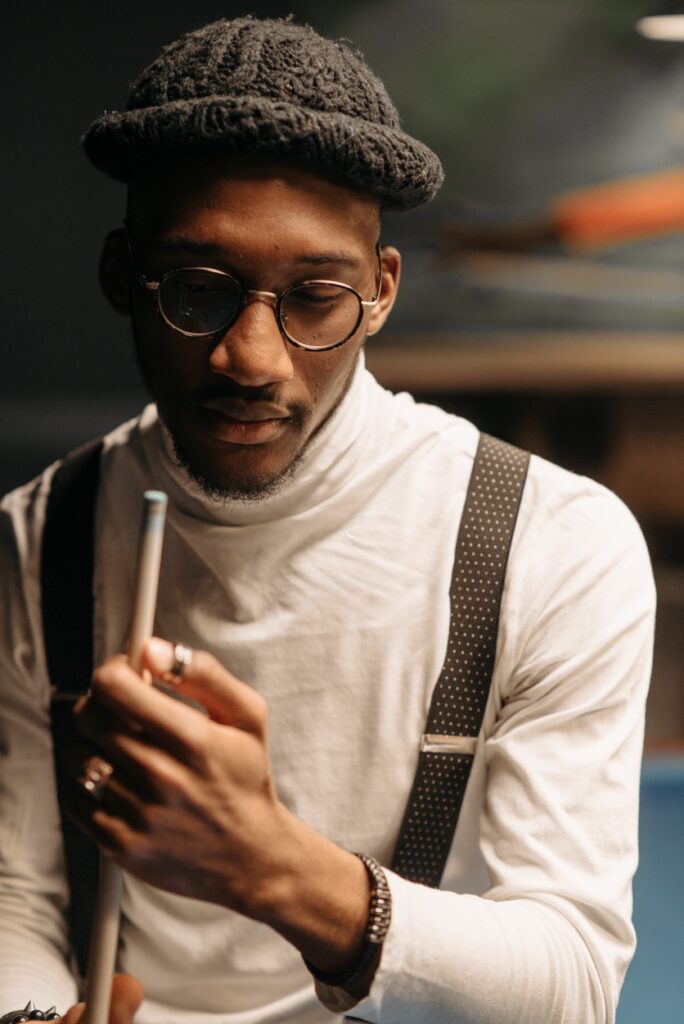 Step 4: Check The Cue Tip
Please don't go for a soft cue tip, as it wears out faster and most probably loses its shape.
But, soft cue tips are good for making some spin shots.
Hard tips do last for a longer time but are not good for spinning the ball.
Therefore, preferably use the medium cue tip, which is suitable for spinning the shots and durable.
For professionals, it is advisable to keep cues with all three types of tips for making desirable shots while in the game.
Step 5: Pick A Pool Cue Case
A pool cue case intends to offer safety to your cue while you are not using it. You cannot just leave the pool cue sticks in the corners of your room because it might deteriorate their quality. Therefore, picking suitable cue cases is also important to ensure a prolonged life for your cues.
Pick a hard case box that comes with separate tubes for both butt and shaft.
Hard boxes will keep the cue safe from any heavy impacts or blows.
For two-piece cues, separate compartments for the butt and shaft are crucial to avoid denting on any of them.
Soft cases usually do not come with separate tubes for the two pieces. But, they are low in price, which is a budget-friendly pick.
Get a visual explanation of what things you need to consider while buying a cue over this YouTube video. Check it out before you head to the store to buy your new cue.
Frequently Asked Questions
Can I Go For A Phenolic Tip On My Cue?
You can go ahead with any of the tips you like. A phenolic tip is of carbon fiber, which makes it tough as that of the cue ball. Also, this tip is preferable for breaking shots.
These tips transfer most of the energy when connected with the cue ball. Moreover, they don't even demand any sort of maintenance. However, they are expensive!
Do I Need To Get Chalk Along With The Cue?
Yes, if you intend to play a professional-level game, then chalk is a necessity. It is useful for increasing friction between the cue ball and tip. This friction develops a grip between the tip and ball, which results in better shots.
Conclusion
If you are already a pool player or are planning to be one, this guide is an efficient inclusion to your preparation. Getting your cue keeps you ahead in the game. You forge a connection with it, making it your extension when playing.
You get to plan out your shots and do not need to use any tampered cues for the game. Your cues and your gaming skills will decide how the game goes for you. So, with the right cue, you can increase your winning chances. So, get one and start practicing!